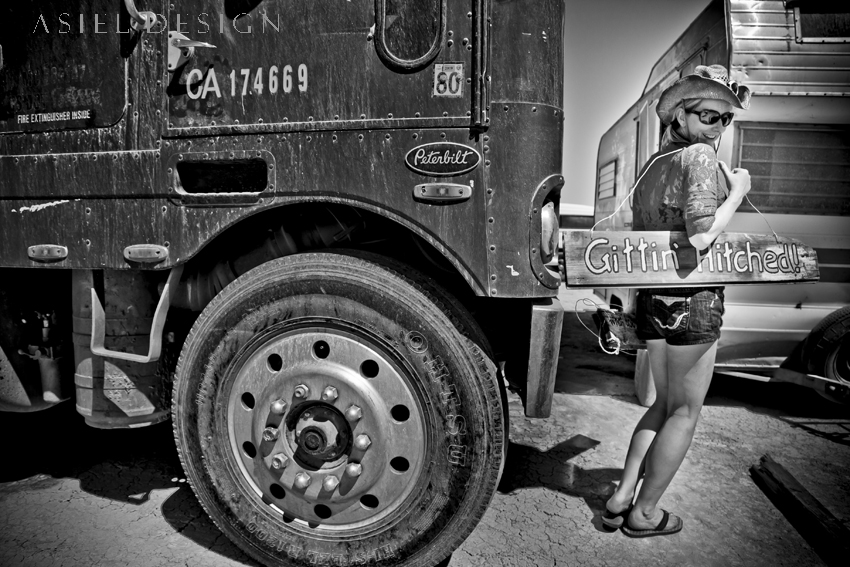 We, Jonathan and Linnae of Asiel Design, had the unique experience of going to Burning Man and for our virgin trip, we designed a wedding for Tara and Travis. T&T were the perfect couple and the opportunity seemed to be something we shouldn't pass up.
The art installations, the lack of inhibition and the sense of being alive were unparalleled at Burning Man…we can't wait to go back!   We love that T&T had a great sense of who they are.  We were able to take their passions (cowboy chic & steampunk) and turn it into a new artistic expression.  As Tara sent photos of inspirations, we were flattered that some were our work.  She hadn't even noticed that she was sending us our own images.  She left the design up to us and we played with it.
Burning Man is a week-long adventure in the middle of the Nevada Desert.  Everything needs to be trucked in and needs to endure the heat for the week.  This is a floral designer's "nightmare", as most flowers want to be in a refrigerator or in cool air.  These were constraints we needed to work with, as a generated truck was not in the budget.  We like challenges so we looked for dried materials and we used fresh succulents.
A beautiful sculpture "BLISS DANCE" was the backdrop to a standing ceremony in which friends and family participated and many others joined into the celebration. We traveled up in an art car styled as a trolley.  The music boomed and we danced on the trolley all the way to BLISS DANCE.
Following the ceremony, oversized cupcakes drove up just in time for photos.
Stay tuned to find out about the reception…
FLORAL & EVENT DESIGN  |  A S I E L  D E S I G N
PHOTOGRAPHY   |  Kevin Meynell Photography | Catherine Hall Studios
CEREMONY LOCATION |   Bliss Dance by Marco Cochrane
OFFICIANT  | Damien Noble Andrews

You might like: