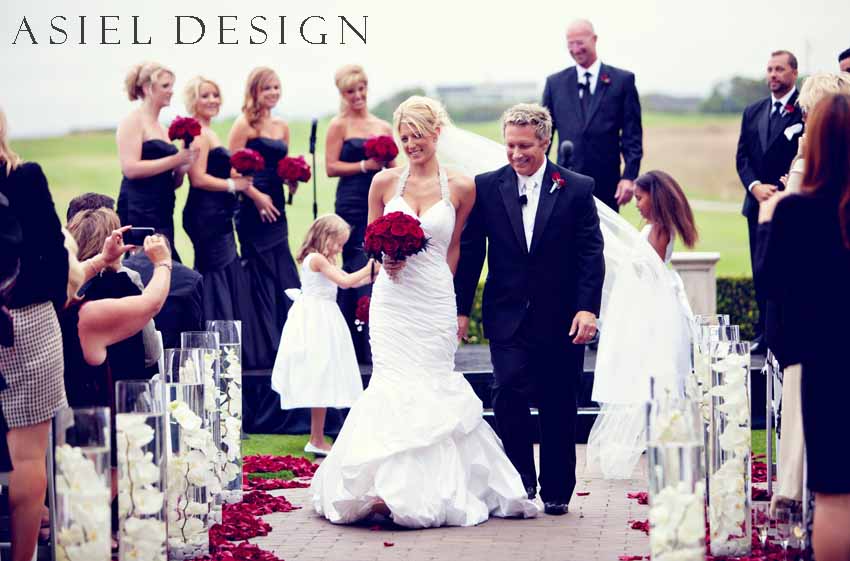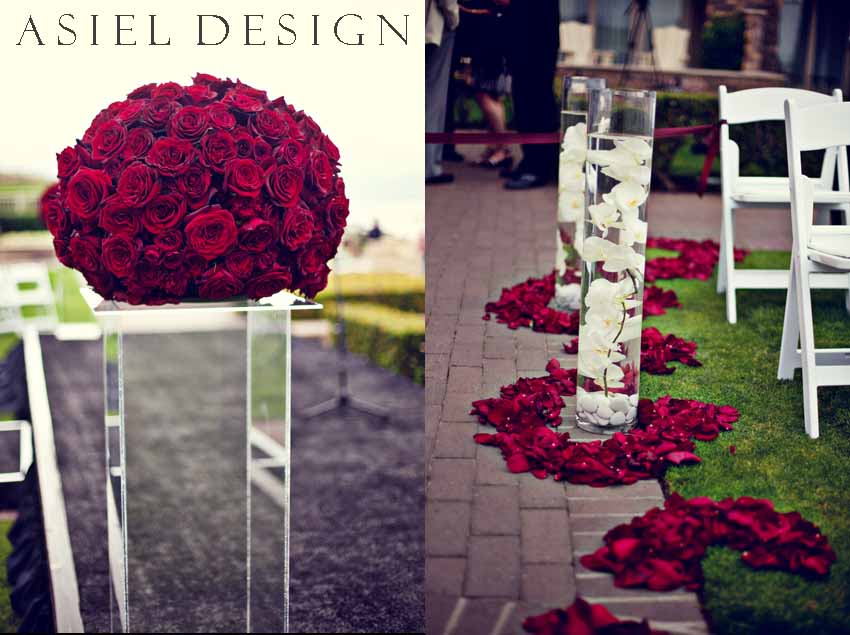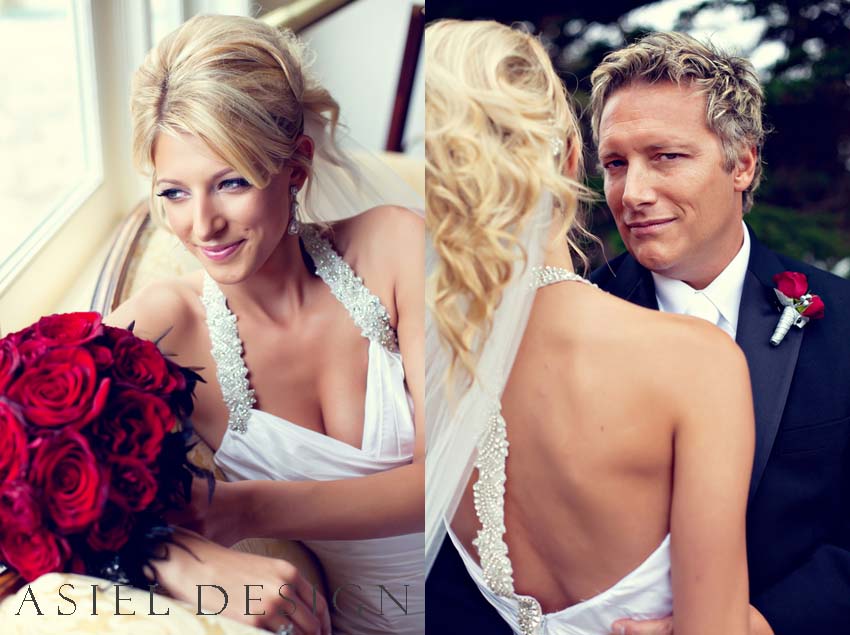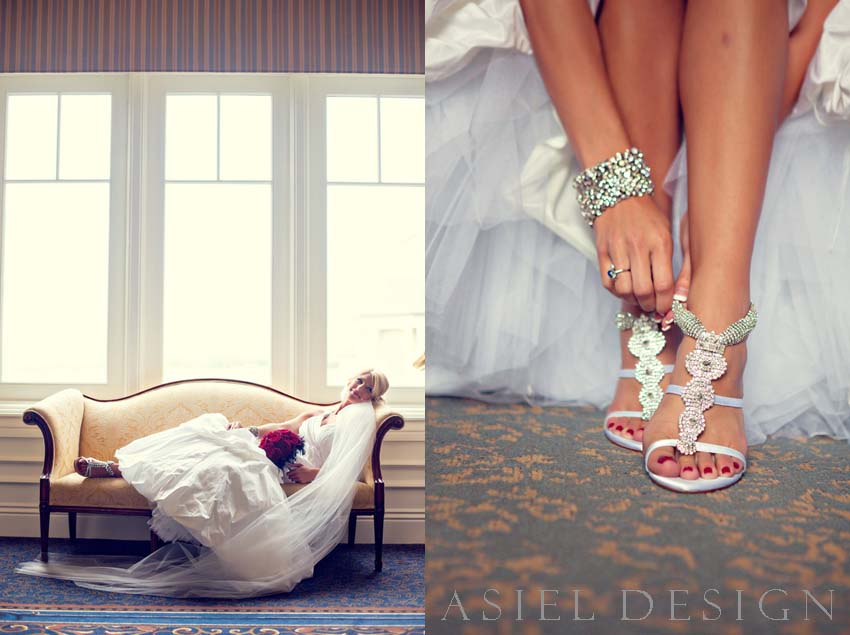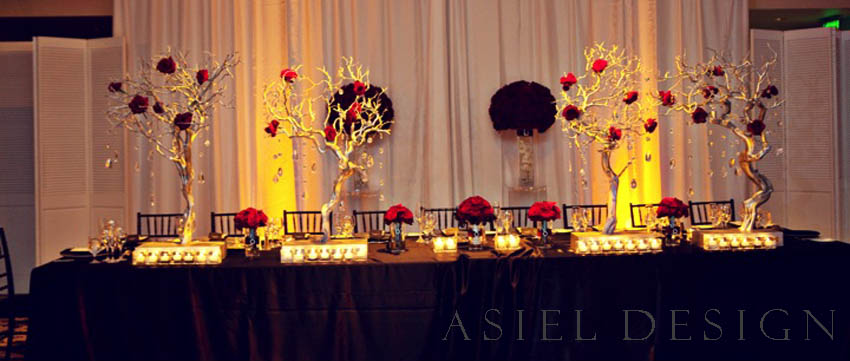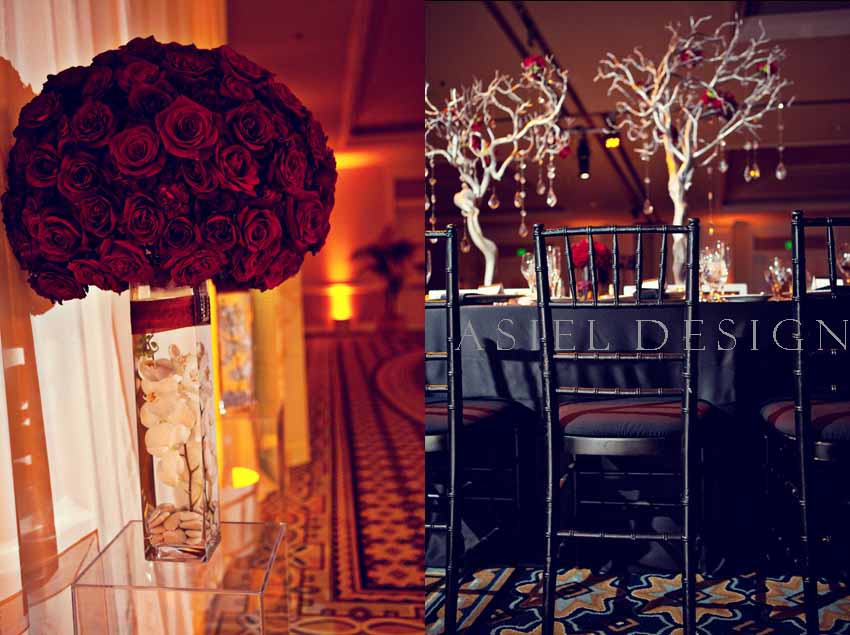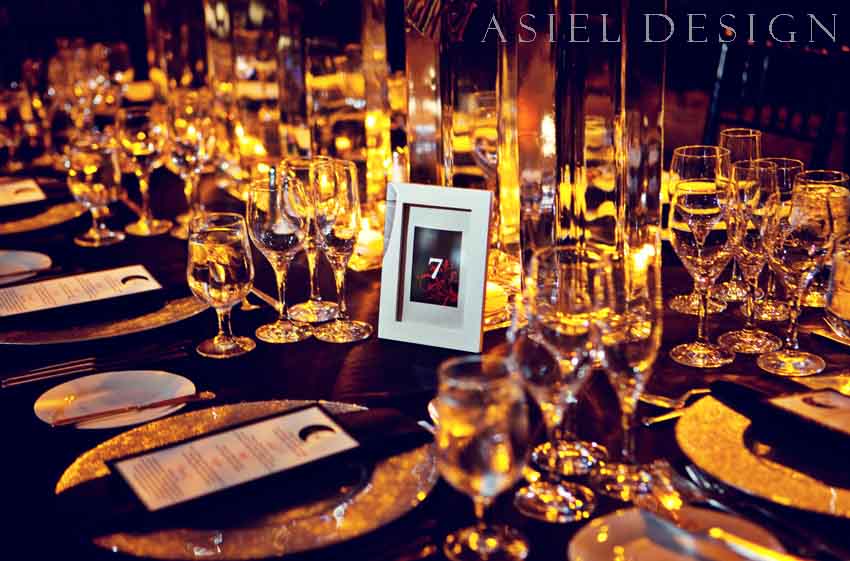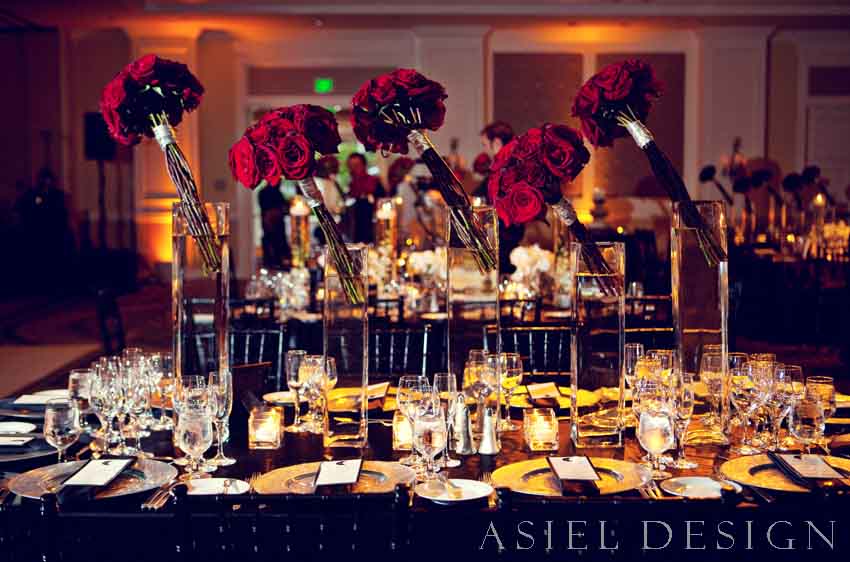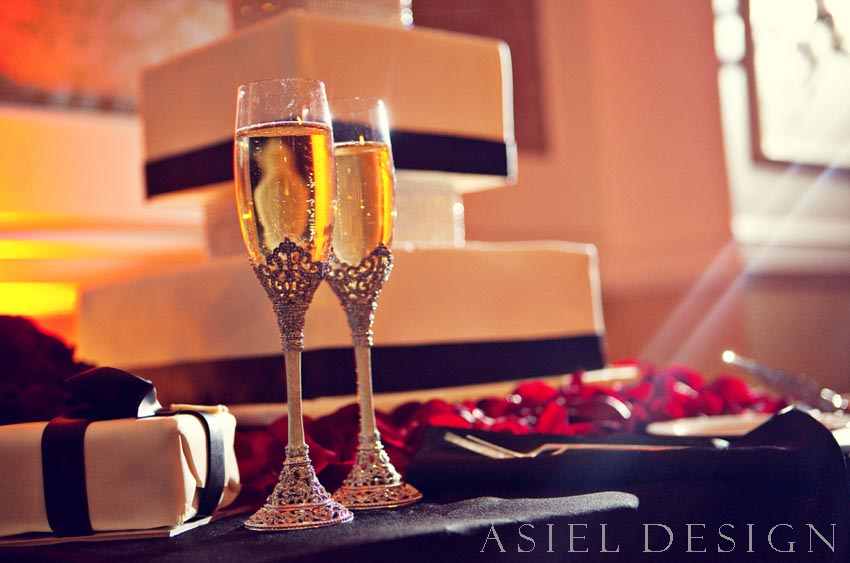 Jennifer Stoltz was a gorgeous bride.  At times it seems that I grabbed a model and had her take photos in this wedding set up – but no, it is a real bride.  That is Jennifer.   I promise I don't have requirements on beauty to be my bride.  But I have to admit- it appears that I do.We wanted to create a glamorous, sexy, modern design for Jennifer's wedding.  Rhinestone and crystal accents, deep red roses and lush petals were part of pulling this style off.   Typically red and white are a scary combination that reflects the 80's.  However, with the grounding of black and the separation of the colors, it becomes glamorous; that is why we keep the white all together, the red all together and the black separated.  The red roses stay grouped, the white orchids stay together and the black ribbons or linens are at the base.  When white flowers are set into the red flowers, it can start looking like a polka doted design reminiscent of Mini mouse.The Plexiglas pedestals and the glass vases create the modern style.  By submerging the flowers under water, we create a modern silhouette.  By adding lush petals to the base, we create the glamour.  The swirled soft curves of the velvety red petals create the sexy feel.  Simple design is one of the hardest ways to design. You have to design with intention.  Less is more.  Each item has to have a purpose.The ceremony was actually windy that day.  We had designed glass vases to go on the Plexiglas pedestals between the pedestal and the flowers pomanders.  Because of the wind, we had to lower the pomander and set it right on the Plexiglas pedestal.  It was beautiful – even though Mother Nature had different plans for us.  However part of a wedding is going with the flow and knowing how to improvise.Rhinestones played a part in our overall design style.  With Jennifer wearing a
Ines Di Santo
gown, with clean lines but lush fabrics and dramatic jewels, we wanted to compliment each detail.  Her bouquet is Black magic roses and burgundy spray roses -accented with wispy black feathers.   Rhinestone detailing is brought in on her bouquet handle, but it isn't mixed into the flowers.  This creates the same feel as the dress -separation of lines.  Rhinestones are placed in certain focal points, but not placed all over.  This creates a glamorous, sexy, and modern feel.  The same sexy line on the back of her dress is echoed in her choice of shoes.  These repeat elements are what create a bride's wedding style.  I love this.
Our boutonnières are simple and play off of the same feel.  Rhinestones on men are not always appropriate but the silver ribbon pulls in the same feel -yet it also brings masculinity.  I love to use smaller blooms for the boutonnieres so that it doesn't overwhelm the suit.  It is a pop of color and a detail.  I don't want it to be the main focus.
In the reception, our black linens ground the room creating a black-tie elegance and a blank palate for the rest of our colors.  The candlelight and soft amber glow of the room create our classic feel, and the pop of either red or white depending on the table floral bring in our modern style.  It is all sexy and glamorous.
Our two styles of centerpieces go together but are very different from one another.  The white is working off of tall candles and low white orchids while our red roses are working with tall flowers and low candles.  This juxtaposition is beautiful in a room.  We kept our reds on one table and white on the other creating our block design.
The Ritz Carlton is a wonderful place to get married, as the backdrop to all of our design is straight out of a fairytale.  The ocean views and lovely ballroom are any bride's dream.  We loved working with Nicole of Nicole Lisanne Events as she ran the show seamlessly.
Be sure to check out our blog next week.  We will be featuring the photos for our Cirque de Sang event that was at our warehouse.
I love to hear your feedback on our events.  Be sure to leave a comment below.
FLORAL & EVENT DESIGN | A S I E L   D E S I G N
VENUE  |  ritz carlton, half moon bay
WEDDING CONSULTANT  |  nicole lisanne weddings by design
PHOTOGRAPHER  |  serendipity studios
DRESS  |  Ines Di Santo, Gabrielle Bridal
LIGHTING, RENTALS & LINENS  |  classic party rental
CAKE  |  elegant cheesecakes

You might like: