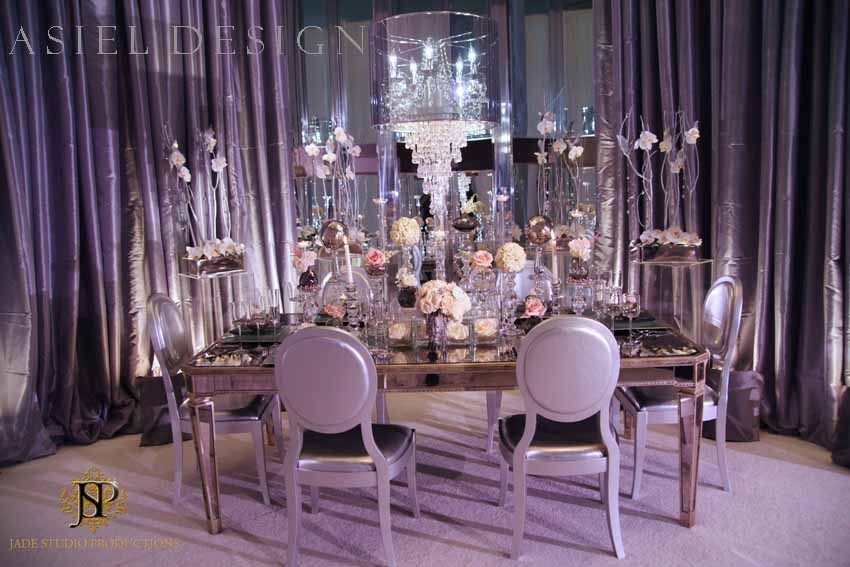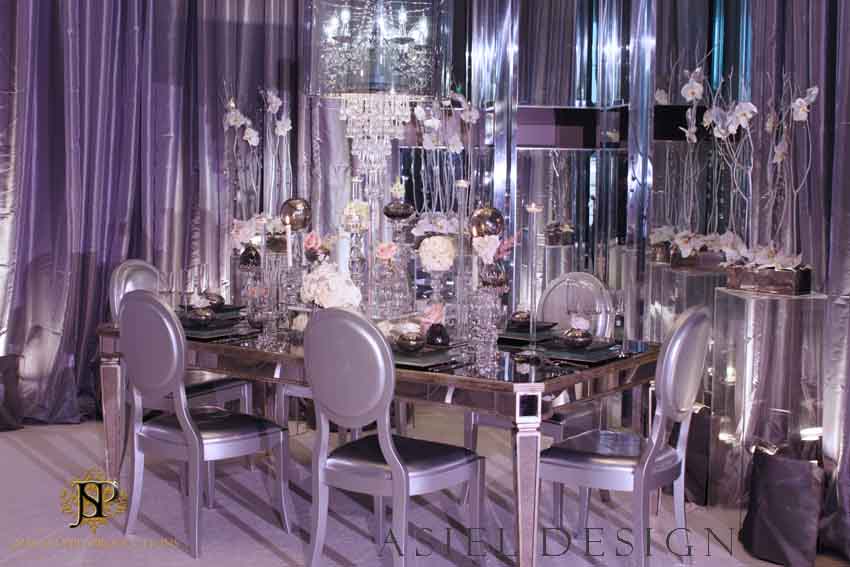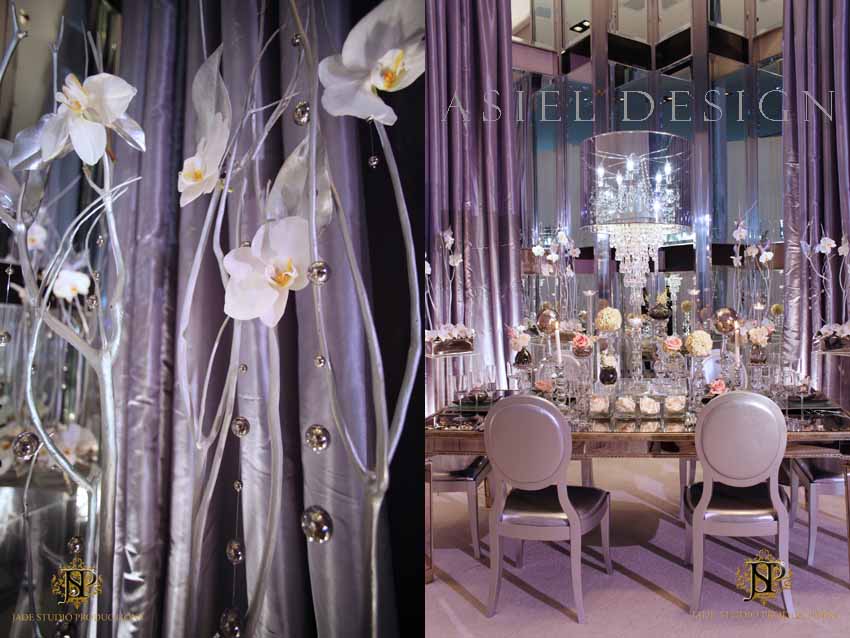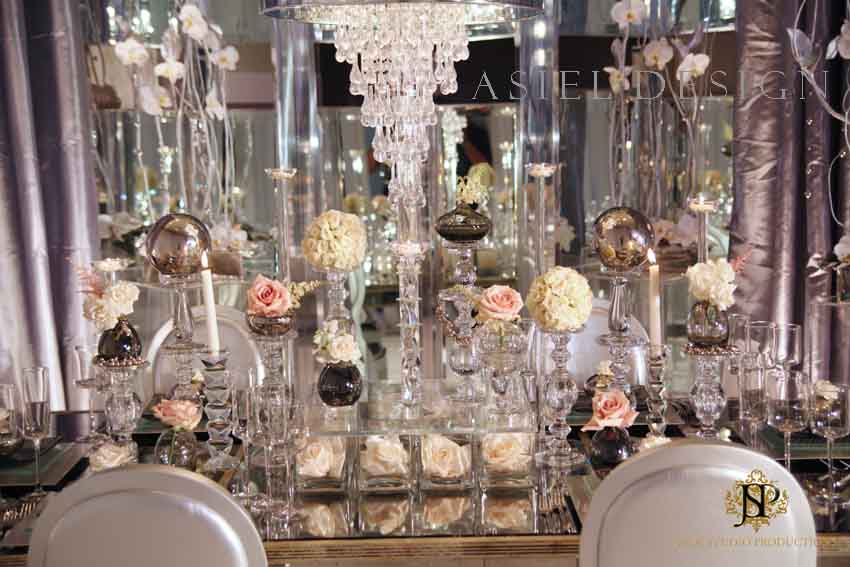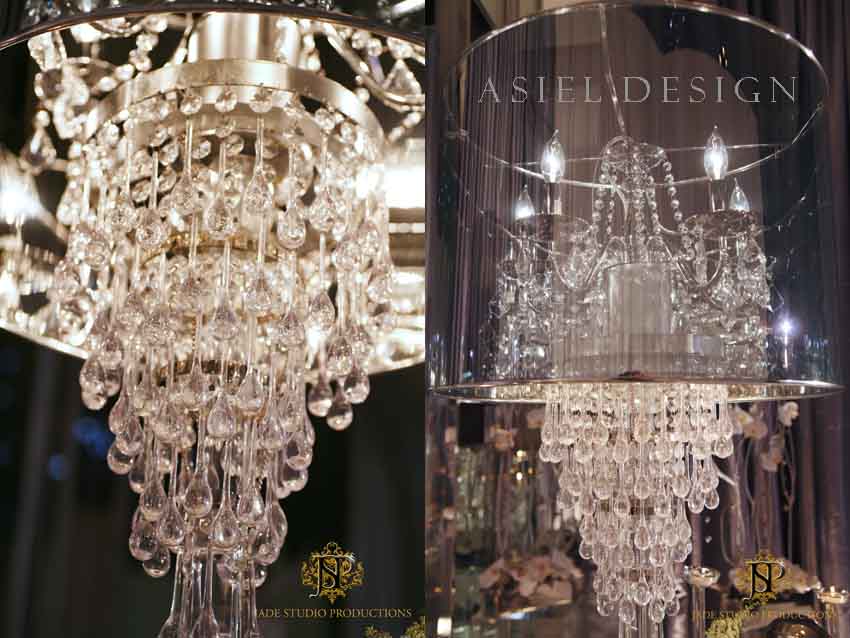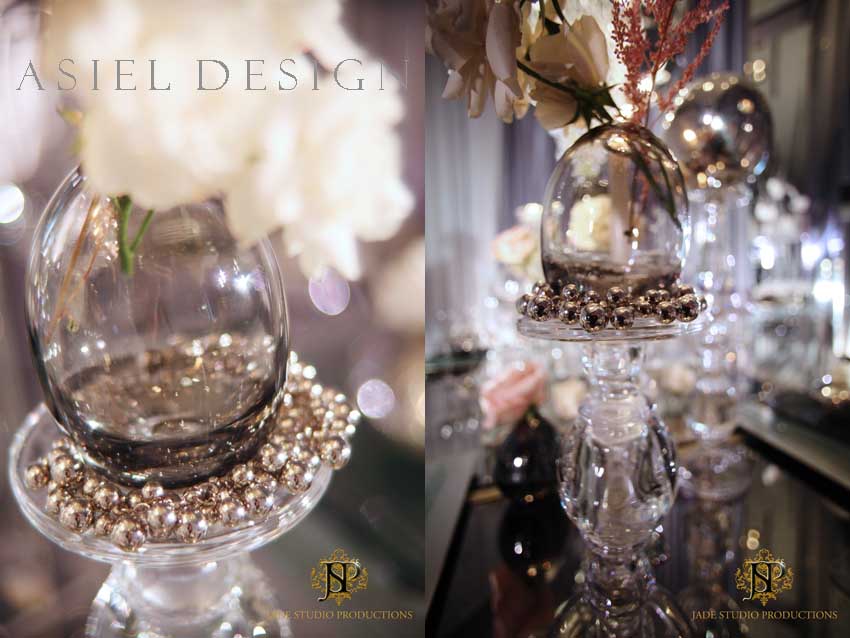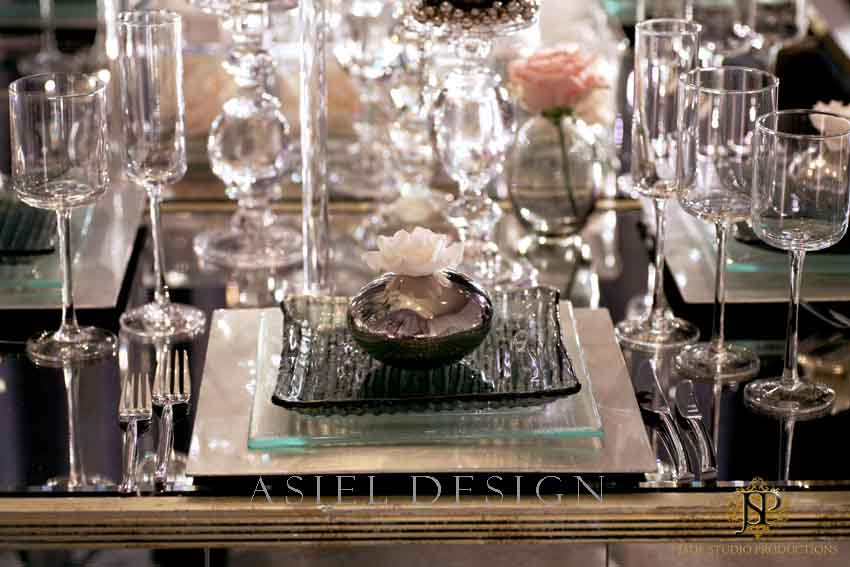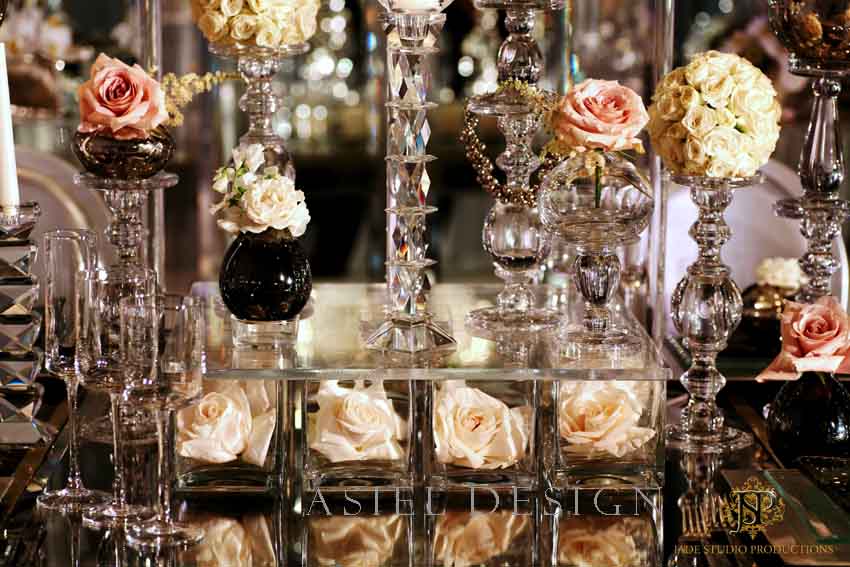 A modern femininity best describes the tabletop we created at the San Francisco
St. Regis.
We wanted to set forth a design that looked like it belonged in an estate dinning room more than echoed a ballroom tabletop.  For this design we choose a rectangular mirrored table.  The rectangular shape creates the imagery of a family dinning experience.Chrome, grey, clear glass, blush pink and ivory were our color palate.  Plexiglas, mirrors, glass, translucent grey vases/plates and crystals were our design palate.  Colors and textures working together are what make up a style.  In this design, we worked with shapes to create our modern style.  We used square vases set next to each other to ground the large chandelier structure.  One of my favorite things about Jonathan of Asiel Design, is his ability to create custom designs that are 3D and reusable.  Most of the designs that I, Linnae of Asiel Design, create are floral.  Jonathan works with Plexiglas, wrought iron, wood and other materials to create a whole inventory of pieces that are available for our clients.  This chandelier is one of those pieces.We wanted to work with raised candles and lowered florals.  The variation of curved risers and vases are just as much part of the design as the flowers themselves.  We love to use many design elements to create a table-scape.  We believe these elements are just as important as flowers and if used in balance they can make an event feel dramatic and unique.Because there are minimal flowers used, this is also a green design.  GREEN WEDDINGS is a concept that is gaining more and more of a following.  We have found that most of the times those weddings look like they belong to tree-hugging granola-girls (which I tend to be but seldom look like).  We want to give the green weddings a bit of a glamorous rep.   This is one of those weddings that use REUSABLE materials.  This is a huge part of what keeps something green.  MINIMAL use of flowers and reusing items that can be used by many brides keeps our carbon footprint down.We worked with a team of professionals to pull off this design. 
Enhanced lighting
created gorgeous fabric draping behind the table.  We placed this on either side of the mirror backdrop that is part of the "St. Regis" ballroom.  We decided to add drape to keep our color-scheme cool.  The walls were dark brown wood and we needed to neutralize and cool our colors.  They also lit the space with up lighting and spot lighting.
Hartmann
put our white carpet in again to neutralize our colors.  We selected a variation of their glassware and chargers to pull off this look.  We wanted to play with the opaque silver and translucent grey in the plates to play off of the vases.
Our table top flowers consisted of single stems of roses, spray roses, ranunculus, and wood flowers with wispy textures of astilbe.  Behind the table we had phaleonopsis orchids wired into the branches.
Dave Ethridge of AVR created a beautiful video that is posted on our Grace Ormonde Page. Check it out.  Hit the video tab and push play.
What ideas do you like to make weddings a little greener? Please leave a comment below.
EVENT DESIGN & FLORAL DESIGN  |  A S I E L  D E S I G N
DESIGN ELEMENTS  |  A S I E L  D E S I G N
CHAIRS, TABLETOP, CARPETING |  hartmann rentals
LIGTHING AND DRAPING  |  enhanced lighting
VIDEOGRAPHY  |  a video reflection

You might like: