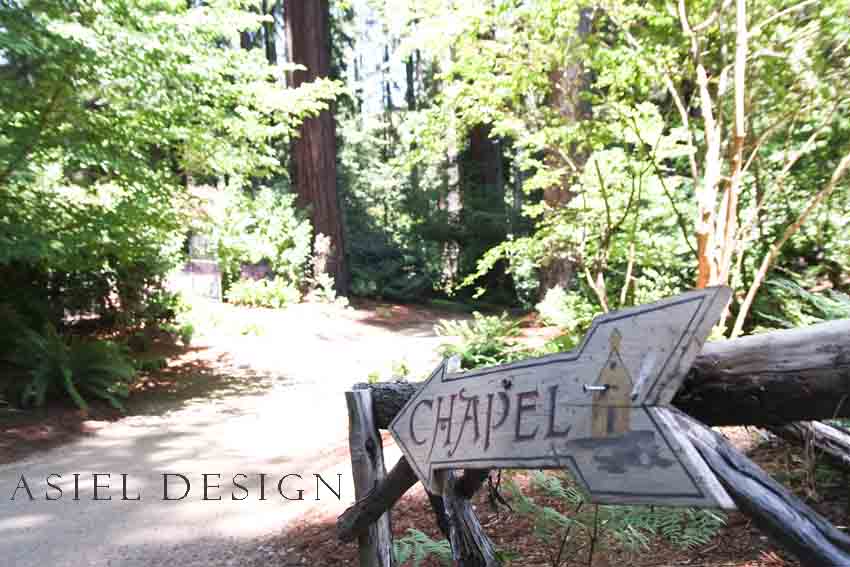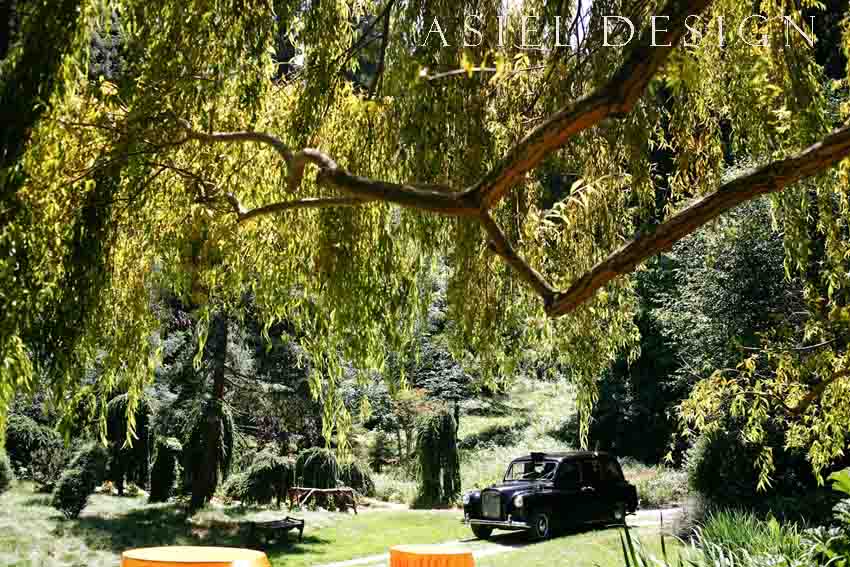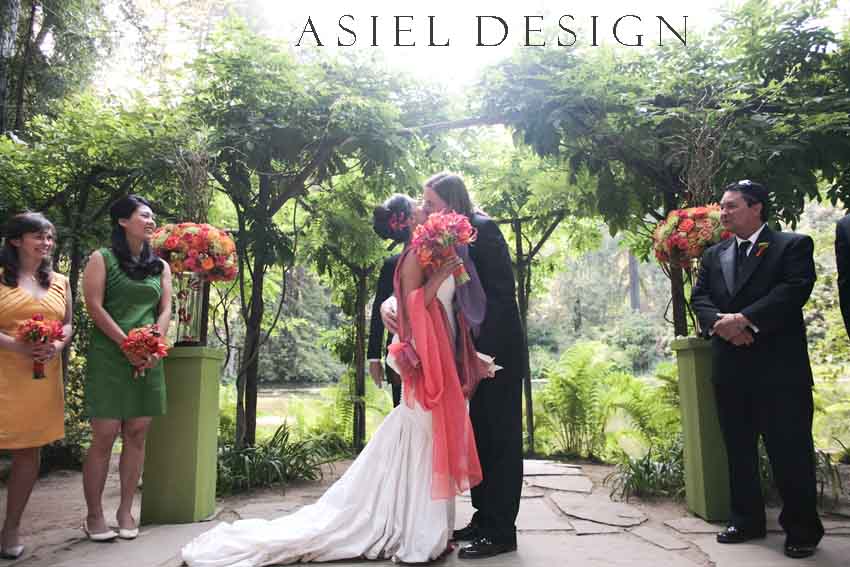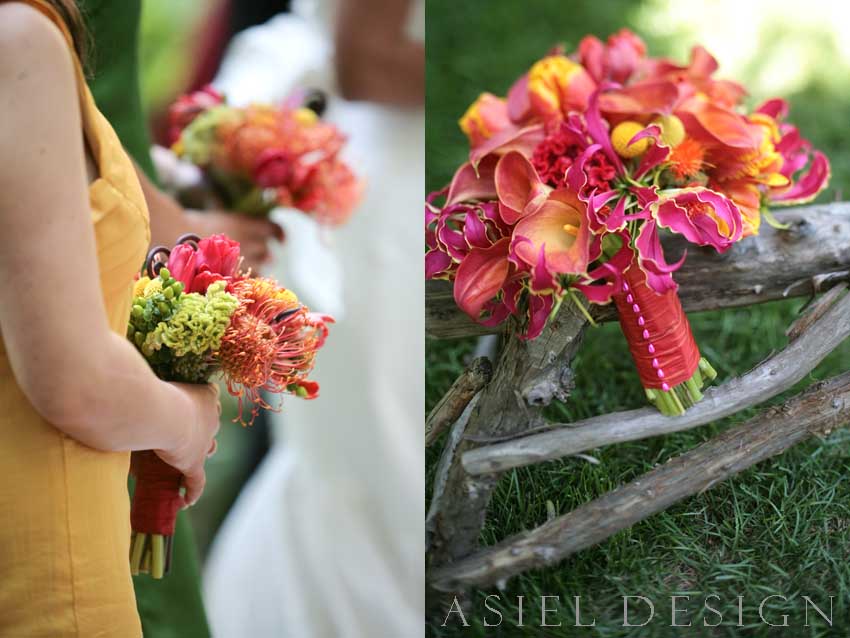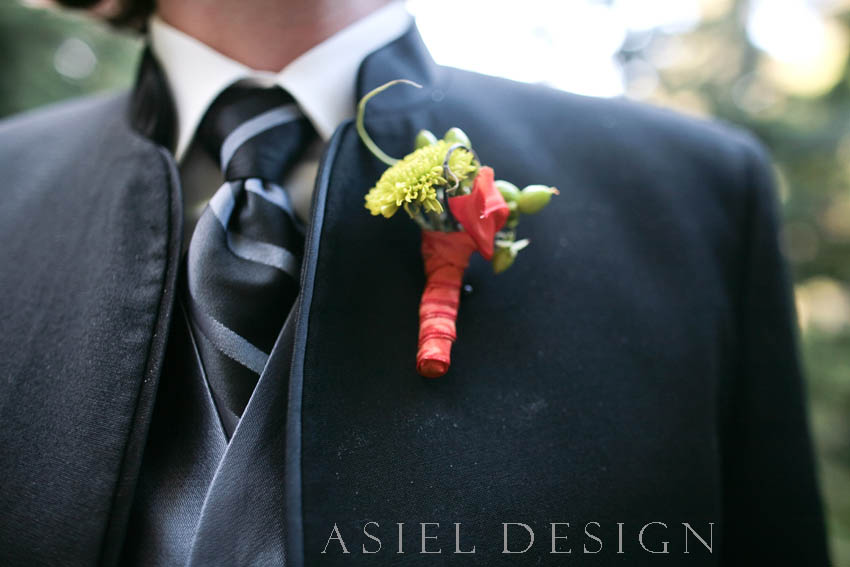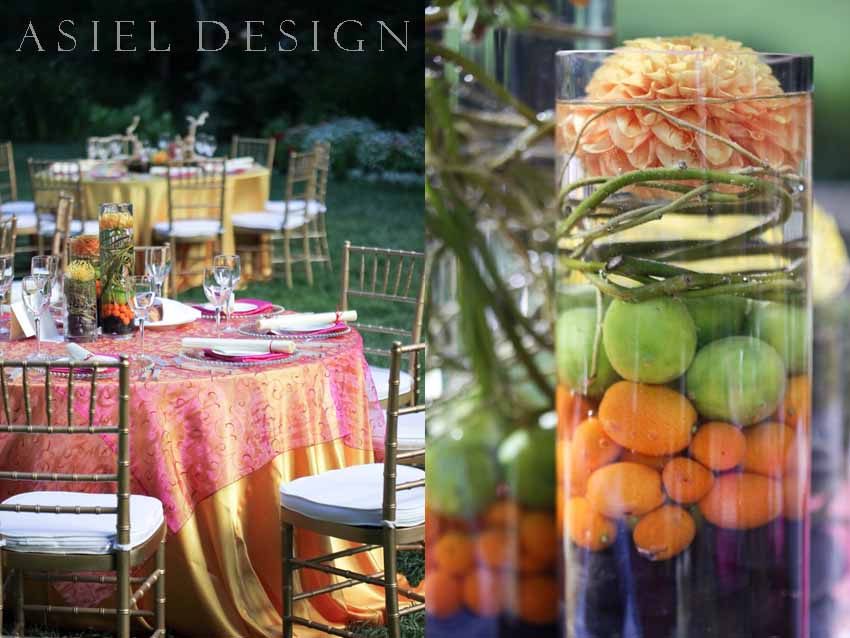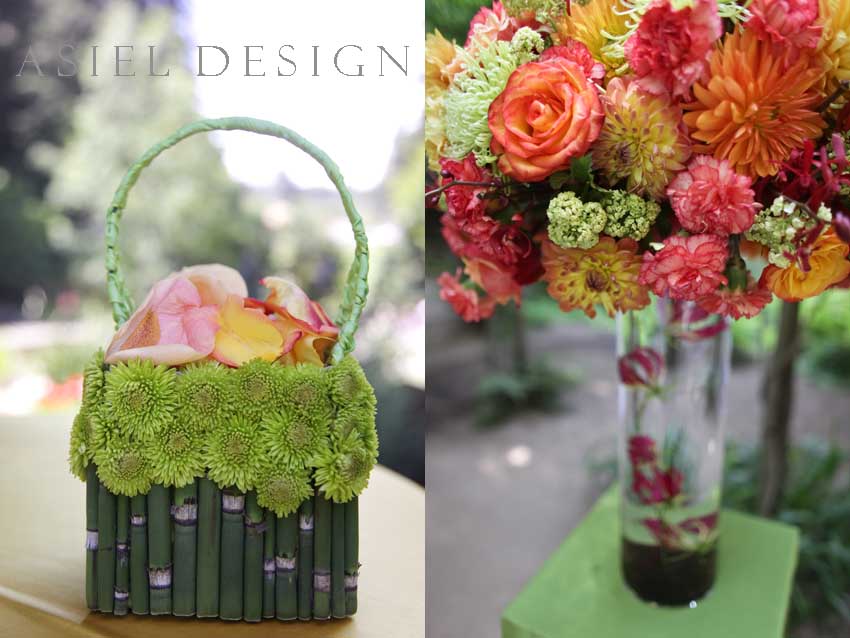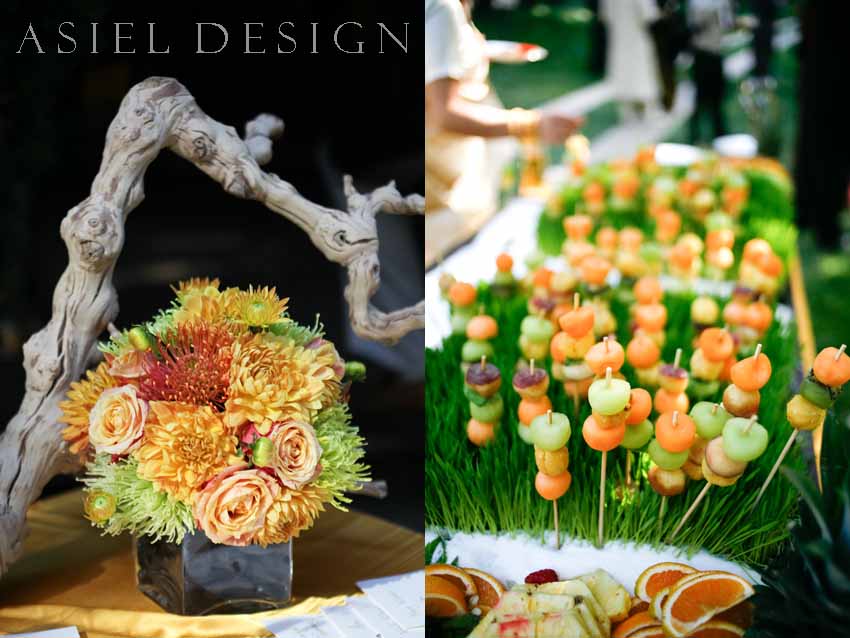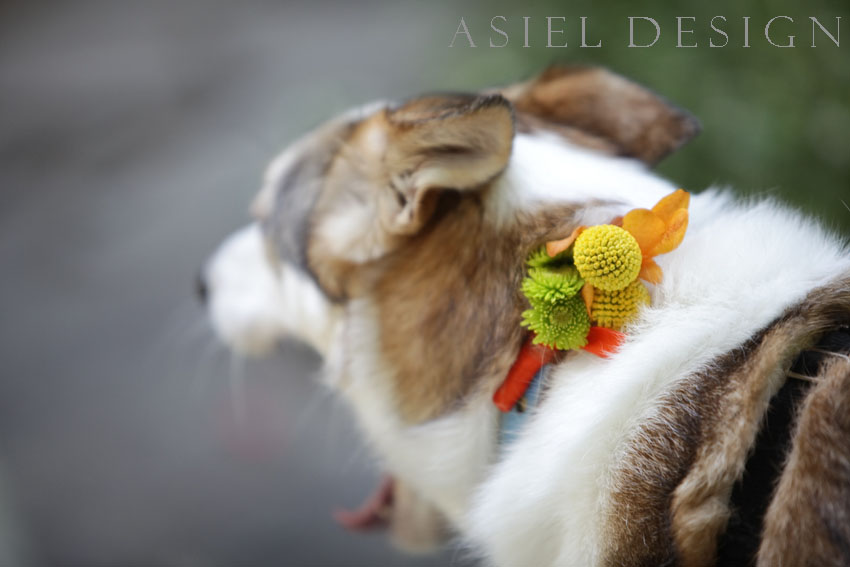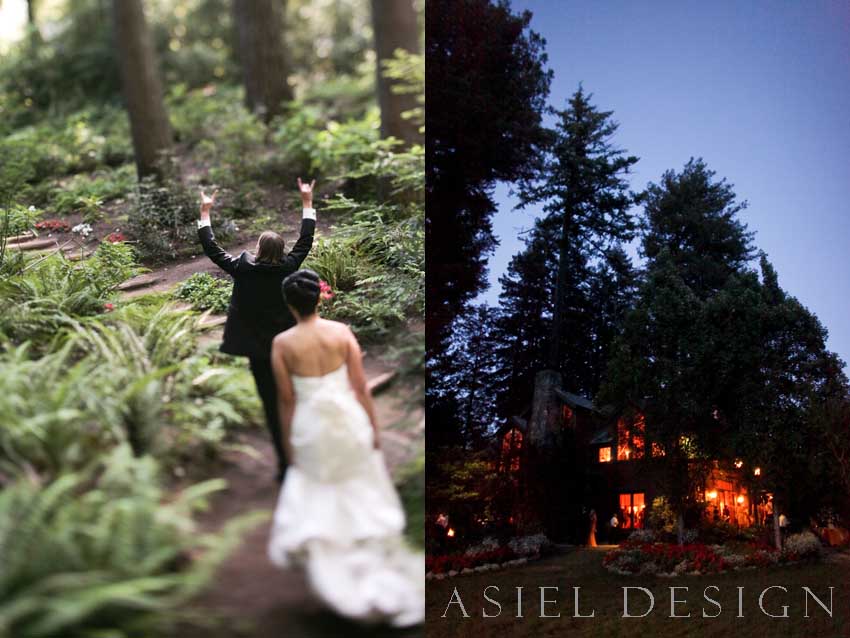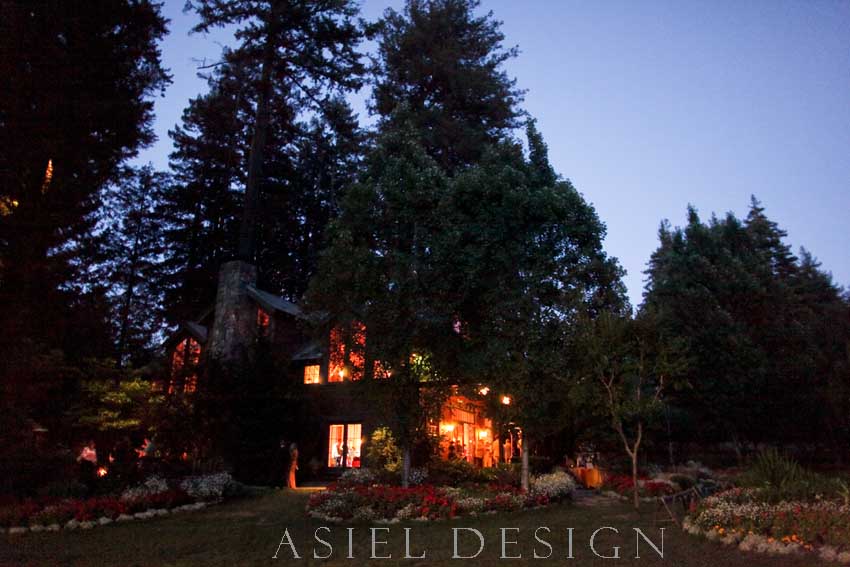 A pop of orange makes this wedding fun.  Our clients, Anjuli and John wanted to keep things fresh and different.  Whimsical, airy and textured are the words I would use to describe their wedding.  The mood was playful yet sophisticated.To create this feel, we started with bright linens.  Then we grounded them with wood boxes for some of the table centerpieces. Those centerpieces had a mini landscape design incorporating dahlias, fig vine and stones, as well as other blooms.For the second style we played with layering fruit such as kumquats and key limes in a vase with curly willow, stones and flowers.  The repetitive element of the stones can be found in the  guestbook table arrangements and the large arrangements for the ceremony.  We opted to create two gorgeous floral designs for the ceremony that could be transferred over to the reception afterwards.  This cuts down on waste and utilizes the funds to the maximum capacity.
The bouquets for the bridesmaids were consistent since the bridesmaids wore different dresses.  We wanted their bouquets to tie them back together.  Coxcomb is the squiggly green texture that looks like coral.  We also used orange pincushions – these also look like under the sea flowers.  Flowers each have a style and the combination of those flowers create an overall floral style.  We played with odd blooms that were not soft or fluffy, but quirky and textured.  This kept the guests intrigued as they saw pops of color.
Gloriosa lilies are the hot pink flowers in the bridal bouquet and in Anjuli's hair.  This is my favorite flower. It gives the airy feel that she wanted.
Our flowergirl had a beautiful handmade basket that we created with horsetail reeds and Kermit mums.  They are named after our favorite character, Kermit the Frog.  At least that is how I think of them.  This flower is repeated in the boutonnieres.
This was a beautiful union between two people who were not afraid to be themselves and to blaze their own trail.  I had so much fun!
Sincerely,
Linnae Asiel
FLORAL DESIGN  |  A S I E L   D E S I G N
VENUE  |  nestldown

You might like: