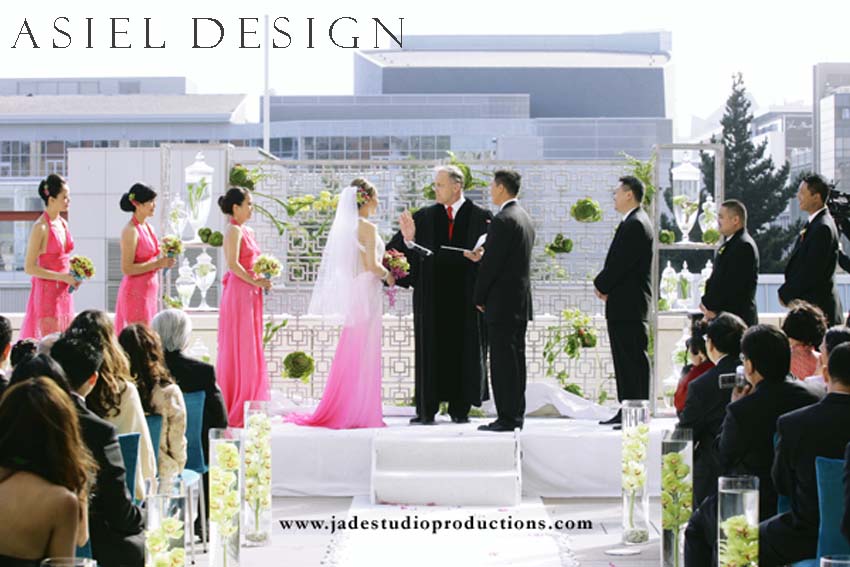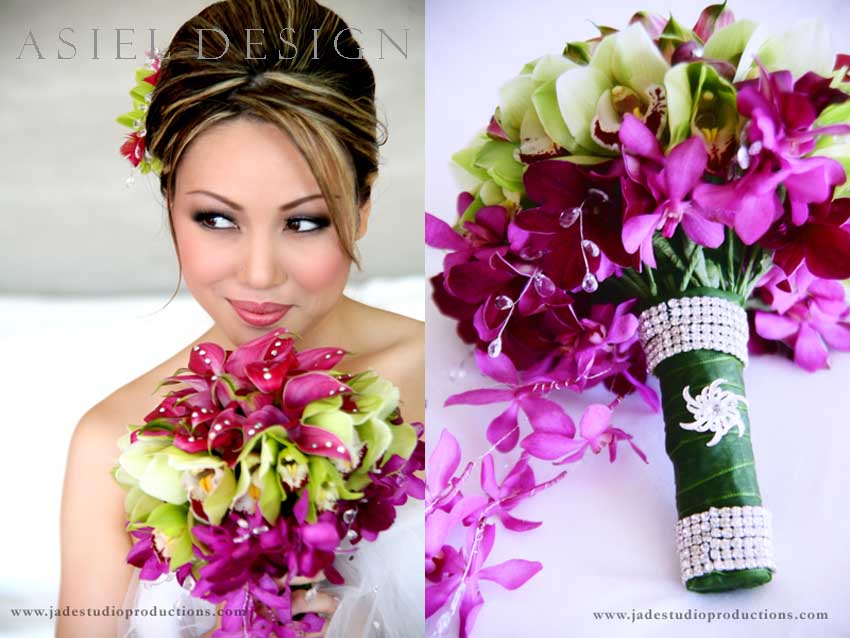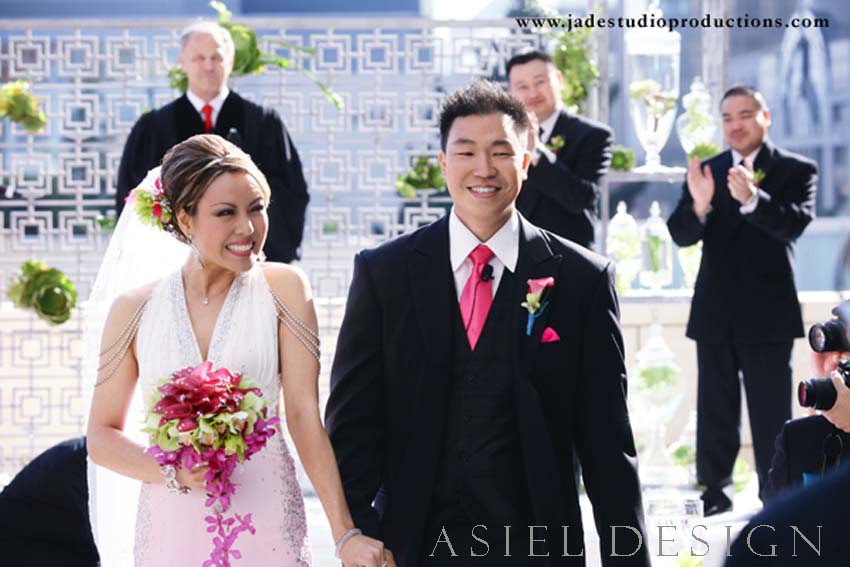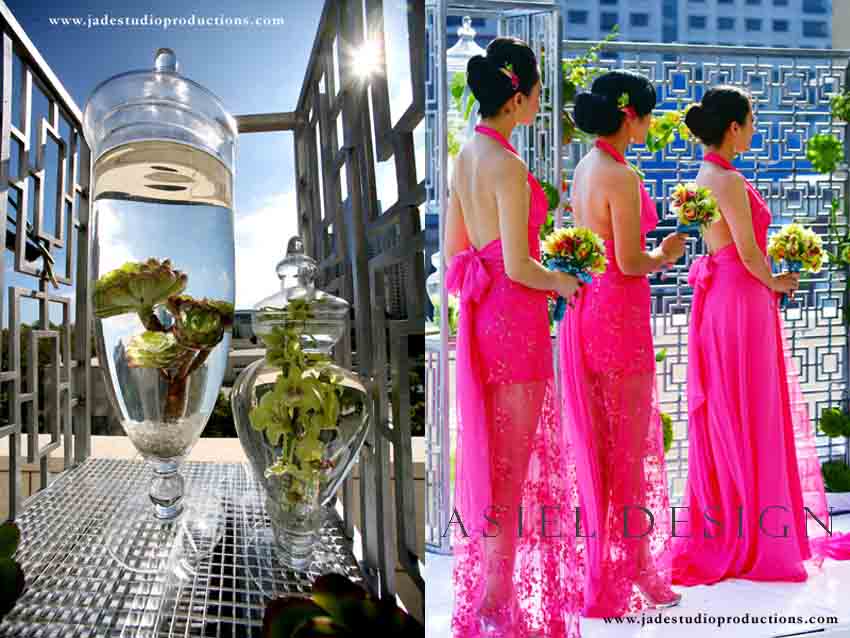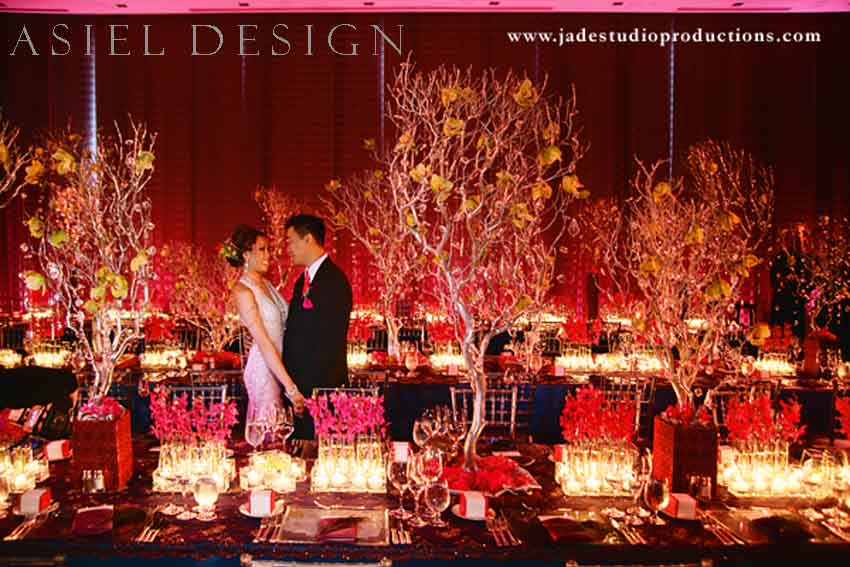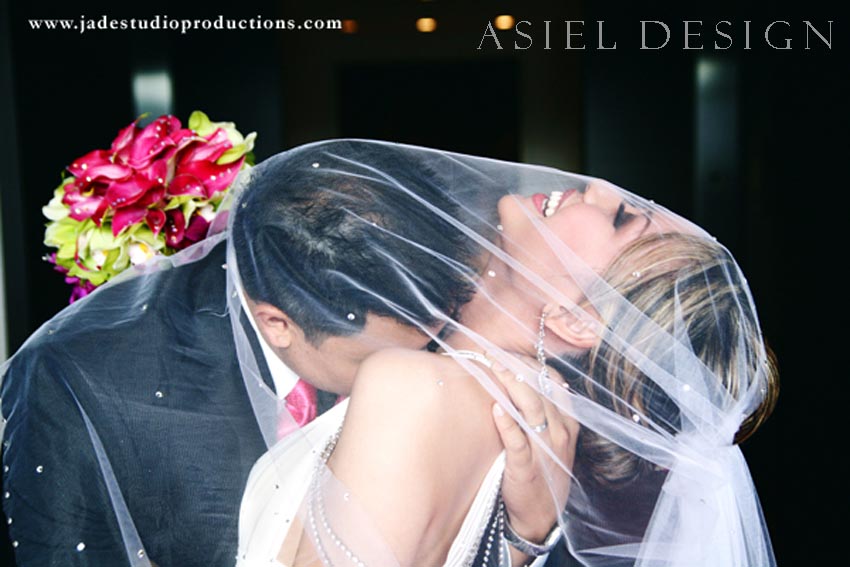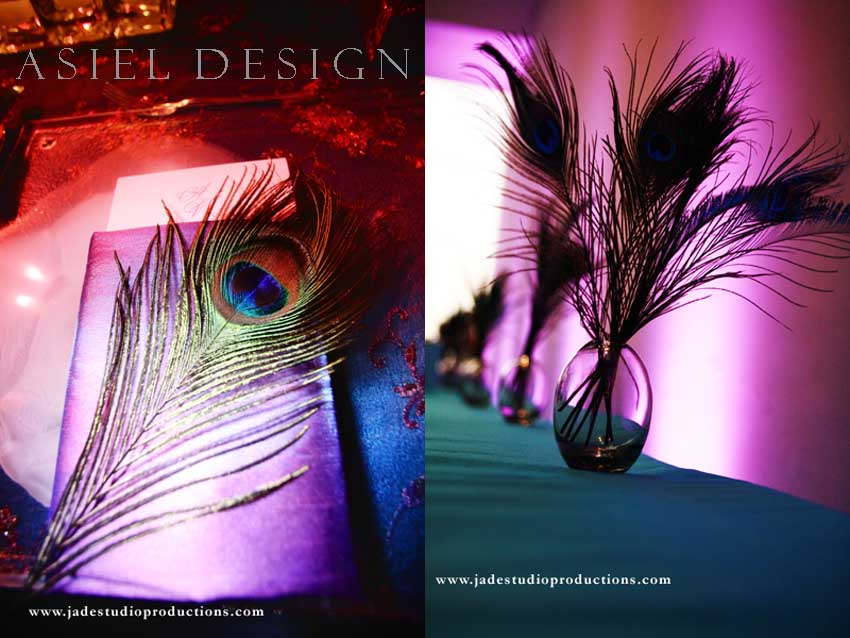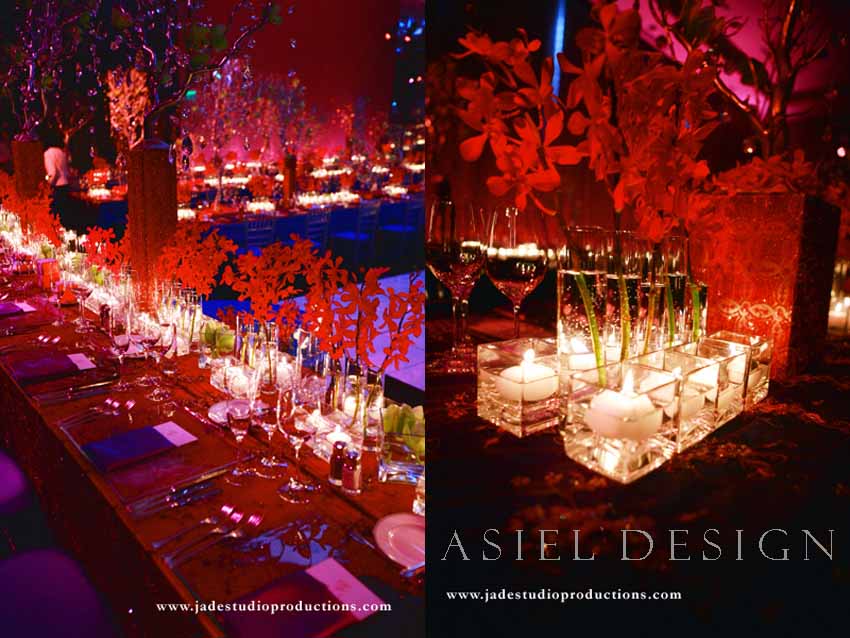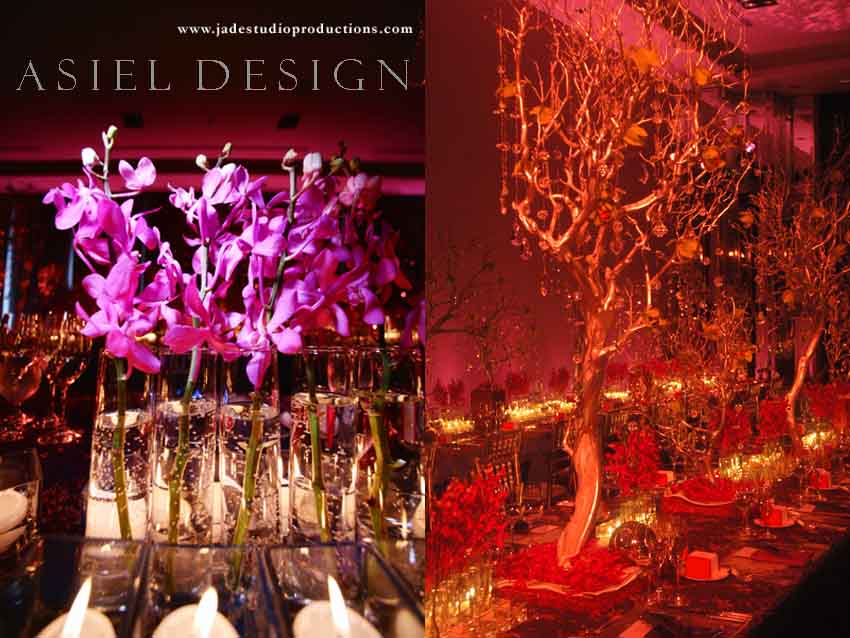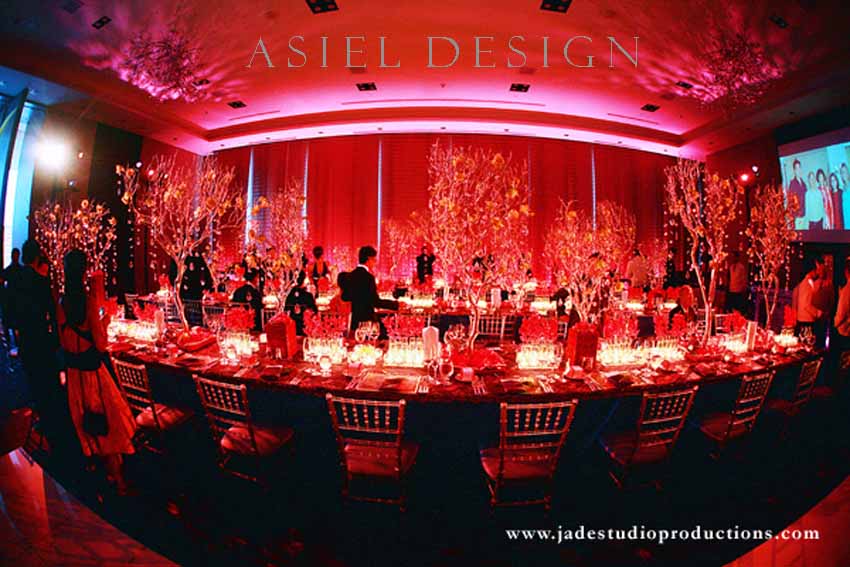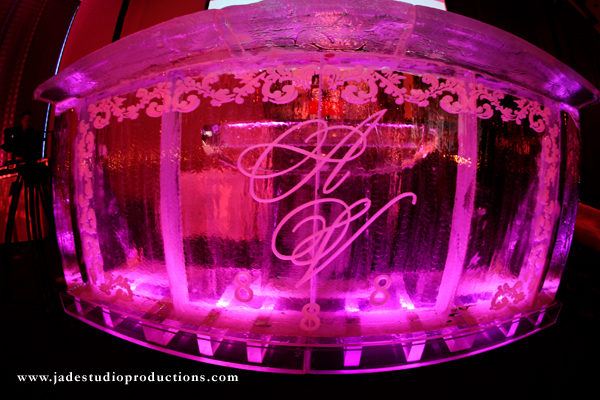 Miss Asian American Pageant winner, Amy Truong married the love of her life, Vincent.  She was in love with rhinestones, crystals and everything bling.  She wanted to bring that into her wedding and Vincent just wanted her to be happy even if he had to wear a little pink.  Morgan Doan worked with her creating a color palate and design style.  Plum, peacock, magenta, green and silver were her colors.  It was such a glamorous event.  We proudly watched as it was aired on Platinum Weddings (Season 4: Episode 4).
With the rooftop of the St Regis in San Francisco, we created a modern style for the ceremony.  Our backdrop was turned into a vertical succulent garden.  Tall cylinder vases holding green cymbidium orchids stretched up the aisle.  Modern paved rivers of white stones lined the runner.  This was all done to create a clean, modern, sophistication.  We also stayed away from the Pink as the bridesmaids and the bride brought the color into the space.  This allowed them to be the focus.  Our backdrop is a custom designed signature piece created by Jonathan.
Amy's bouquet is made of mini calla lilies, green cymbidium orchids and magenta vanda orchids.  They are all wired and embedded with rhinestones to create the most bling possible.  The more bling the better, was the thought Amy was going for.  The handle of her bouquet was encrusted in rhinestones and a broach as well.  We strung vanda orchids to trail from her bouquet to create an airy drama.  This is called a cascade.
Our cocktail hour was created with peacock feathers.  This kept the surprise element of the magenta and rhinestone blinged out reception that the guest would be walking into next.
Our reception backdrop was created with Wildflower Linens beaded magenta linen which overlaid a plum linen.  This created the color in the room.  We designed a table-scape to go down the dinner tables.  We layered the tables with candlelight, magenta orchids, and silver trees.  Each tree had crystals and cymbidium orchids wired into them. That was our top layer.  Closer to the table level the magenta orchids were backed with candles.  A row lay in front and behind them.  This is a modern design that played off of simplicity and shapes.  Jonathan of Asiel Design created this design for Amy.  The clear water reflected the look of the crystals.  Each tree had magenta rose petals and vanda orchids laying at the base of it.  This again added color and fullness. It was an incredible feeling standing there with the crystals dangling.
The peacock feather laid on each napkin created texture and opulence.  The wedding was truly magical.  The guests were in awe of the ambiance in the room from hundreds of candles, dozens of trees, and thousands of crystals.  Amy was beaming as she and Vincent walked in.  We were all delighted to see her dream come to life.
Thank you Celeblife for publishing this gorgeous wedding.
FLORAL DESIGNER & DÉCOR  |  A S I E L   D E S I G N
EVENT DESIGNER & PLANNER  morgan events design & production

VENUE, CATERER, BAKER  |  the st. regis hotel
PHOTOGRAPHY & VIDEOGRAPHY |  jade studio productions
SPECIALTY LINENS |  wildflower linen
LIGHTING DESIGN |  got light?
CUSTOM CEREMONY DOLCE CHAIRS  |  blueprint studio collection
KING TABLES, ICE CHIAVARIES  |  hartmann studios
ICE BARS  |  clear memories, inc.

You might like: