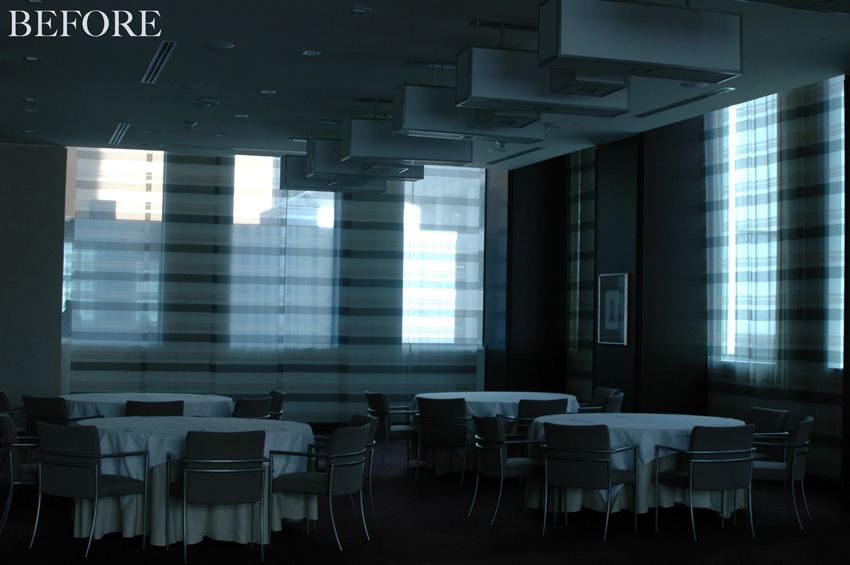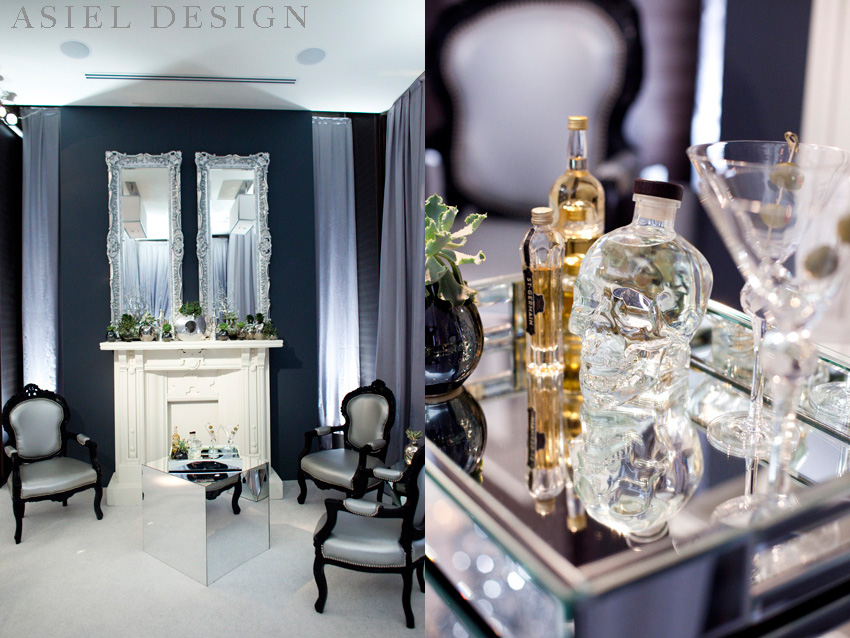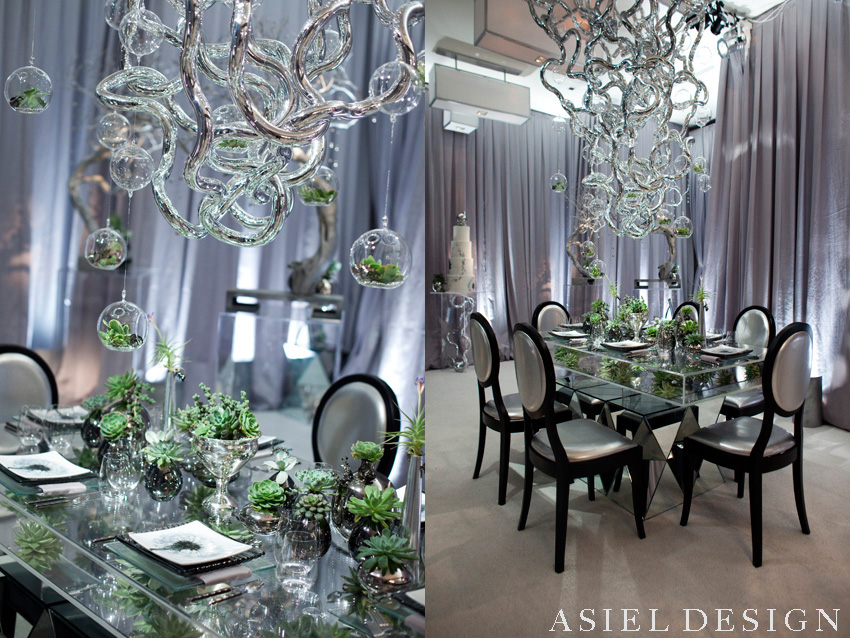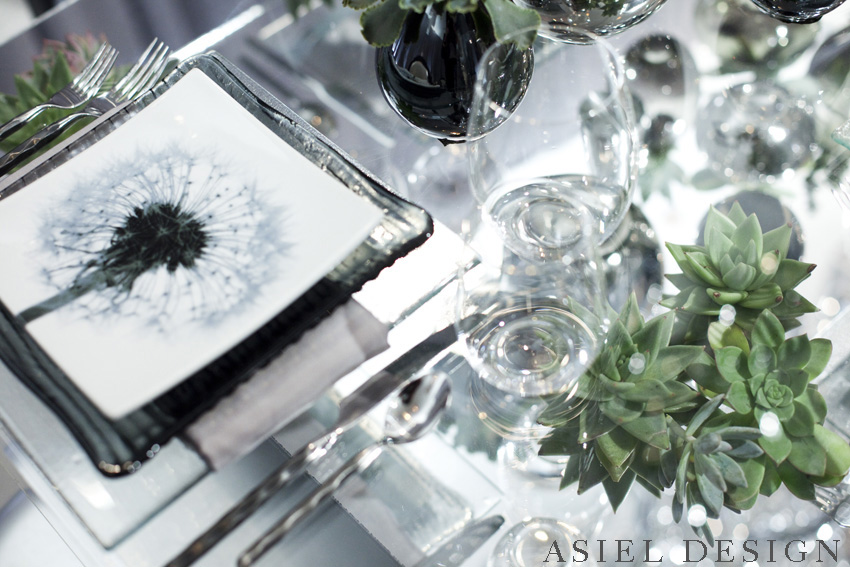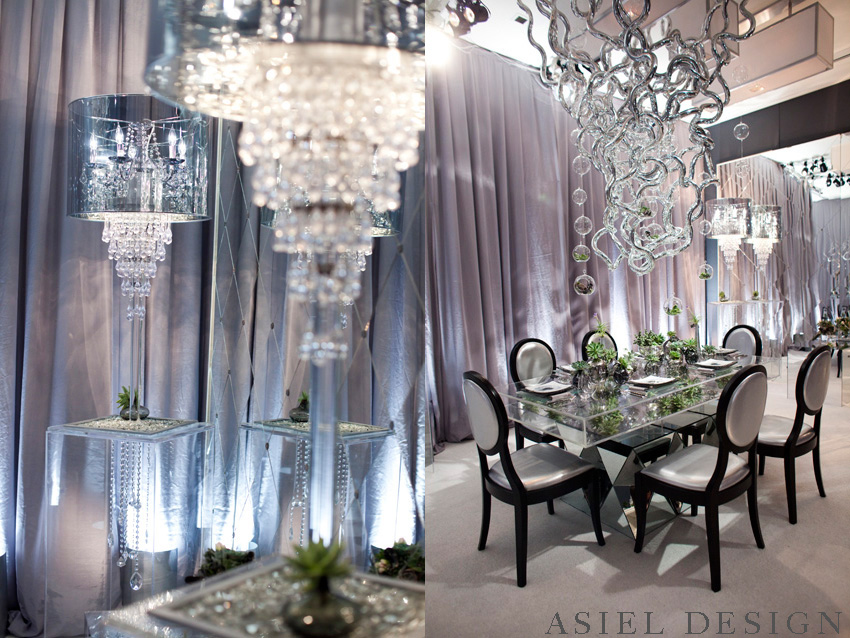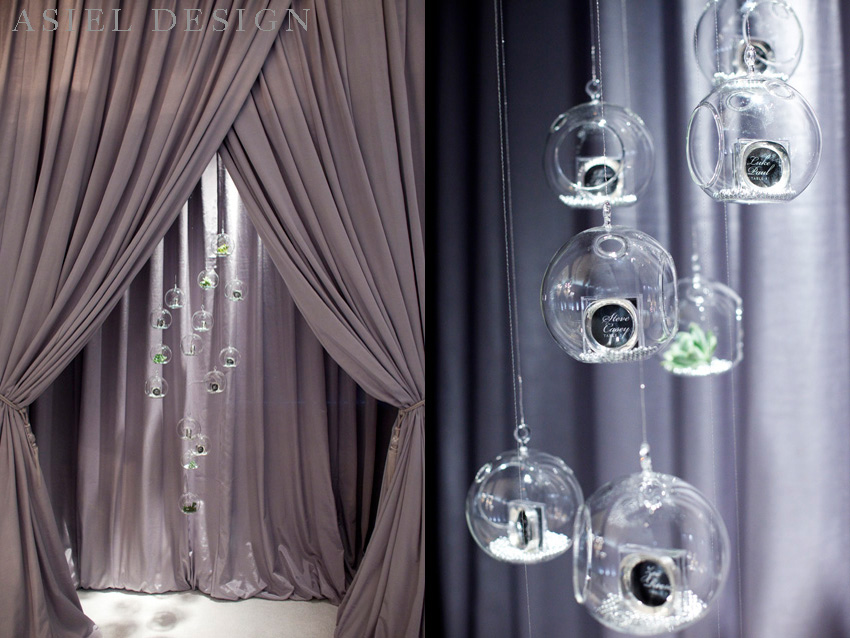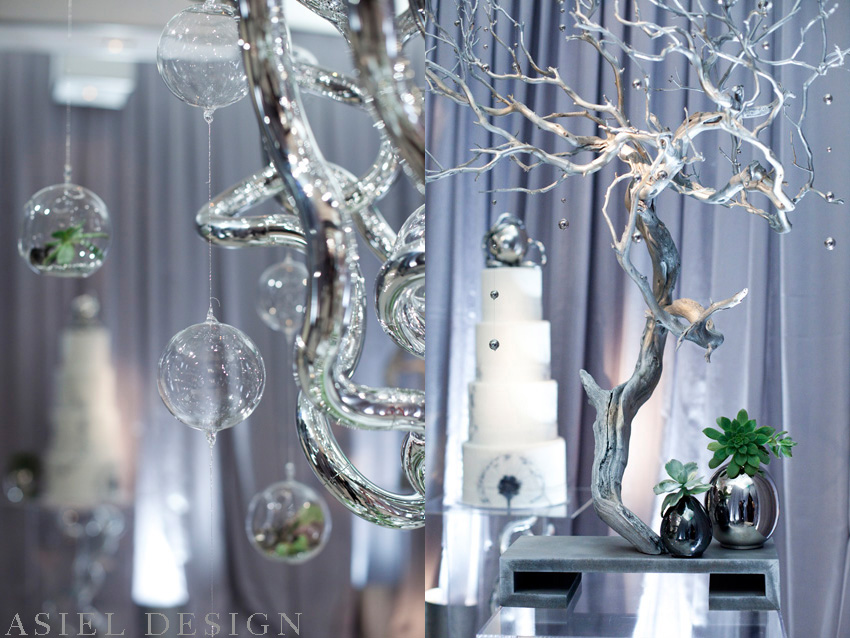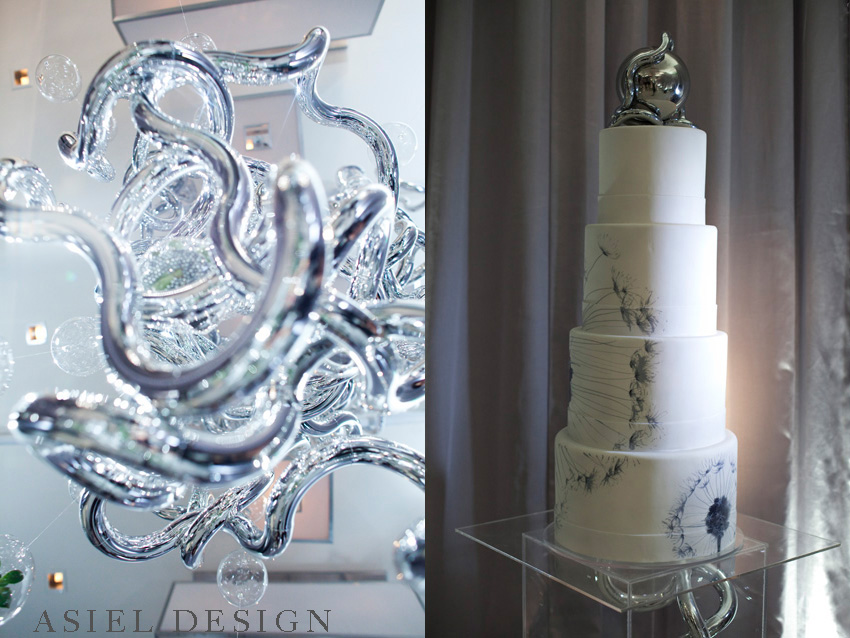 Time should stand still in a well-designed space.  That was our mission as we put together a juxtaposition between modern and old world.  We wanted to create a space that felt like a comfortable living space but not in a casual way. Design can either come from the tabletop to the room or it can begin with the room and move to the table.  The second was the direction we went with.  To be honest, we moved it one step farther out.  We wanted to play with specific elements: silver beads, curved chrome infinity toys, plexiglas, mirror, manzanita branches, bubble glass, etc.  We then needed to make a room fit around our elements.   In this situation we needed to bring in a carpet, create a chandelier, float a wall with a fireplace and mirrors, and  create a few fabric draped walls to make boundaries in our space.  After we laid out our space, we THEN designed the table top, table itself, Escort card hanging display, lounge, and cake design.
It looks effortless but the truth is: great design looks simple.  That is how you know it is great.  It makes sense to you.  There are elements that wow you that maybe you wouldn't have thought of, but it has order to it.
The chandelier dangling over the table was made of many individual pieces all intertwined.  The chandeliers flanking the mirrored walls are made from scratch with a few elements purchased.  The furniture for the lounge was old antiques –repainted and upholstered.  Each detail laid a foundation of seductive elegance playing off of simplicity and reflective surfaces.  That is how we could create our element of surprise: common succulent plants and recycled metal shavings.
"Succulents don't go in that environment", most would say.  But that was the unexpected surprise.  Anything is possible if you can imagine it into reality.  Recycled metal shavings act as a detail of texture.
The last surprise was how "green" the entire event was.  In a world of  "endless resources" comes a new way of thinking.  Bigger isn't better.  Less is more.  Reusing is responsible.  The succulents were all planted in a garden after the event and each of the other design pieces can be reused event after event.  The metal shavings were already recycled.  This is the sexy way of being green.
We want to thank each of our partners who made this possible. We love our team of professionals and can't design in a vacuum.  Please see the credits to see who was part of our team.
We had the honor of being featured in Grace Ormonde Magazine.  Check out the article.
FLORAL & EVENT DESIGN  |  A S I E L  D E S I G N
VENUE  | st regis
PHOTOGRPHER  |  luna photo
EVENT | wedding 360
LIGHTING | enhanced lighting
FABRIC DRAPE & RENTALS | hartmann studios
CAKE | jen's cakes
ESCORT CARDS  | marizette paperie

You might like: