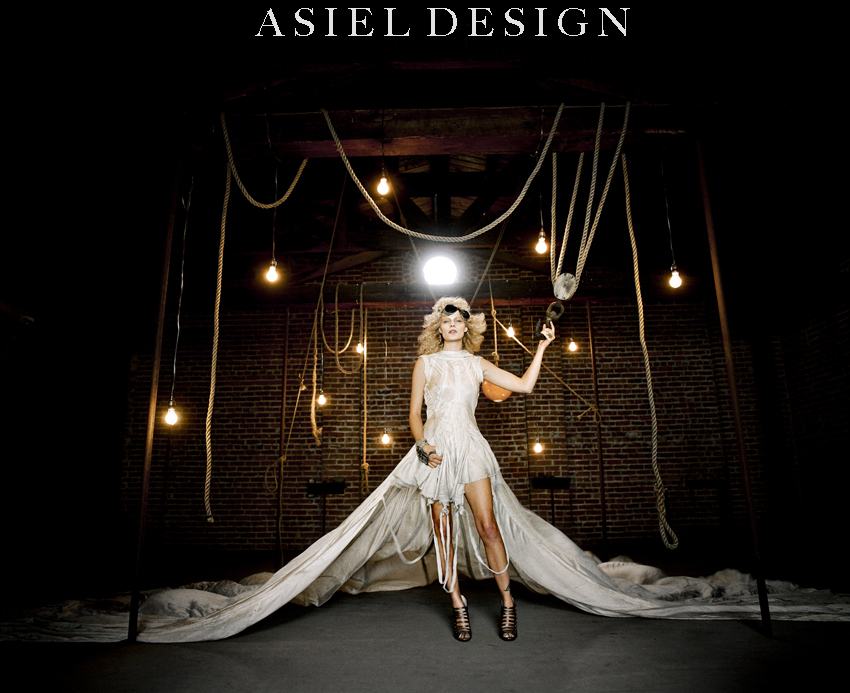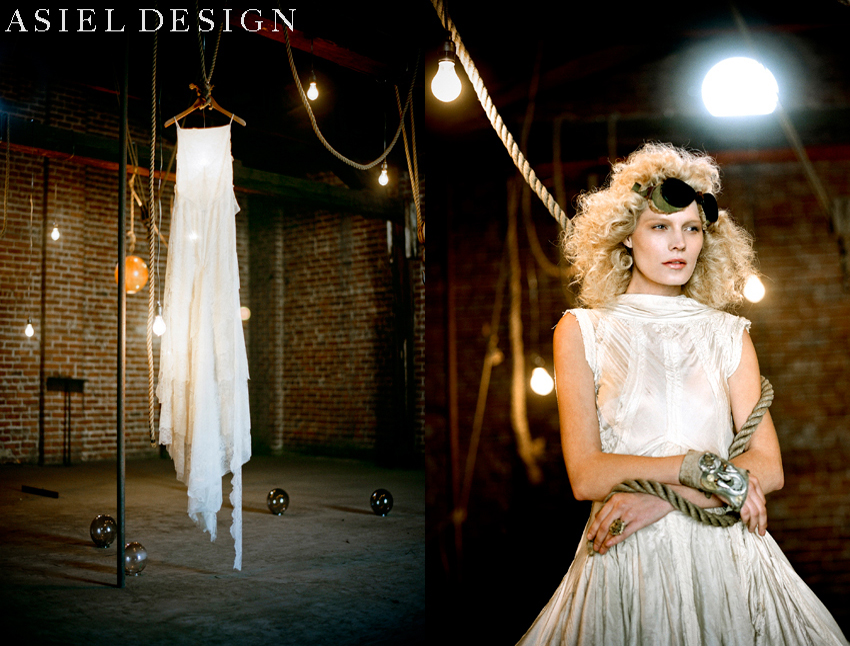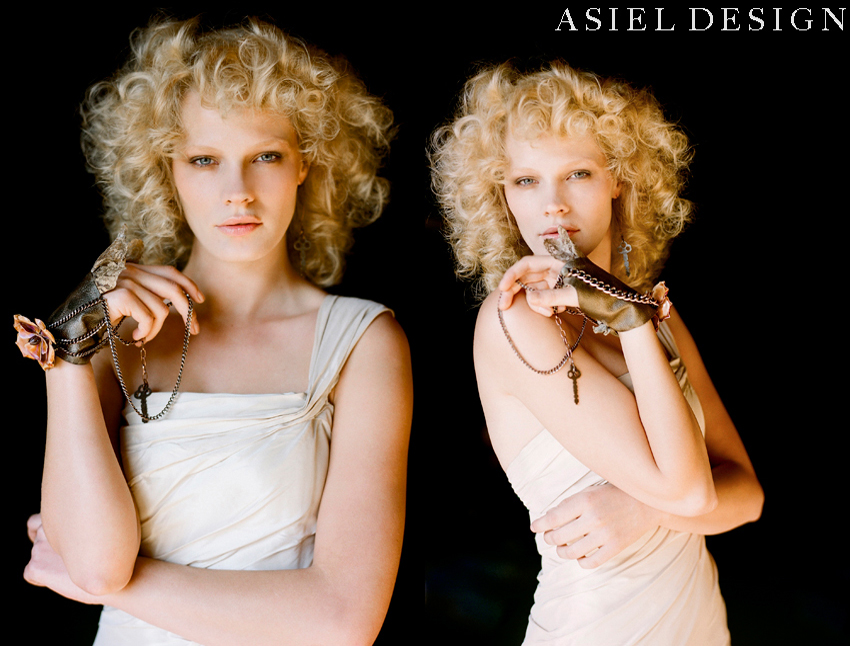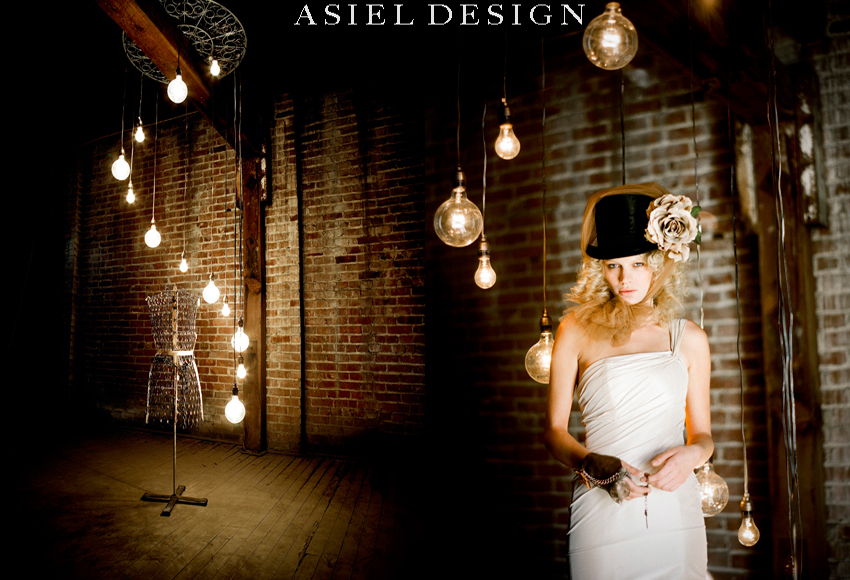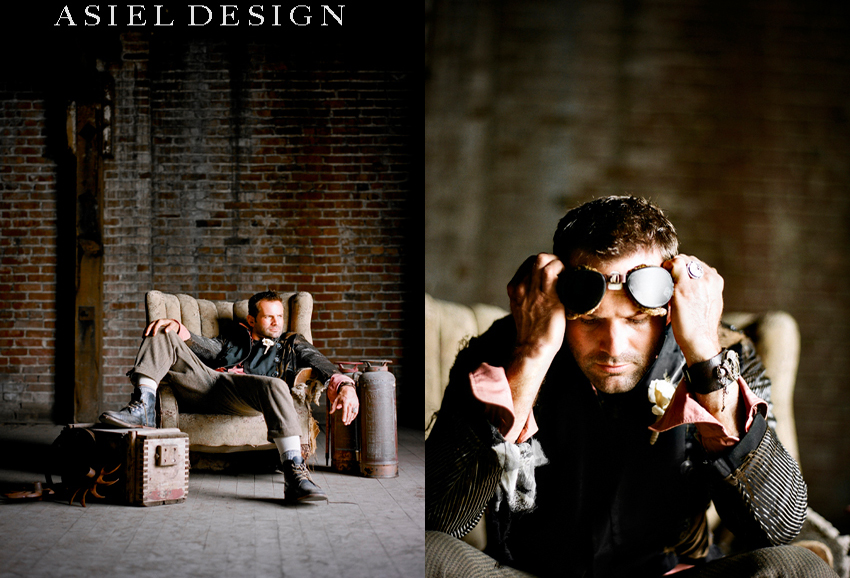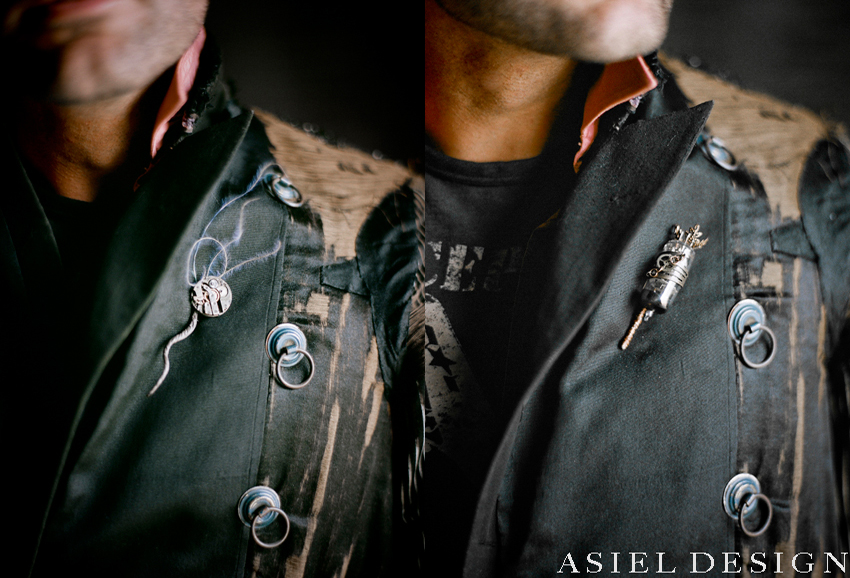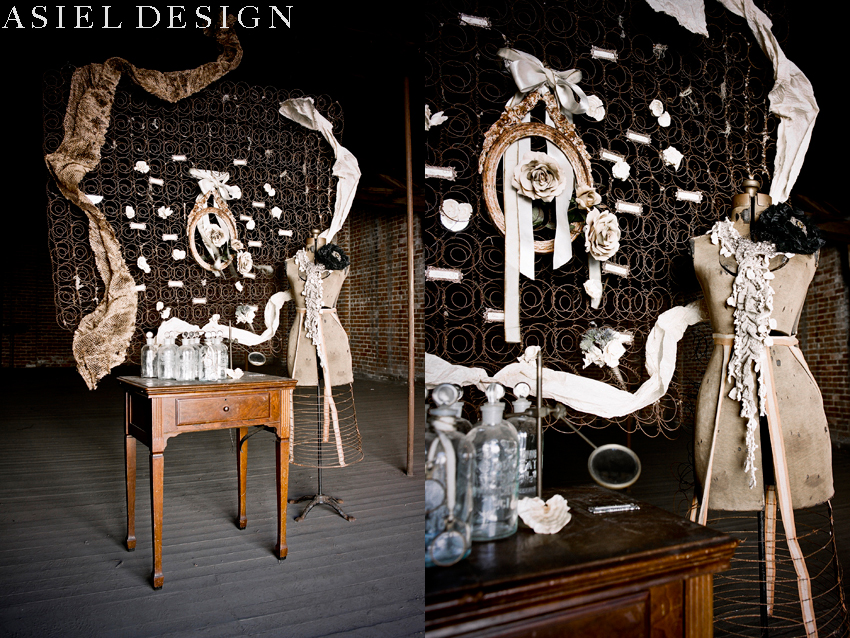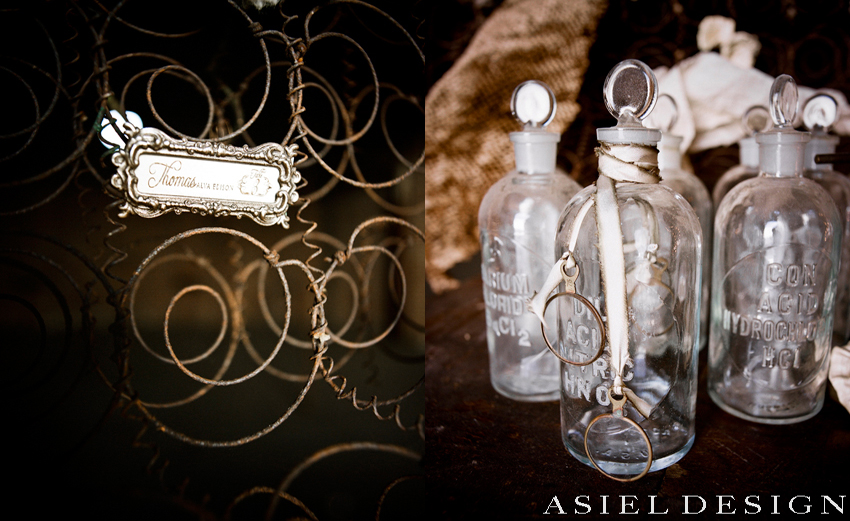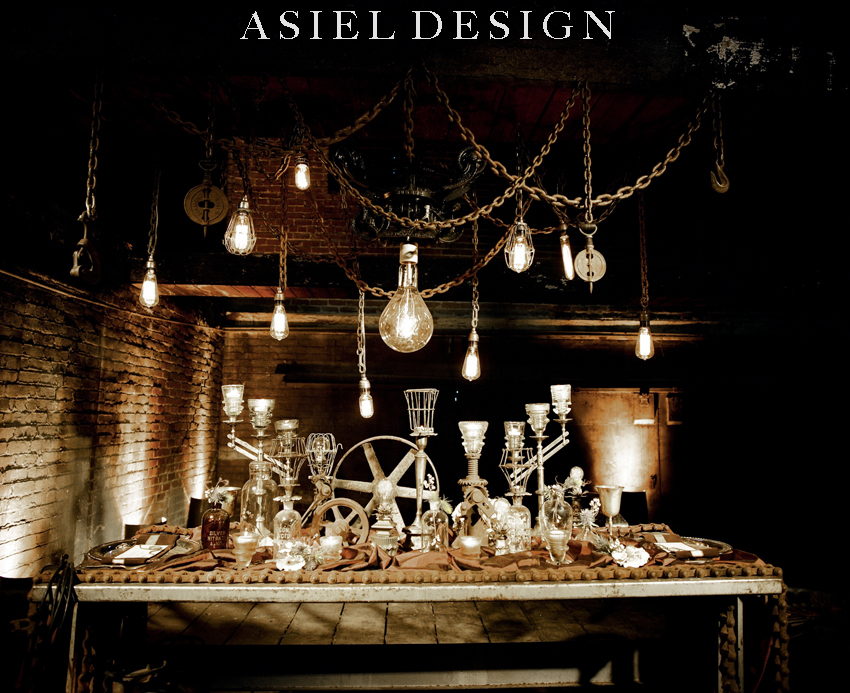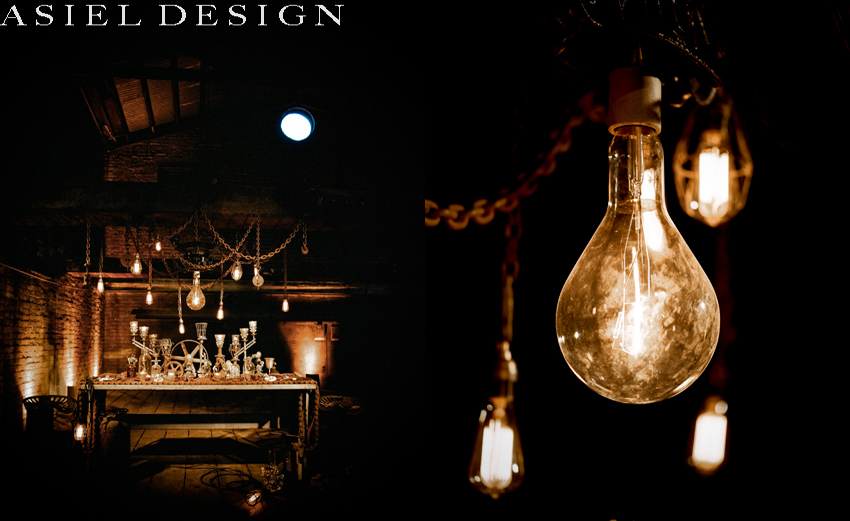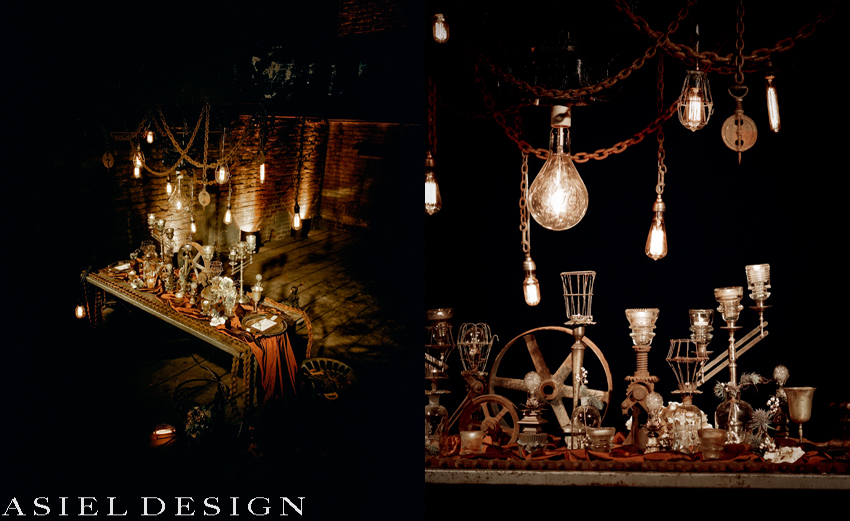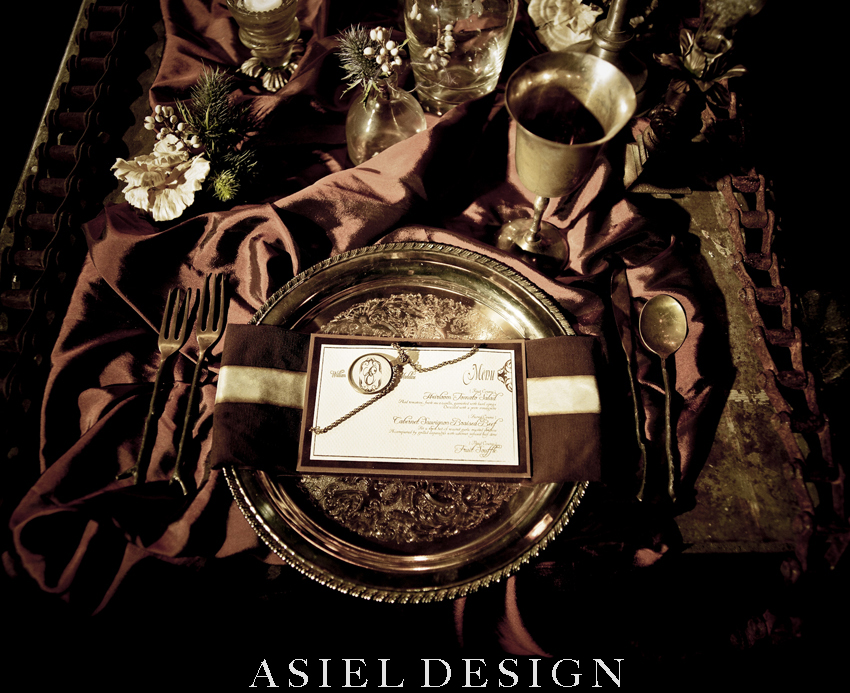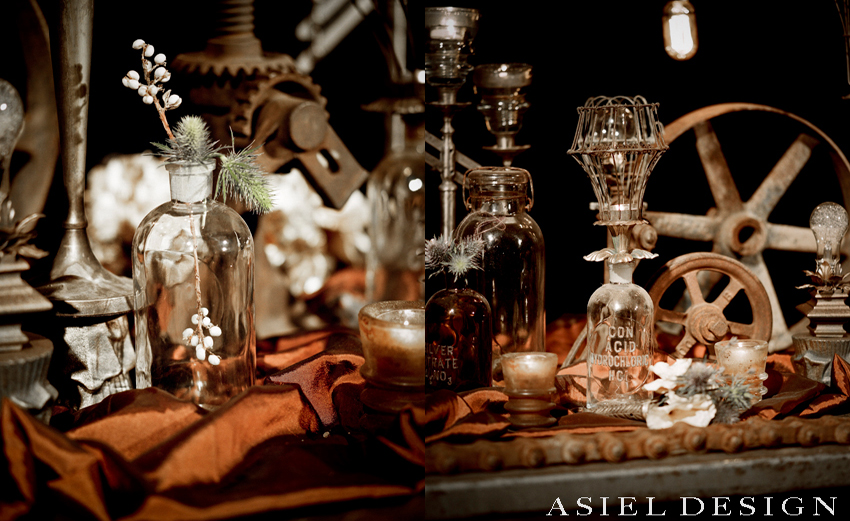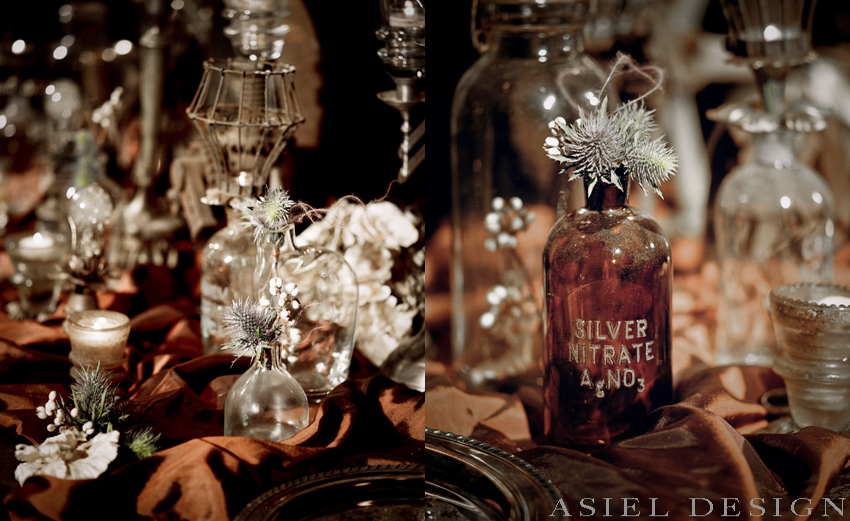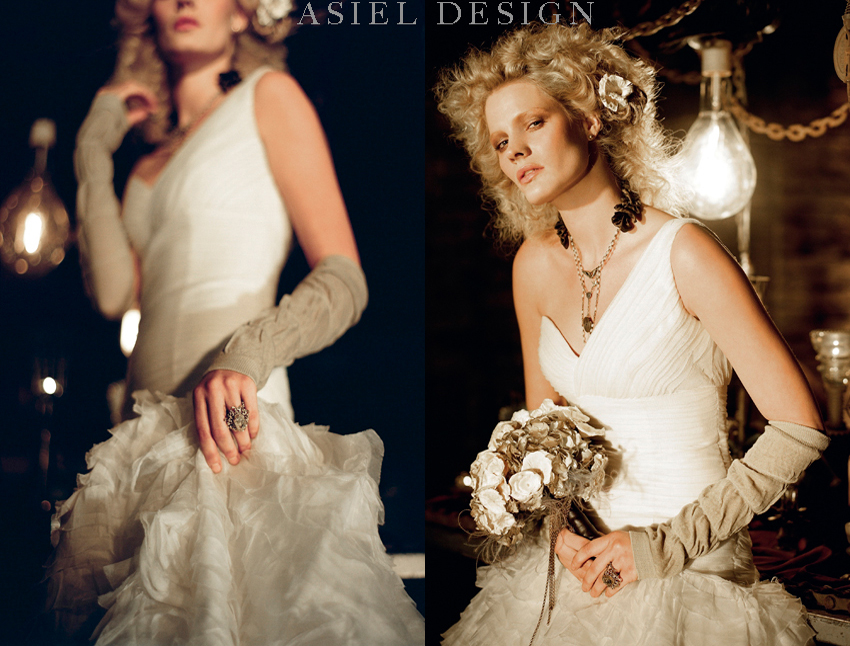 With the scene set for our Steampunk bride, the warehouse took on a new life. Dark walls received fresh beams of sunshine as we opened up windows that seamed to have been closed for a decade. The space was raw and inspirational. We, Tanja, Tia, Jonathan and I dreamed up a steampunk photo shoot because we were excited about the style and we want to present alternately styled weddings.Tia had her friend create a dress from an old WWII parachute that she had been holding on to for the right occasion. This was it! In an old warehouse down the street, we swept up, and created our rendition of steampunk. Tanja and Tia worked with Kayla, our model to create an emotion for each shot. They worked endlessly. For the shot with the parachute dress, we brought in a fan and set the scene with ropes and lights hanging in the ceiling. Our dear friend, Paxton was up in the rafters creating magic. We even talked him into modeling for us. A dozen or so boutonnieres were created for the shoot. There are so many details that one can play with in this genre. There needs to be some grit and attitude, some deep colors, and heavy materials like bronze and leather to pull it off. Tanja found a box of vintage optical test lenses. They were perfect in the jewelry and menue cards.
For the table top, we worked with the beams overhead to create a custom chandelier complete with hanging Marconi light bulbs. Vintage light bulb cages sourced from our friend, Paxton created an Edison Vibe. We played with vintage medicine bottles encaging blue thistles and creamy white dried berries. Large gears and spokes brought in the steam-powered elements. A soft fabric puddle down the table to offset the harsher materials. This brought femininity to the table. Jonathan was in heaven putting this table together. He loves chains, gears, and antiques. He reworked old candelabras and added cages and (glass pieces for electrical safety). We even made our own art pieces that held light bulbs. It was a fanciful adventure.
Marizette created an incredible menu card using the optical test lenses and chains. It was dreamy and tantalizing. The table was set with vintage silver trays for chargers. These can be found at various vintage stores. We wanted to keep it eclectic. An old mattress spring hung as an installation for the vintage inspired name placards. What a fun way to find your name! Marizette is incredible at finding out of the box materials. We love her! The feeling in the room was moody and ambient. There was warmth to it.
The incredible photos that Tanja created give an impression of the fun that we had. My favorite part was breaking through the tried and true and really laying the ground for art and design coming to brides from their culture or subculture. We want to inspire brides to be themselves on their special day. If you are a princess sure have a princess wedding, but if you are a steampunk maiden, then embrace it and bring it to life for all of your friends to enjoy.
SET & FLORAL DESIGN | A S I E L D E S I G N
PHOTOGRAPHY | tanja lippert
STYLING & ART DIRECTION | t&t dynamite productions
STEAMPUNK JEWELRY | A S I E L D E S I G N
GOWN | gabrielle's bridal atelier
HAIR & MAKEUP | freebird productions
LOCATION | central california insulation warehouse
PLACECARDS, PLAQUES, & MENUES | marizette paperie
VIDEO | studio msv
MODELS | kayla zumwalt & paxton gunn dronek

You might like: