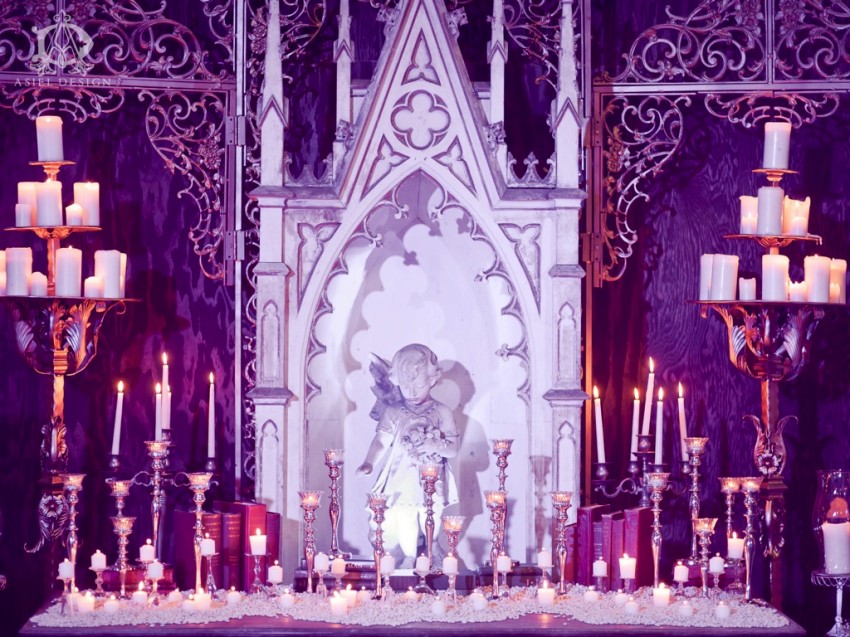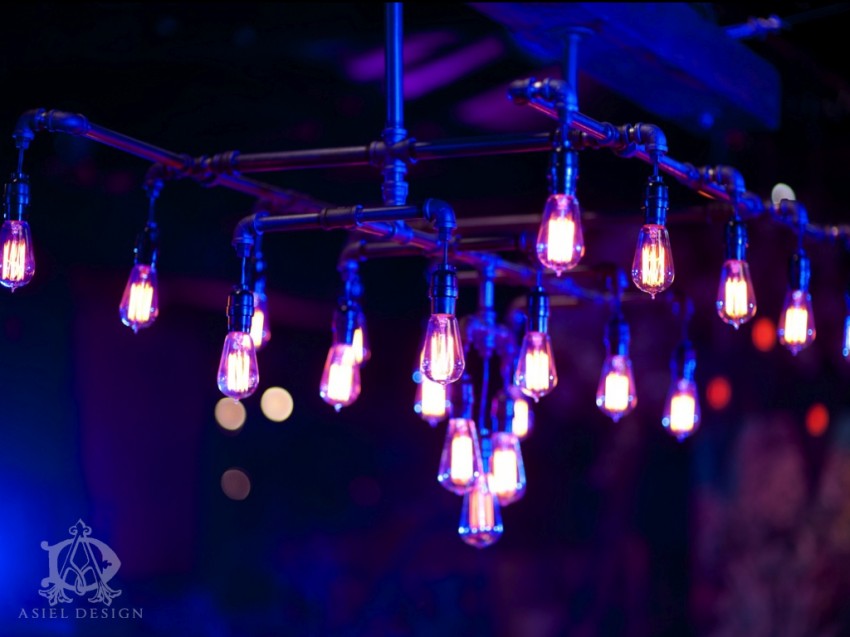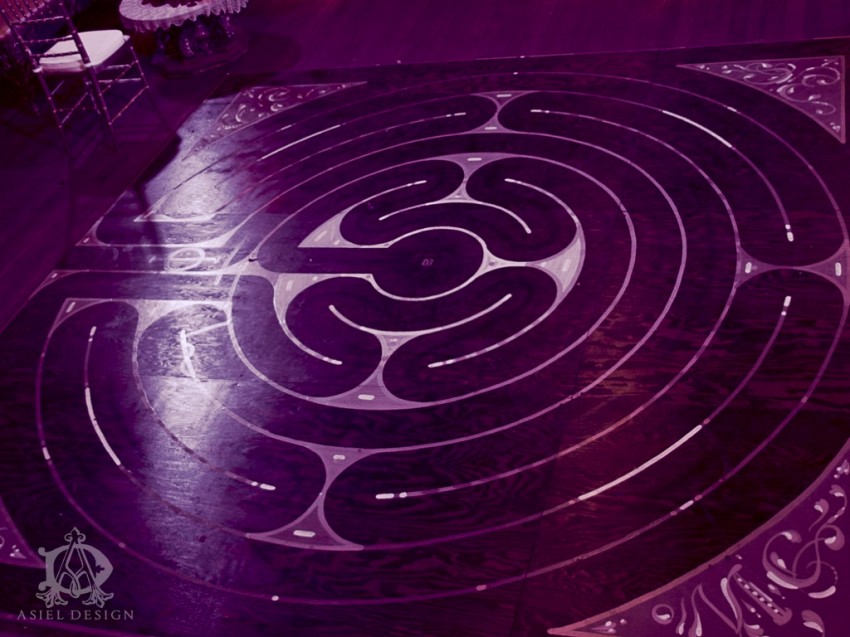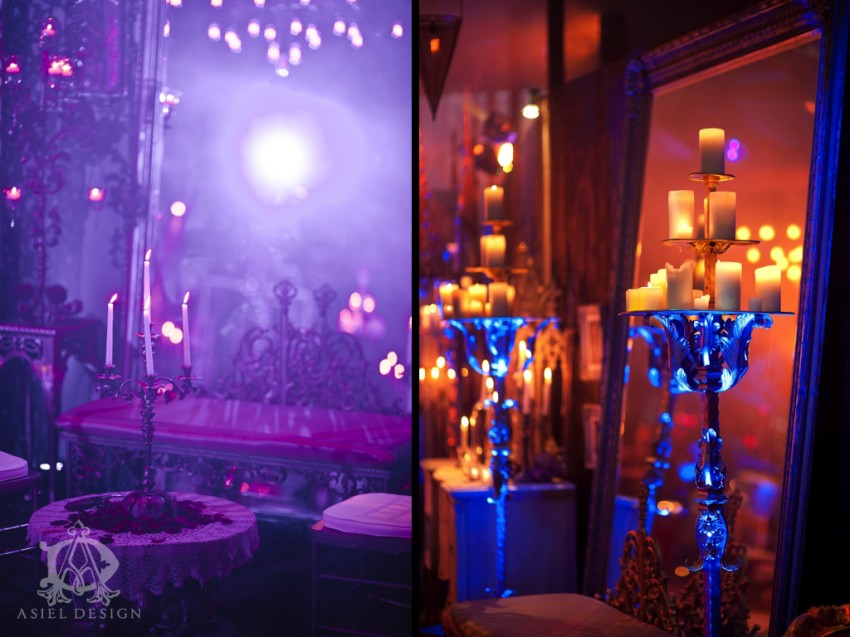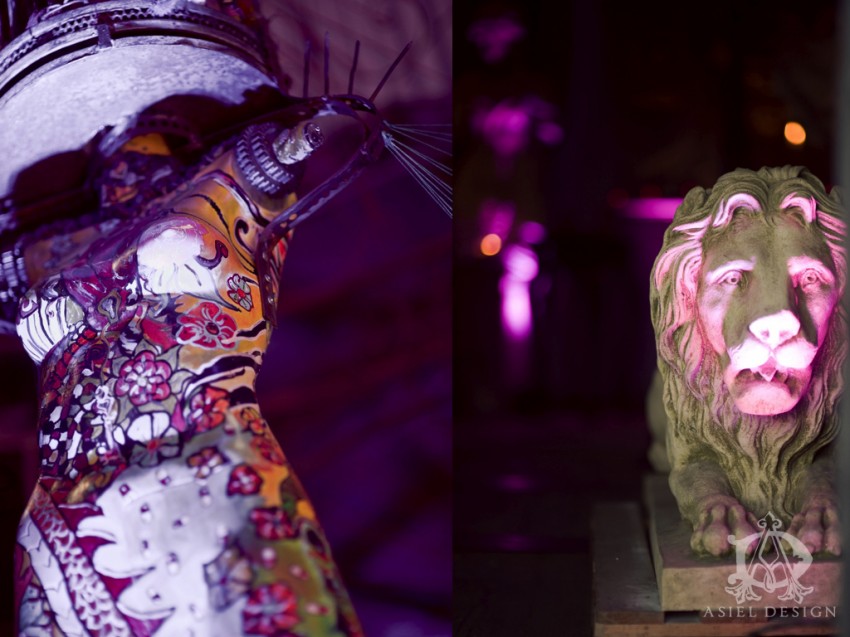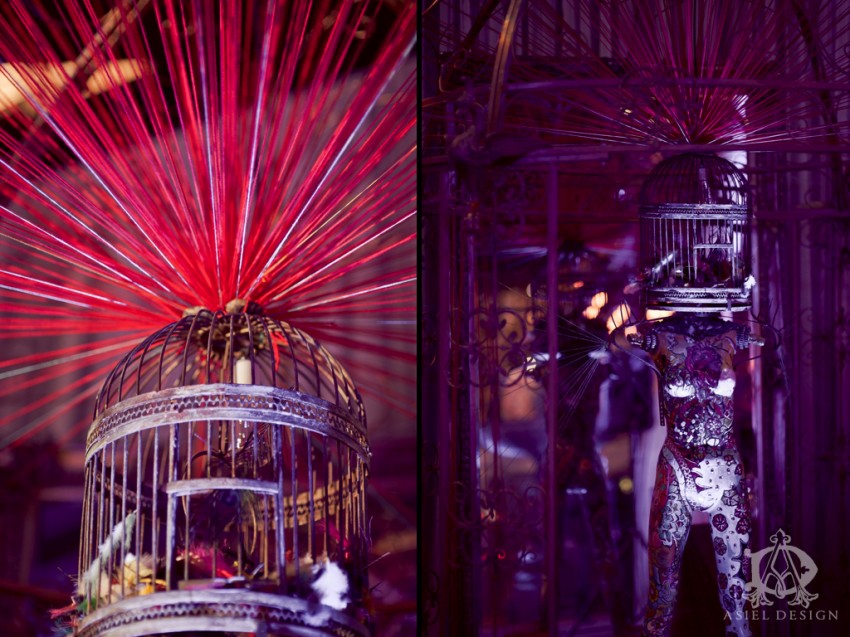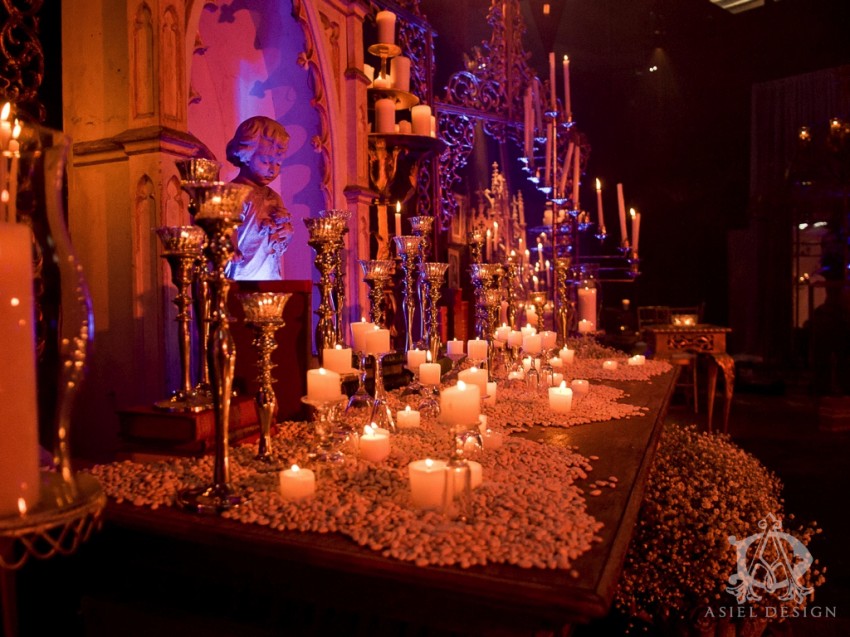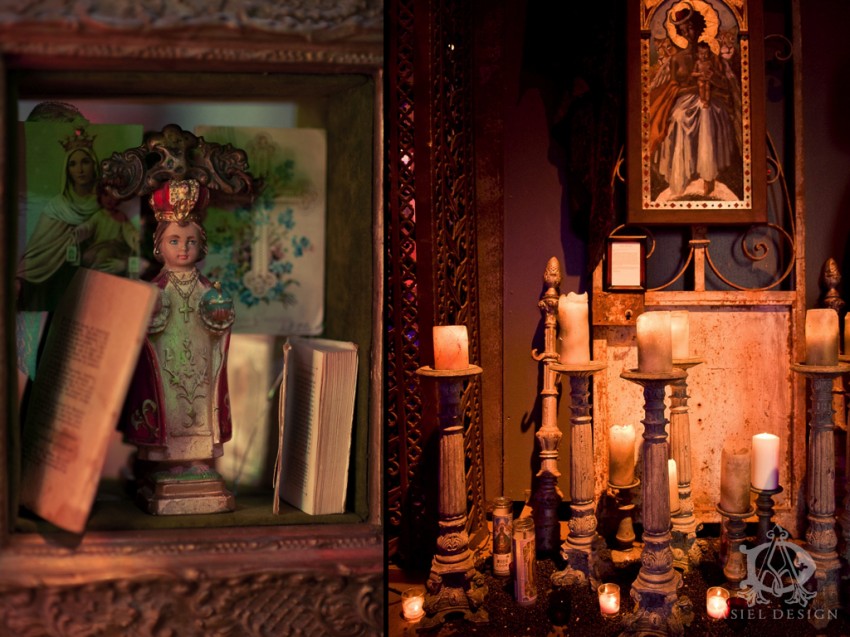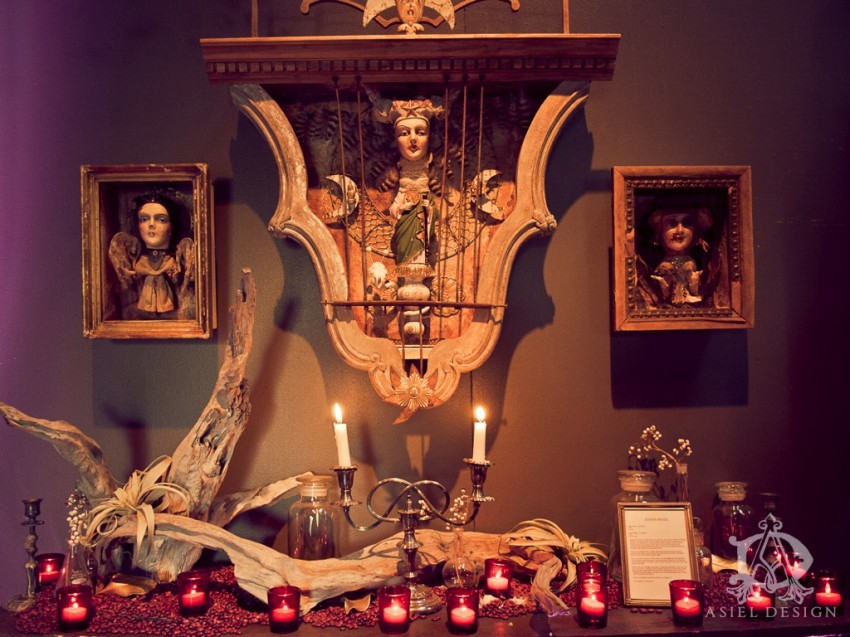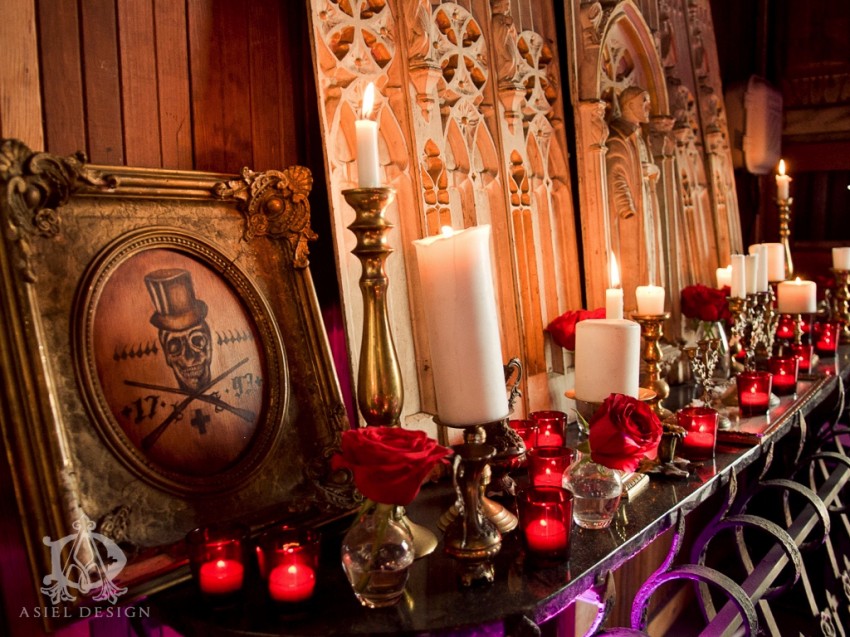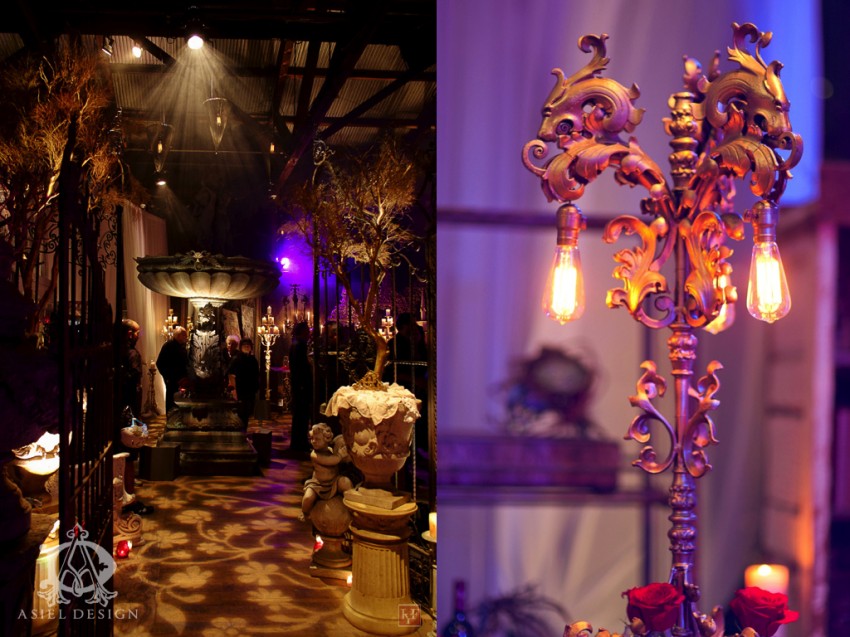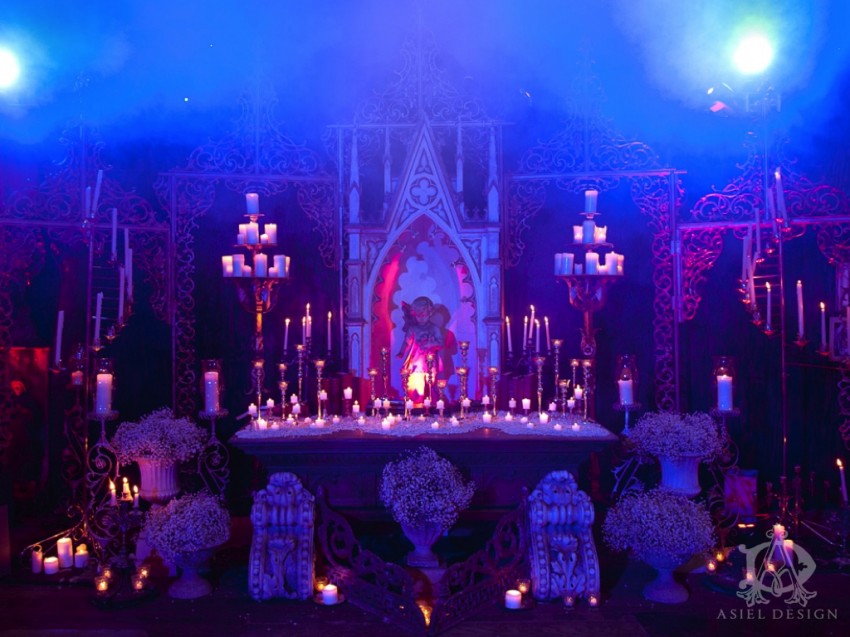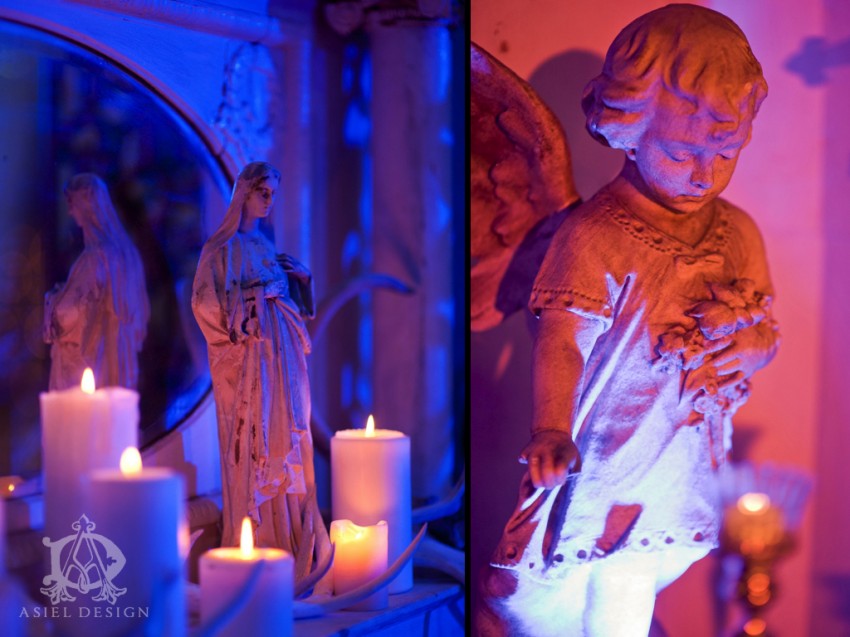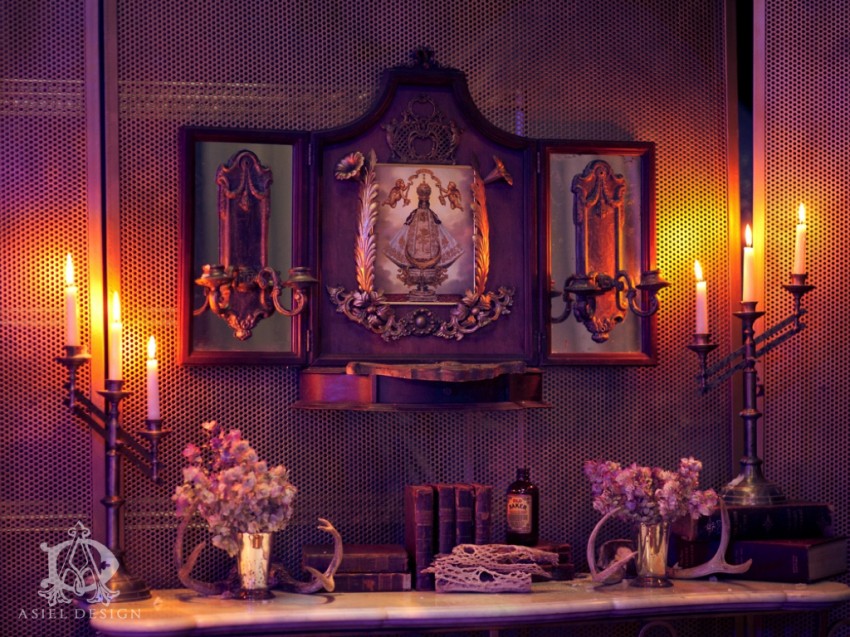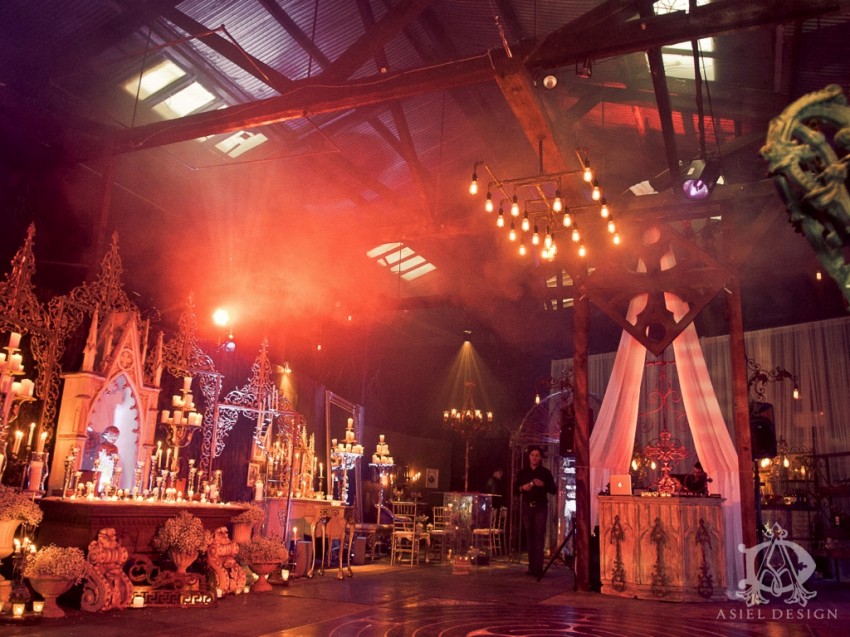 Sacred heART was a two-day event. The first day was an art show that was open to the community and drew over 400 people (see last weeks post for details on this unique art show). The second night was a birthday party for my dad and I. Jon Gomez Sr turned 70 years old I turned 35 years old. I thought it was an important milestone birthday for each of us and decided to use this occasion to celebrate.
Although the décor mostly stayed intact for both events, it was the lighting genius of John Woods that made the second night feel so different. For the birthday party we abandoned the ambient glow of the art show and opted to have dramatic color changing lights through out the night. The LED lighting served as juxtaposition to the relics that we had in place. The party was more moody and had more depth than the night before. We also added texture to the air with a hazer that allowed the light particles from the event lighting to reflect off of the haze beautifully. The newly staged lighting and décor offered a dramatic backdrop for the dace party that would ensue with the help of Aaron Lamorte of AVL Sound Design.
It was in this lighting that I most appreciated the art that was brought in by San Jose's most talented artists. It was my dream to have a labyrinth in the middle of the space that would also dub as a dance floor. I knew that Patrick Wadl had the skills to pull this off. Lacey Bryant jumped at the opportunity of creating a Black Madonna that was a prized pieced of art and sold with many additional inquires. Jen Renzel created artistic assemblage art that conveyed eclectic religious themes that could be traced through out the ages. Andre Hart took his art into more modern and abstract renderings with 3 oils paintings on canvas. Tulio Florez created an incredibly dramatic sculpture that was steeped in meaning and embellished with an elaborate yarn treatment in the midst of our metal dome. It was probably one of the most artistic displays that I have ever seen featuring religious art or any art for that matter.
The city was a buzz that night with artistry and creativity as this eclectic group of artists banded together to express art and spiritual thought. I heard quotes such as: "Art is alive and well in San Jose" and Andre Hart told me; "this was the most beautiful event that he had ever been too." But perhaps the quote that sticks out in my mind the most was that of John Danna, he said;
"I had no idea what heaven would look like before I came here tonight. Now I have an idea, you really opened my eyes and this is exactly the way I envision it to be."
It's quotes and ideas like this that make all of the work that goes into an event like this worth the time and effort. I guess I never realized that an event could so dramatically change a person's life for the good. It's for this reason that we are looking to do Sacred heART again next year. It's for this reason that we all worked so hard to make this happen.
A special thanks to all of you who helped bring a little heaven to earth with this unique experience. Finally, thank you to Drew Clark who greatly inspired me to host this event and for his astute taste in art which was invaluable within the curating of Sacred heART.
event design and production | ASIEL DESIGN
art direction and art installation | Jonathan Gomez
floral and event stylizing | Linnae Asiel and Tulio Flores
lighting, projections and fabric drape | Enhanced Lighting
Music | AVL Sound Design
Photography | Kim and Nikki Photography
Hors d'oeurvre and staffing | Thomas John Events
art curation | Drew Clark
Chromatic coffee
Archival Photo Booth
Venue | ASIEL DESIGN warehouse
You might like: