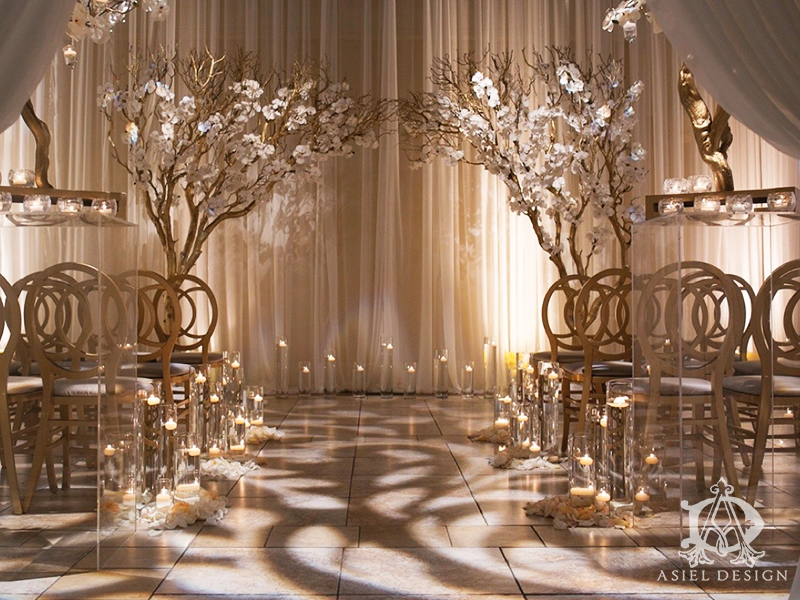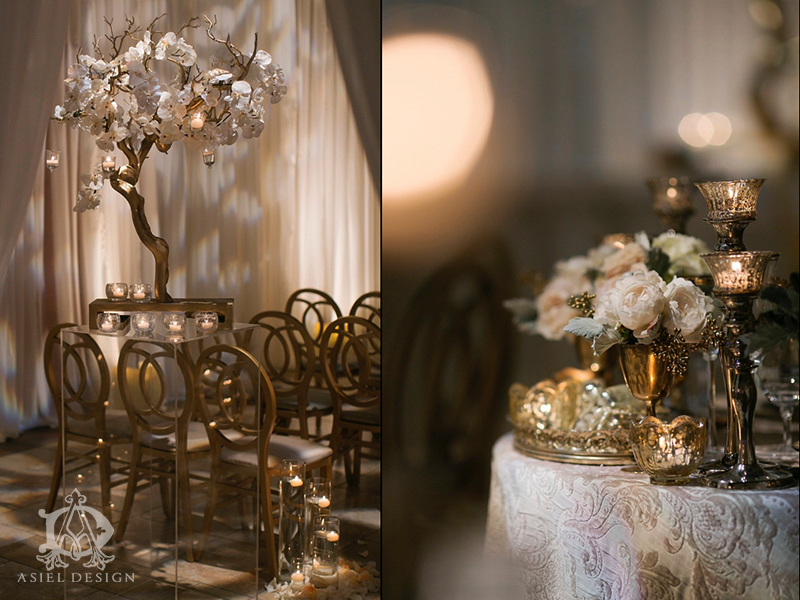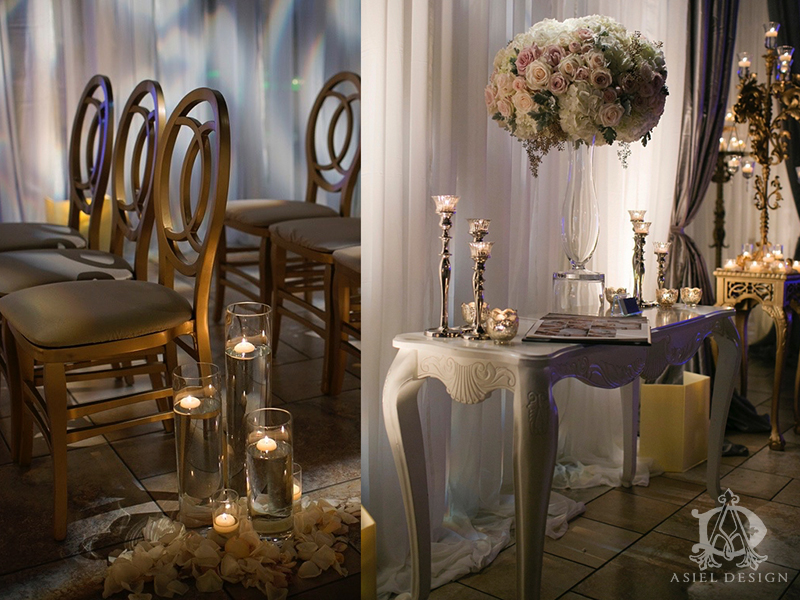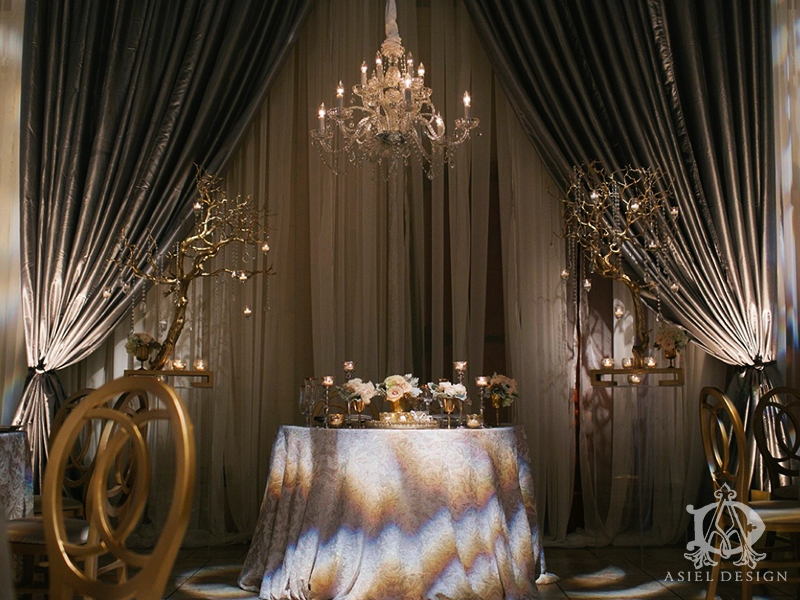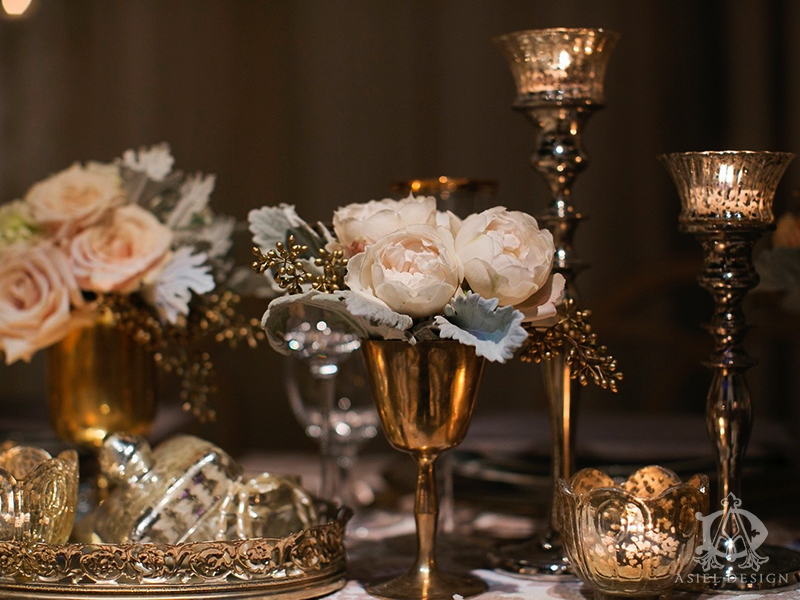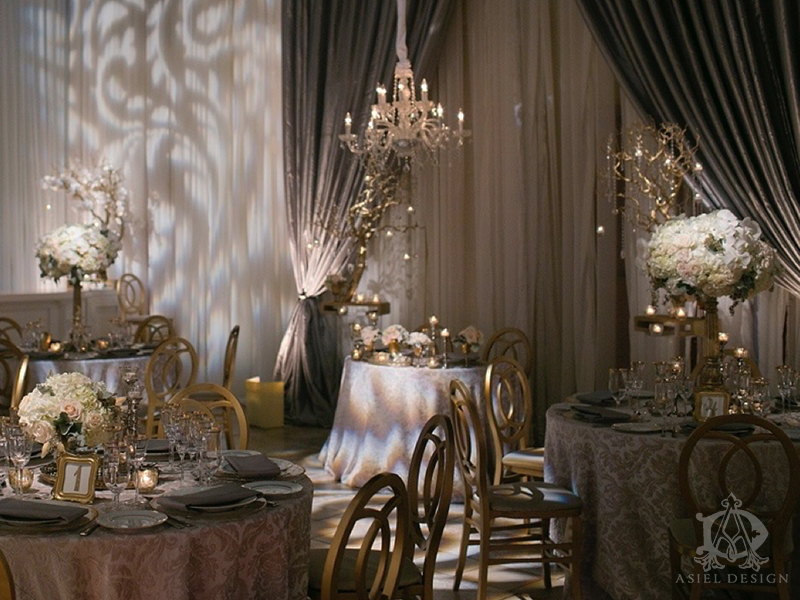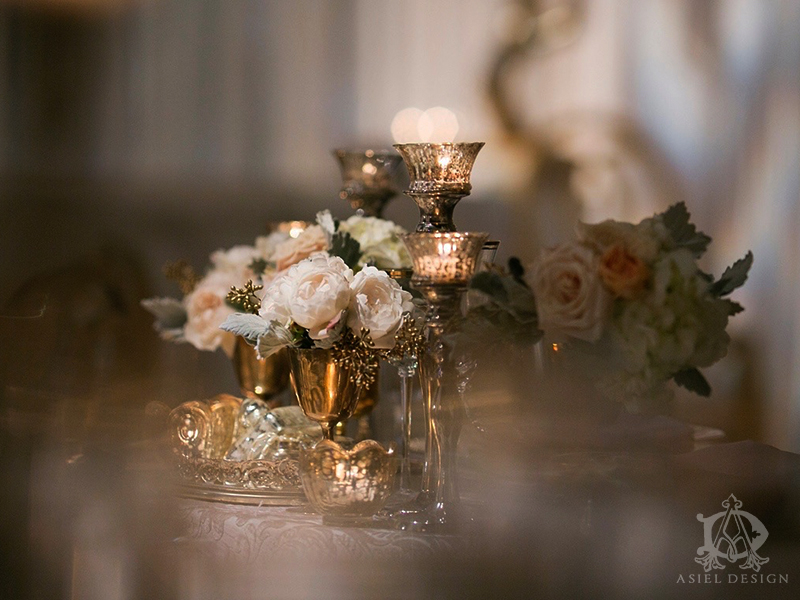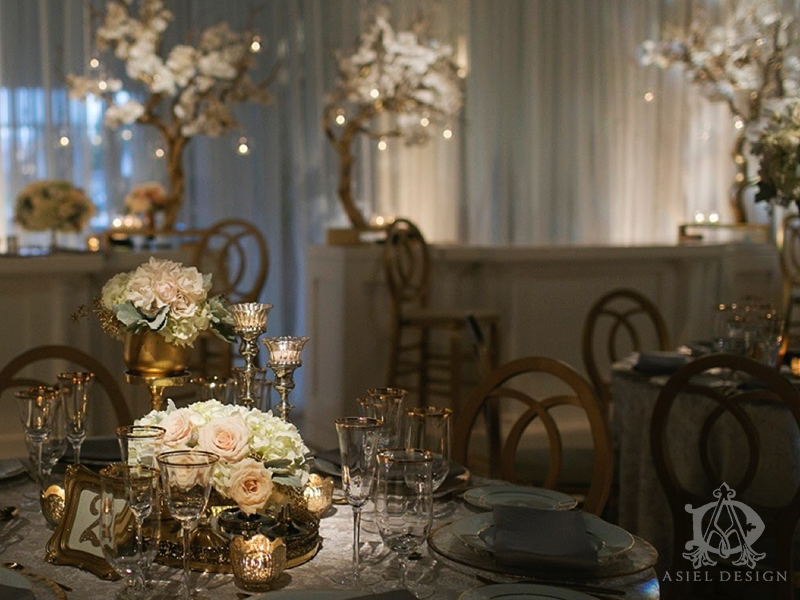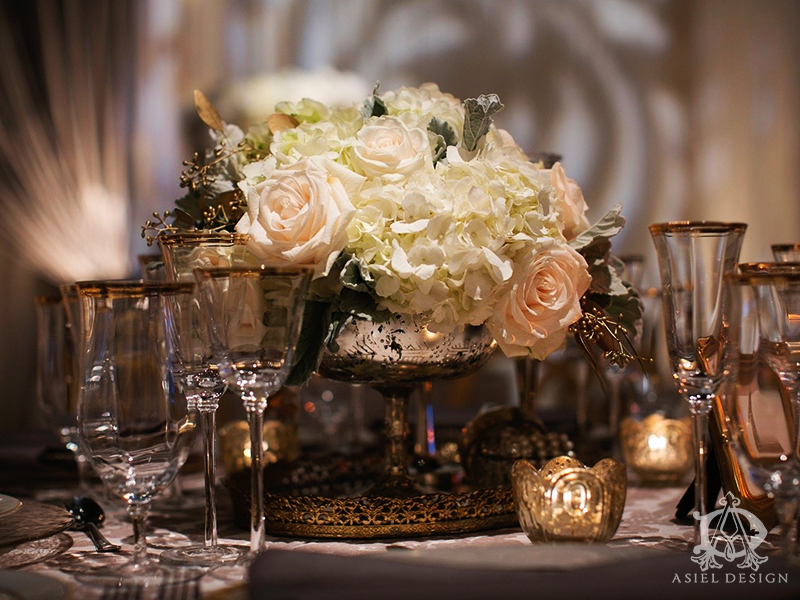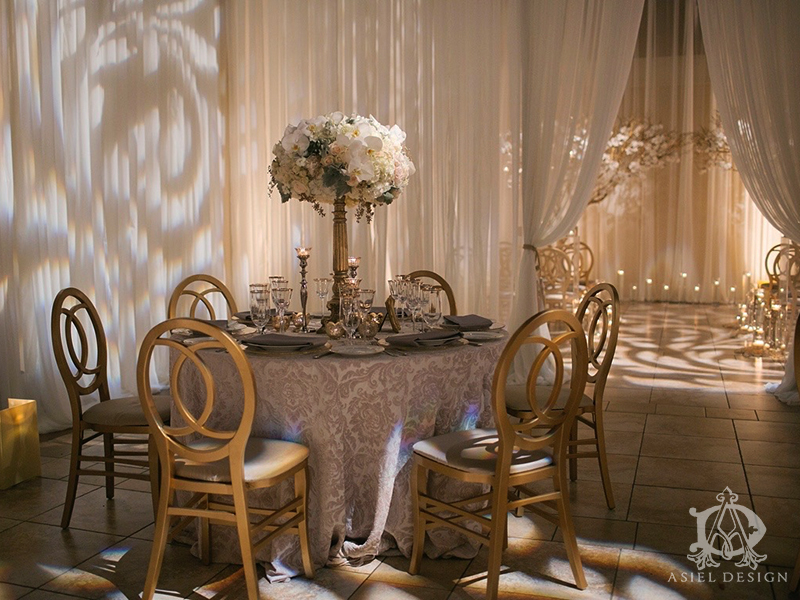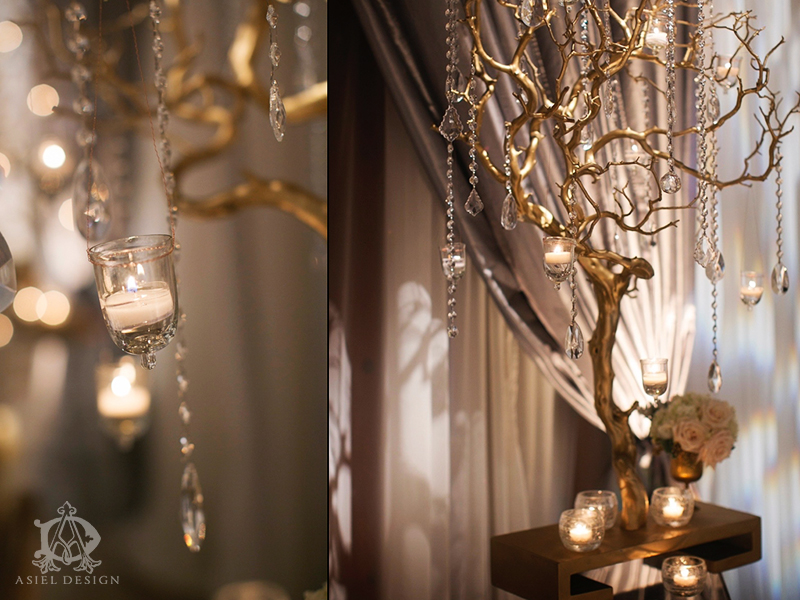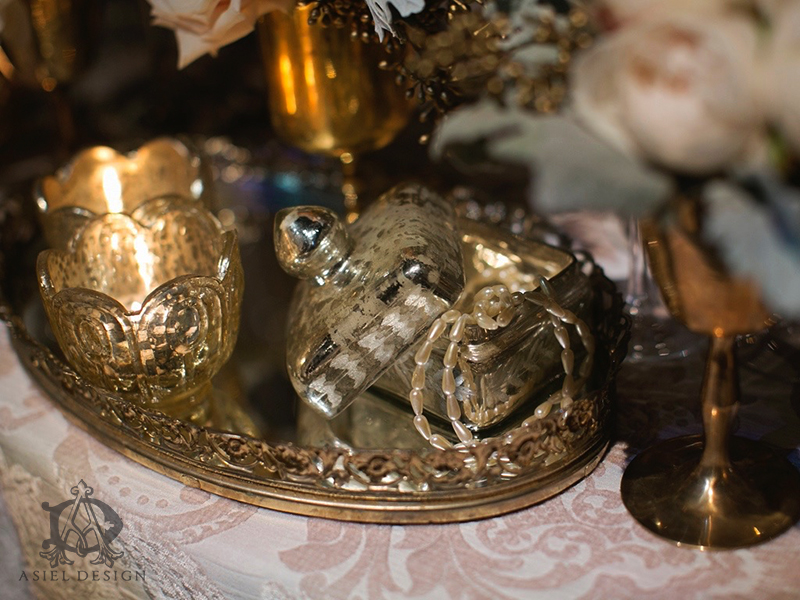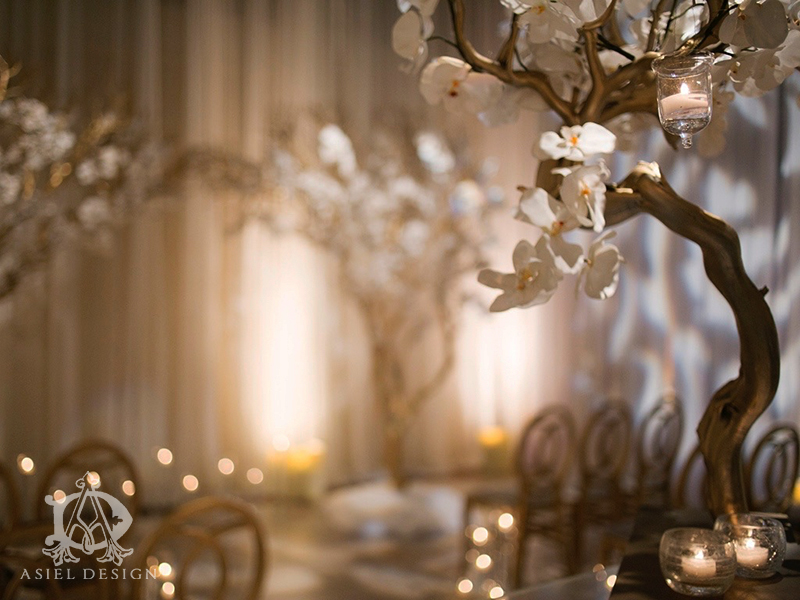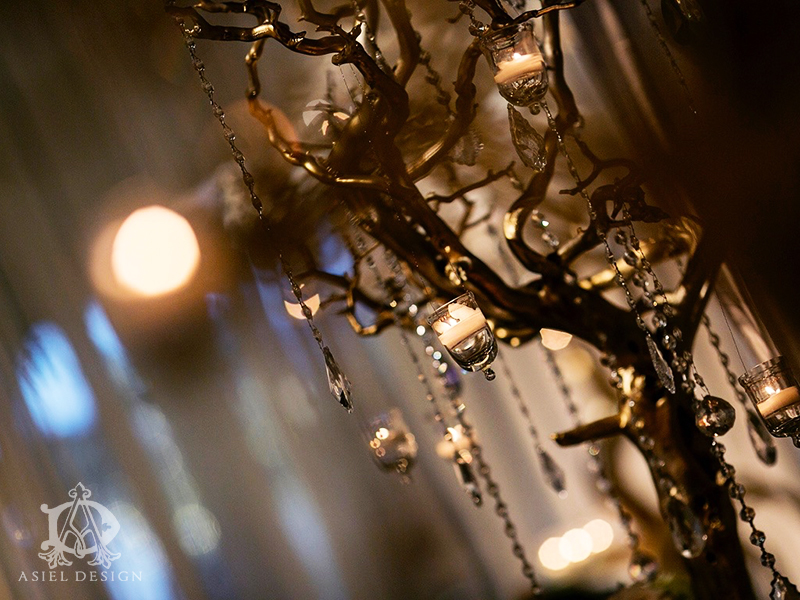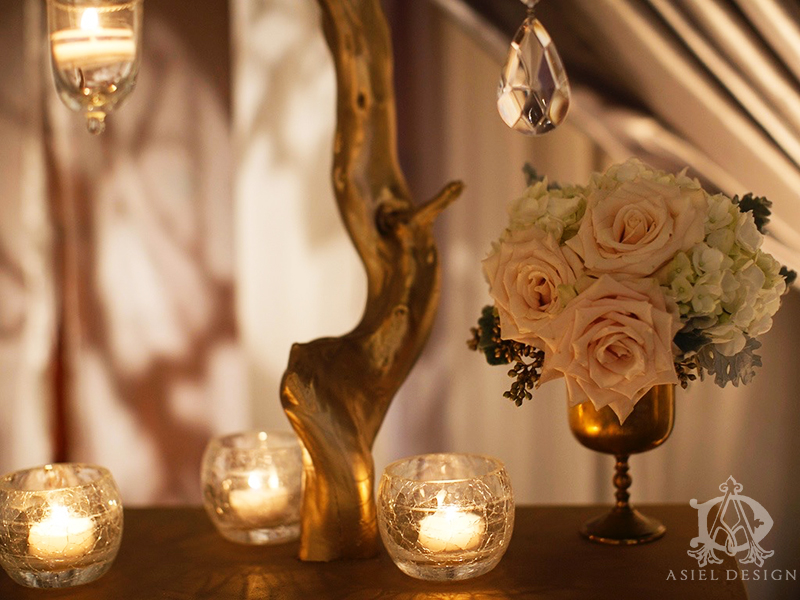 We created a bridal-showcased event at Casa Real called Casa Amore back in November of 2014. For this event, we worked with Palm Event Center, Enhanced Lighting, Hartmann Studios and of course, it all took place at the Casa Real Ruby Hill Winery and was captured by Tyler Vu Photography.
The style we showcased is a look that we believe is going to be the most popular event theme of 2015: a Ballroom Style Infused with Glamour and Vintage Elements.
For the ceremony, we used over-sized Manzanita Trees painted gold to create a semi-focal point that set the tone for the rest of the event. We then attached White Phalaenopsis Orchids to the Manzanita Trees to create exotic and romantic design elements that had everyone talking.
When designing a wedding theme like this, the lighting is crucial; it sets the mood and ties together the style, theme and event venue. We worked with Enhanced Lighting to create a stunning ambiance that spread across the draperies, tables and event space. By using lots of candle lights and gobos to accentuate the event space, the result was a vintage, romantic mood that will be remembered forever.
For the Reception Vignette, we used 4-5 tables with Manzanita branches flanking the sweetheart table, each with a beautiful, unique centerpiece. The color palette we designed consisted of cream/white flowers, off-white with peach hues, silver from the candelabras with mercury and gold vintage pieces. (Slide 5) We also spray-painted Eucalyptus Berries gold to accent the stunning displays. Gold was big last year and we believe it's going to be big this year.
For the centerpieces, we used lots of antique vessels to create a custom interior design look and feel that had truly been collected throughout the years. This gave the entire event a very "real" and "authentic" feeling. We used design elements like antique jewel cups and vintage trays along with a crystal chandelier that hung over the sweetheart table. We also made sure to vary the size of the centerpieces to create more dimension to the room. (Slide 9).
We worked with Hartmann Studios to upgrade the chairs and tables, weaving beautiful, romantic accents throughout the entire event.
Overall, it was an amazing evening and it is always a pleasure to work with such incredible visionaries.
Sincerely,
Jonathan
floral design and event design | ASIEL DESIGN
lighting and fabric drape | Enhanced Lighting
photography | Tyler Vu Photography
rentals and linens | Hartmann Studios
venue | Casa Real
You might like: