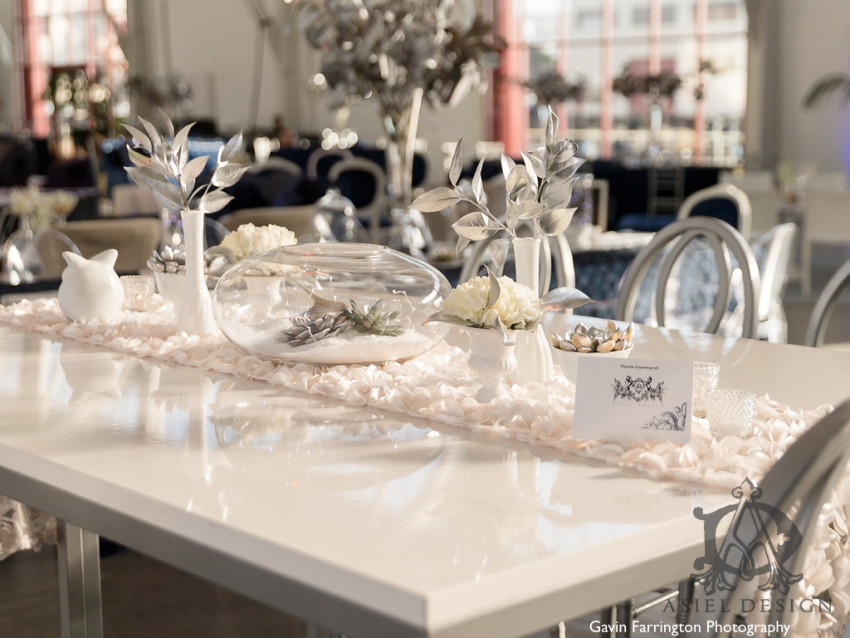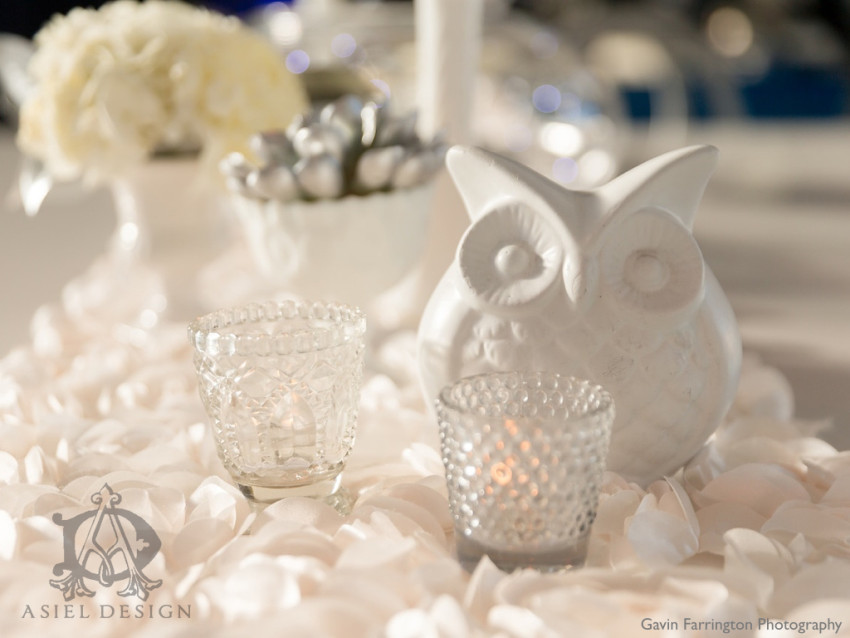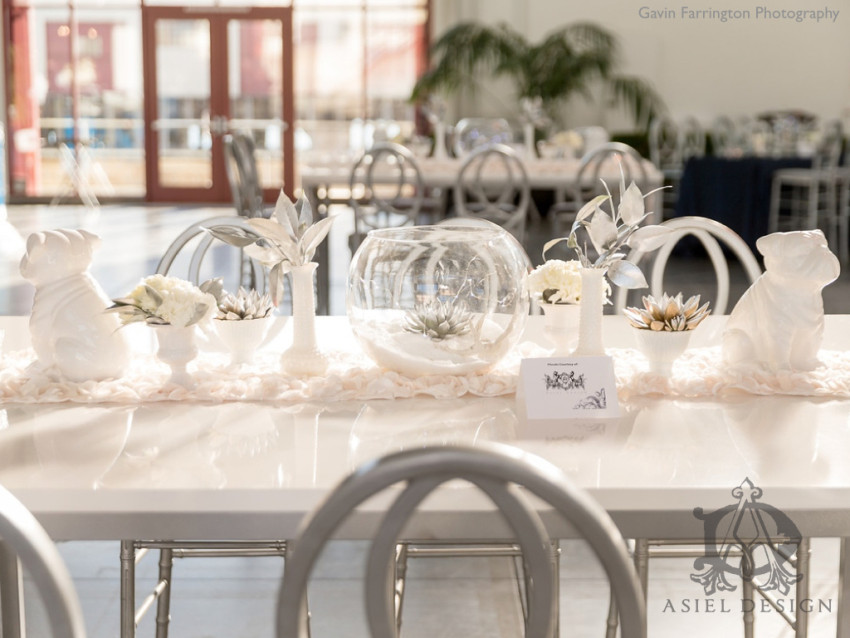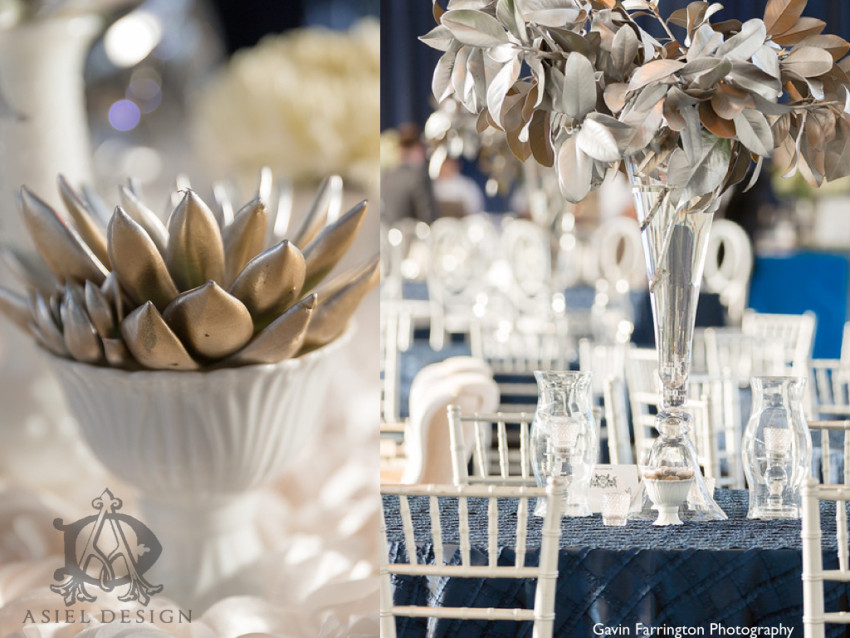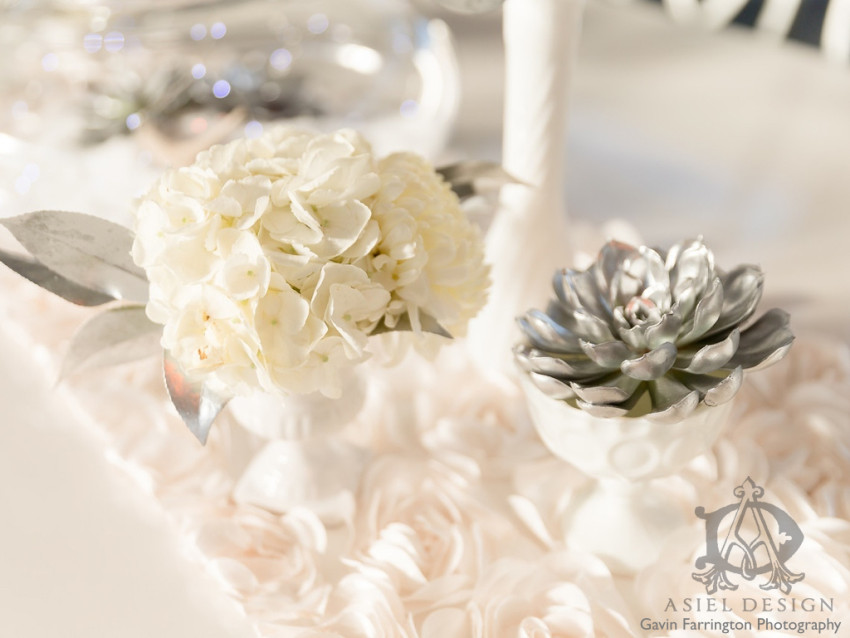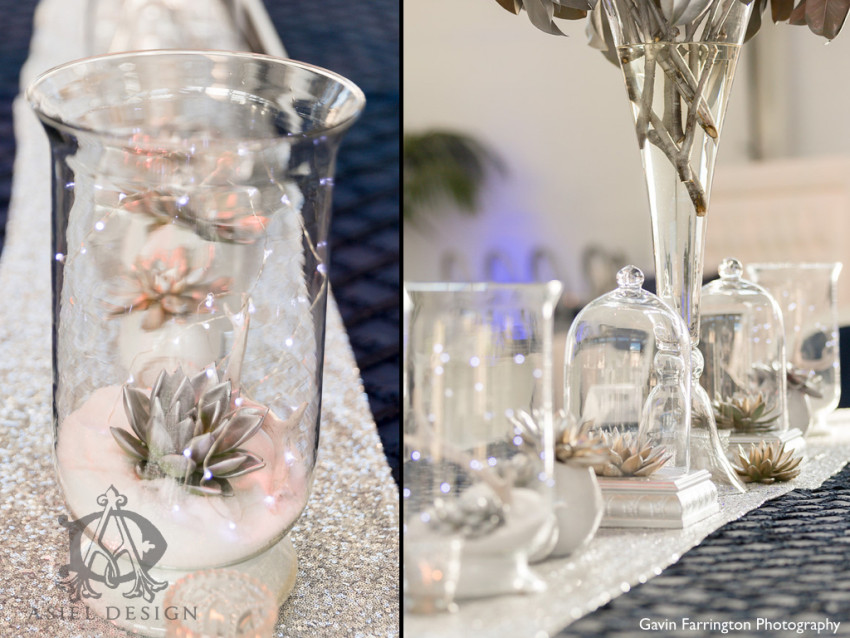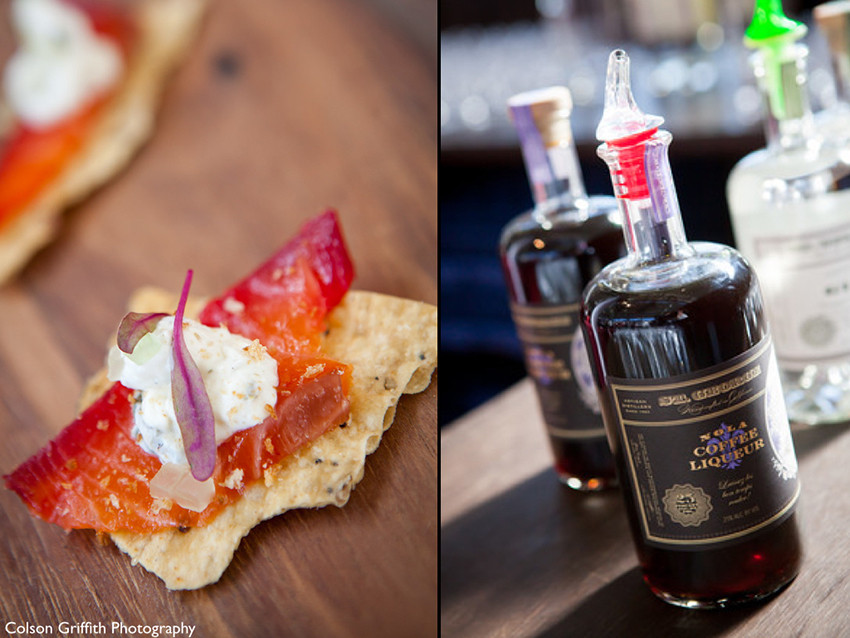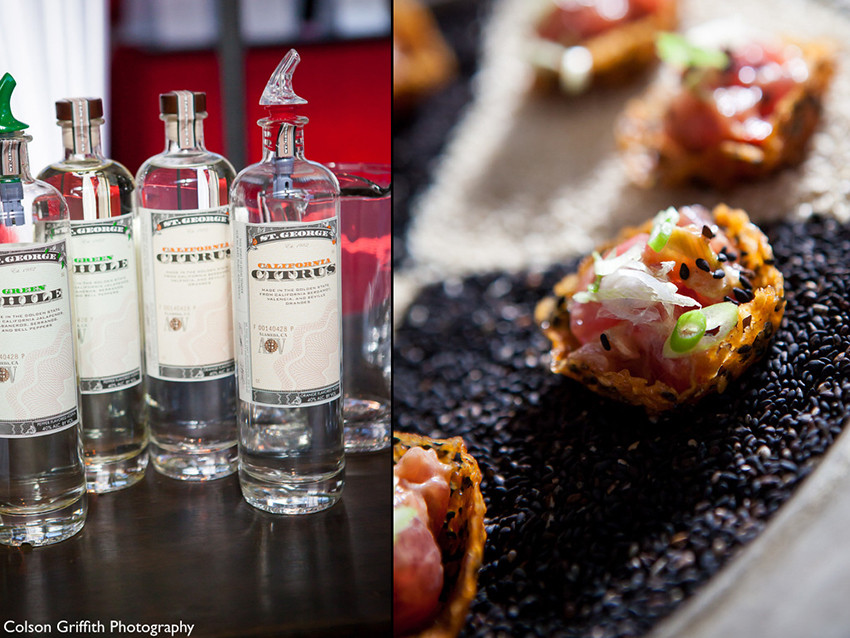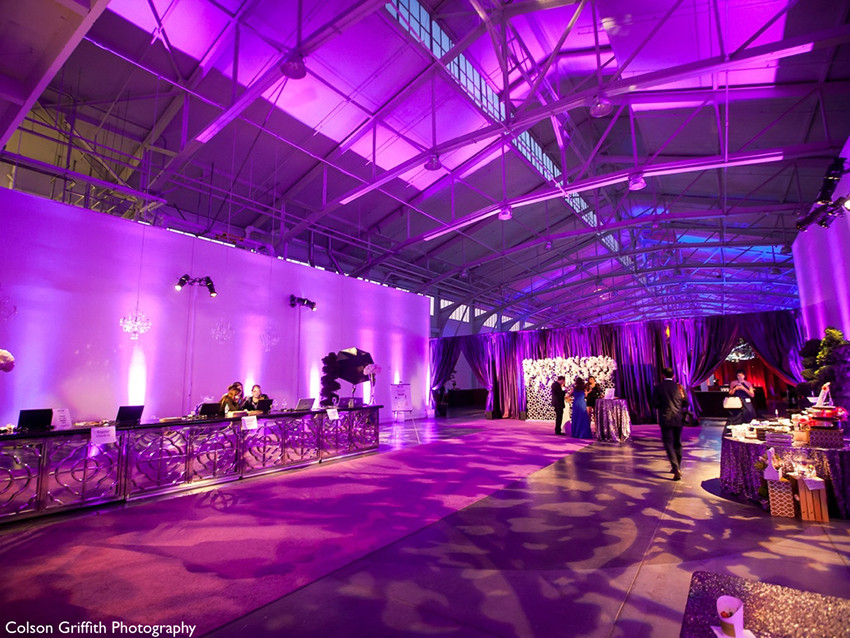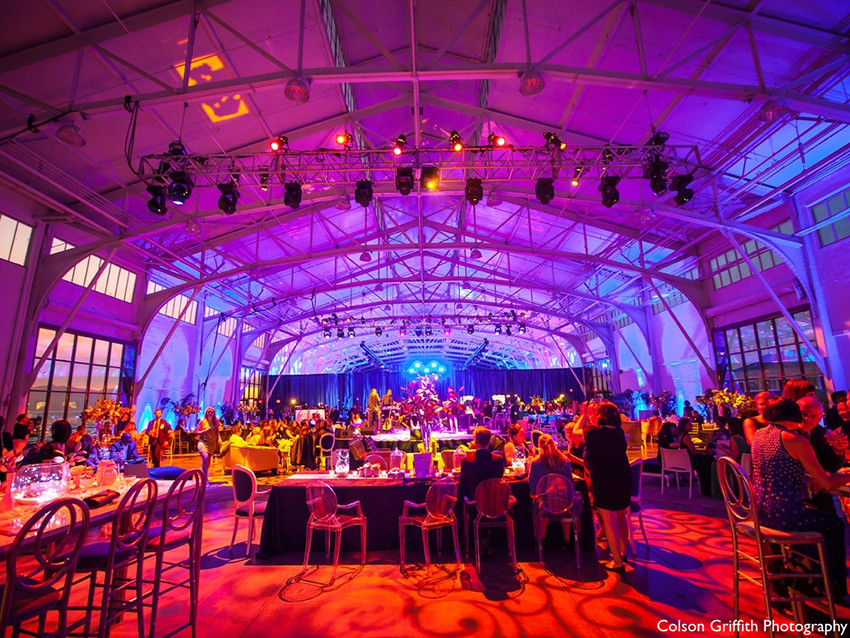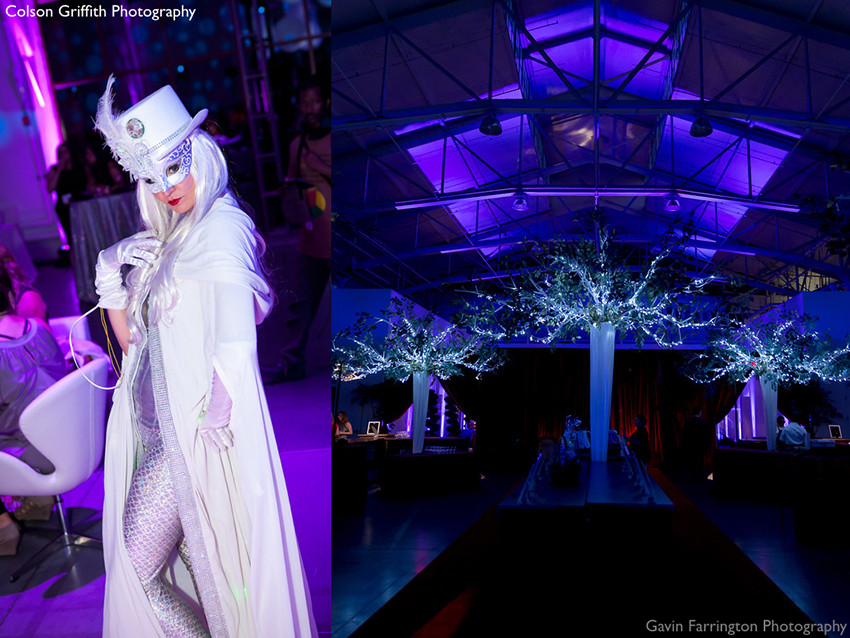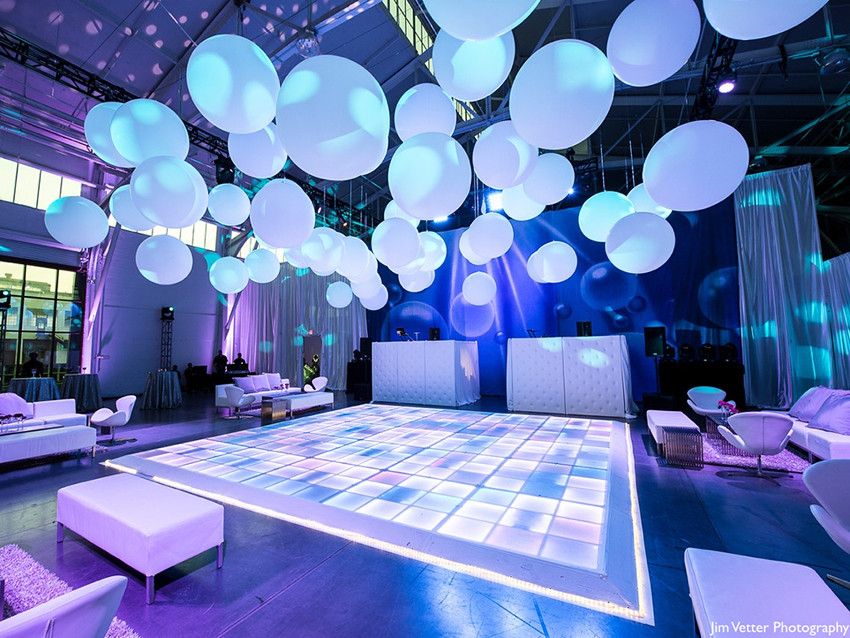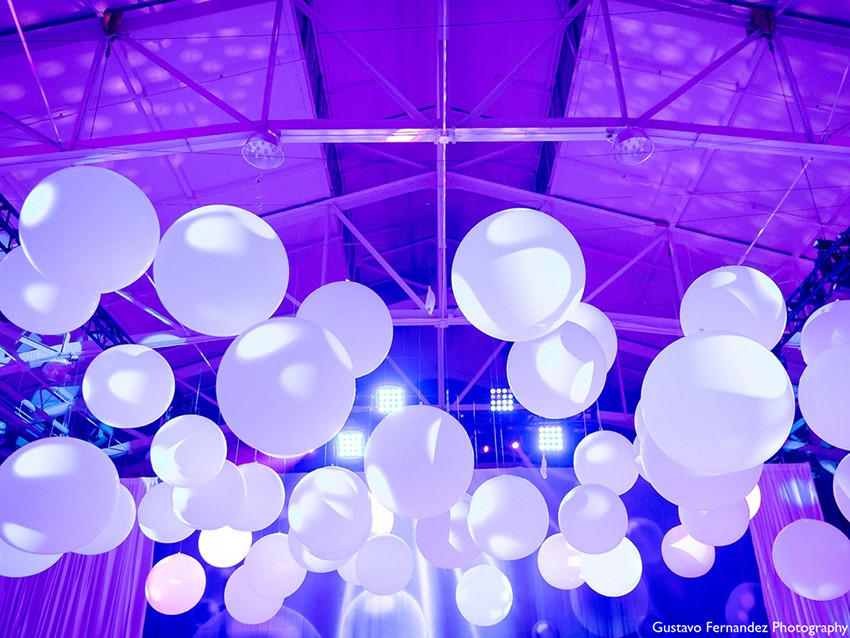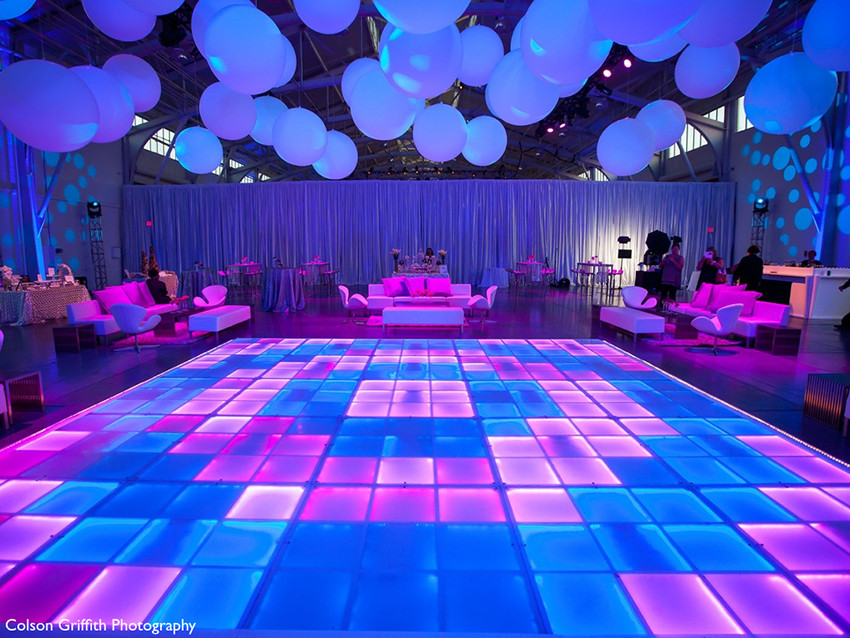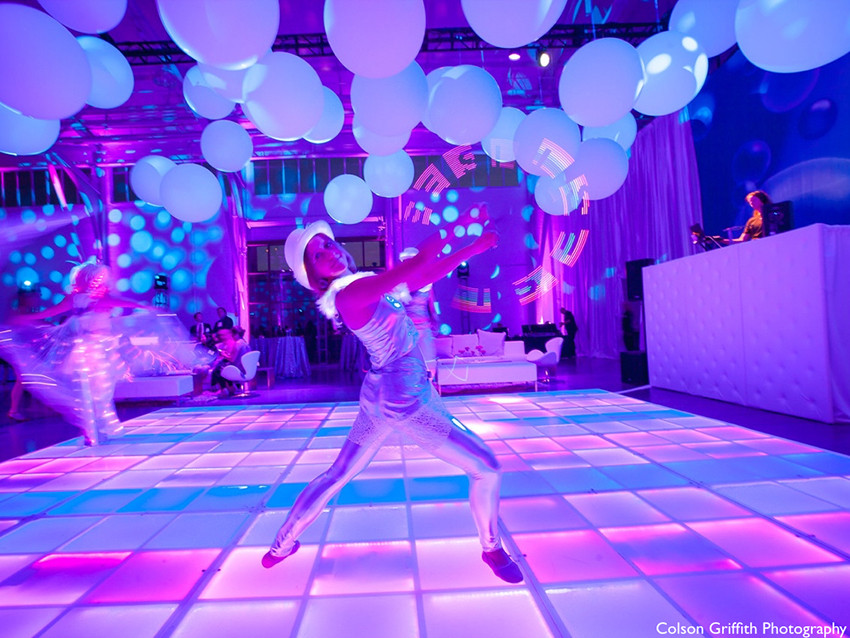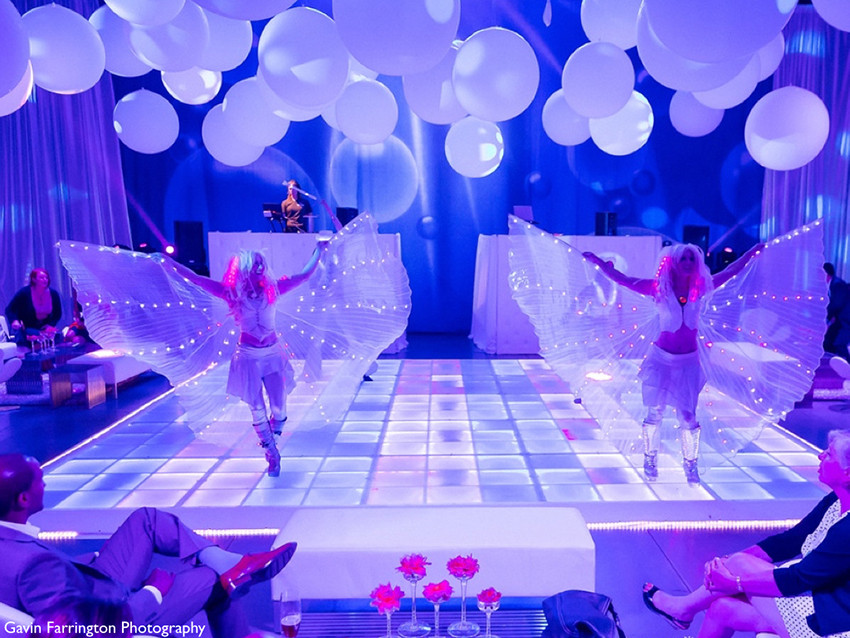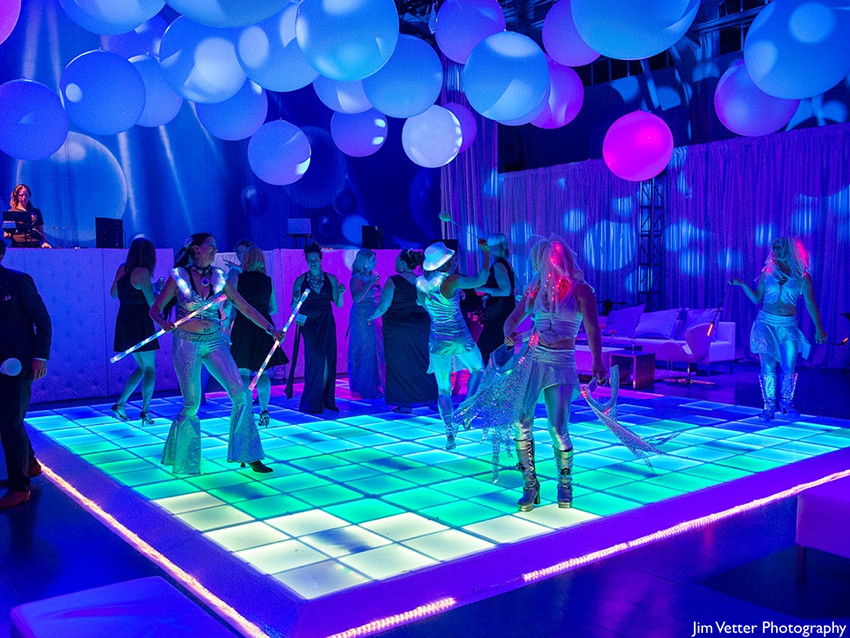 Bright Lights, Big Glam! | ISES GALA
So, where do Event Specialists, Floral Designers, Event Coordinators and other Industry People go when they want to be guests for an event rather than working the event?
Answer
The Ises Gala, which of course stands for the International Special Events Society, for the Northern California Chapter.
This year, Asiel Design was 1 of 5 floral designers to help co-create / design this grand gala at the Herbst Pavilion in Fort Mason. This beautiful culmination of industry professionals was truly exquisite to say the least. Everyone in the industry was there and not only helped create it, but also helped enjoy it too!
For our section, Asiel Design did a modern, contemporary, chic and fresh look. (Slides 1-6) Here you can see white porcelain animal figures such as the owls and dogs combined with other table floral arrangements such silver spray painted magnolia leaves and silver succulents in stark white vases. The whole theme was really fun, fresh and modern – White on White with Silver Accents.
In total, the Gala was really big. They had designers for the entire front area, cocktail areas, receptions areas and even the dance floor, which was an LED dance floor provided by Gatsby Entertainment. With cool music, funky lights and incredible designers everywhere, it had a very ultra lounge / LA vibe with blue, silver and lavender colors.In the evening, they provided dancers and performers to get the party started – turning the dance hall into a high energy, ultra lounge dance party.
There was lots of food, h'orderves, dessert tastings and a hosted bar…everything you need to have a care free evening and really enjoy the atmosphere and wonder created by those around you.
A lot of industry people came together to make a beautiful night and considering it was one of the LAST events at the Herbst Pavilion at Fort Mason, I'd say it was a huge success.
Personally, I'd like to thank Cindy Danbom, an incredible event planner and designer from Bella Notte and I'd like to thank everybody that participated to help make this a magical night not only for Asiel Design, but for all of the industry professionals in the SF Bay Area. Below is a list of everyone who donated their time to make this night possible.
Sincerely,
Jonathan
Gala Co-Chairs
• Sintia Morfin, Golden Gate National Parks Conservancy
• Beth Sandefur, Beth Sandefur Events
Entertainment
• Natasha Miller, Entire Productions – Committee Chair
• Doug McCay, Magic By Doug
Production
• Susanne Capello, Chantal Events – Committee Chair
• Jill Kull, Delish Designs
• Christine Way, Student Member
Food & Beverage
• Amanda Holding, La Bonne Cuisine – Committee Co-Chair
• Pam Perez, Fine Arts Museums – Committee Co-Chair
• Angelique He, 969 Market
• Taylor Ivanich, Giants Enterprises
• Kelley Wade, Carrie Dove Catering
Design
• Bernadette Pisani, Classic Party Rentals – Committee Co-Chair
• Anna Marie Rembold, Anna Marie Events – Committee Co-Chair
• Cindy Danbom, Bella Notte Events
• Chris Irish, Event Extravagant
• Ellen Kim, Gingerleaf Floral
• Kim Martin, Impact Lighting Audio Video
Photography/Video
• Colson Griffith, Colson Griffith Photography – Committee
Chair
• Gene X. Hwang, Orange Photography
Marketing
• Gene X. Hwang, Orange Photography – Committee Chair
• Laura Sheedy, Bright Event Rentals
• Andrei Stoica, Tiny B Chocolate
Silent Auction
• Kristen Lewis, AFR Furniture Rentals – Committee Co-Chair
• Tanya Reyes, Tanya Reyes Events – Committee Co-Chair
• Yvette Mannion, SF Candy Bar
• Arnie Roberts, SMART-reg
• Tyler Jeffreys
Volunteers
• Robbie Schlosser, Magnolia Jazz Band – Committee Chair


BELOW ARE THE SPONSORS THAT MADE THE NIGHT POSSIBLE
Entry Foyer | Aubergine Room
• AB Limo
• Classic Party Rentals
• Blueprint Studios
• Tiny B Chocolates
• Gingerleaf Floral
• Event Extravagant
• Abbey Rents SF
• La Tavola Fine Linens
• Cast of Thousands
• Immersive
• Beth Sandefur Events
Cocktail & Silent Auction | Crimson Room
• Classic Party Rentals
• Denon & Doyle
• Enhanced Lighting
• La Tavola Fine Linens
• Barbary Coast Catering
• La Bonne Cuisine
• Foxtail Catering & Events
• Sonoma Co Distilling Co
• St George Spirits
• Magnolia Jazz Band
• Magic by Doug
• Queen of Cups Tarot
Dining Experience | Navy Room
• Da Vinci Fusion
• AFR Event Furnishings
• La Tavola Fine Linens
• Blueprint Studios
• Soulflower Design Studio
• Asiel Design
• Michael Daigian Design
• Napa Valley Linens
• Entire Productions
• Barbara Llewelyn Catering
• Small Potatoes Catering
• Global Gourmet Catering
• 49 Square Catering
• Catered Too!
• Componere Fine Catering
• ATC Signature Systems Group
After Party & Dessert Experience | White Room
• Cort Furniture Rental
• Napa Valley Linens
• Bijoux Balloons
• Love in the Mix
• Denon & Doyle
• Backdrops Beautiful
• Songa Dancefloor
• Impact Lighting Audio Video
• McCall's Catering amd Events
• Jane Hammond Events
• SF Candy Bar
• Fire Pixie
• Innovative Entertainment
Overall Support | Various Rooms
• Fort Mason Center
• Edlen Electrical
• The Party Staff
• Cresco Production Express
• Elson Ross Visuals
• Event Carpet Pros, Inc
• Gavin Farrington Photography
• Colson Griffith Photography
• Jim Vetter Photography
• Gustavo Fernandez Photography
• Argent Event Production, LLC
• Bright Event Rentals
• Abbey Rents SF
• Event Extravagant
• Standard Party Rentals
You might like: