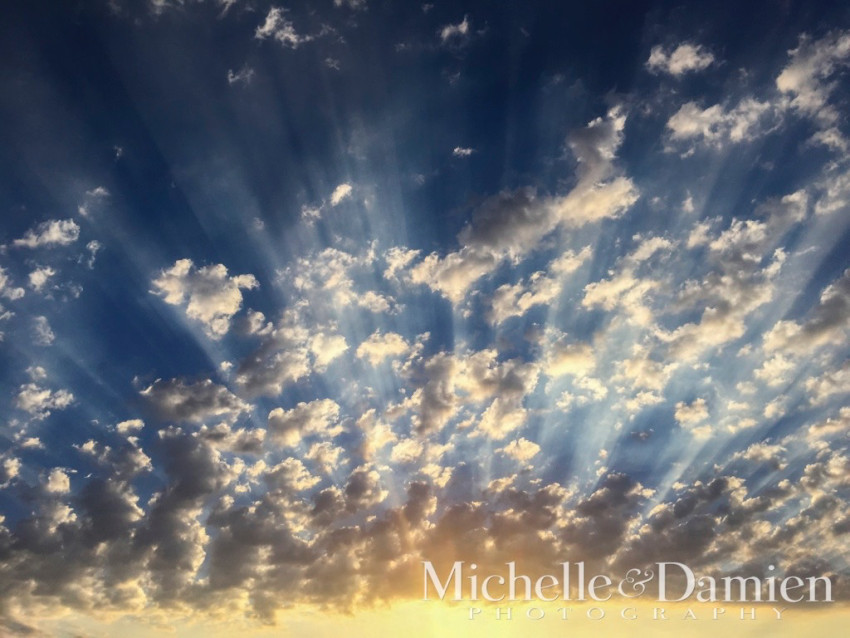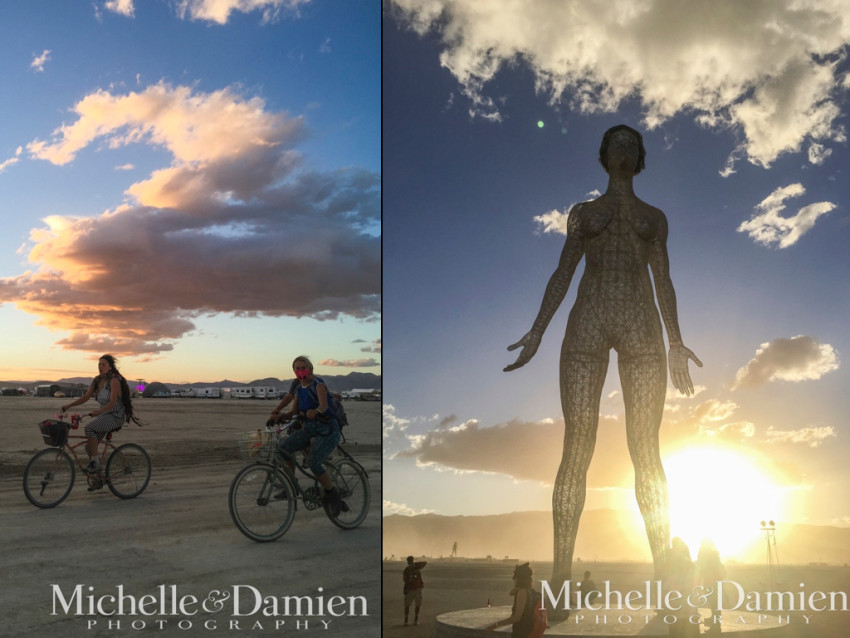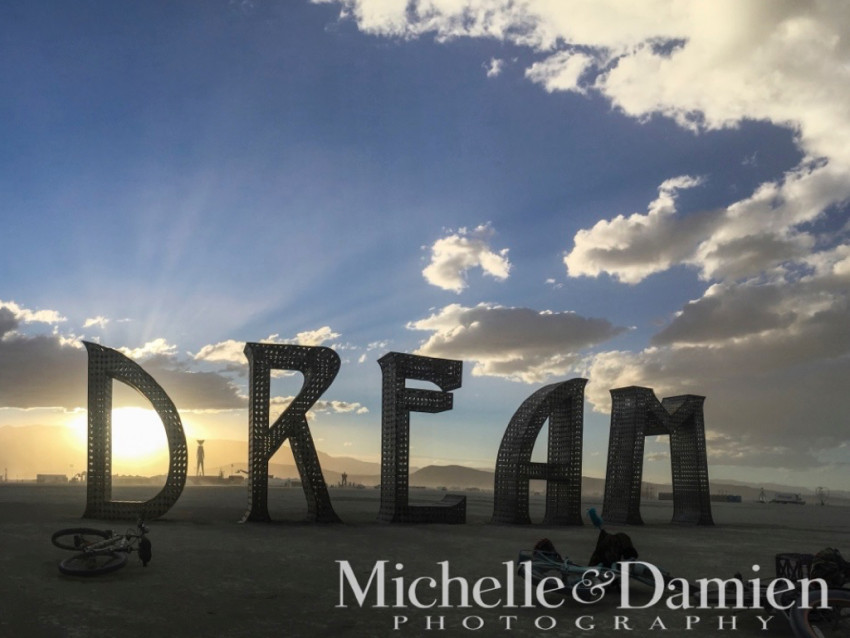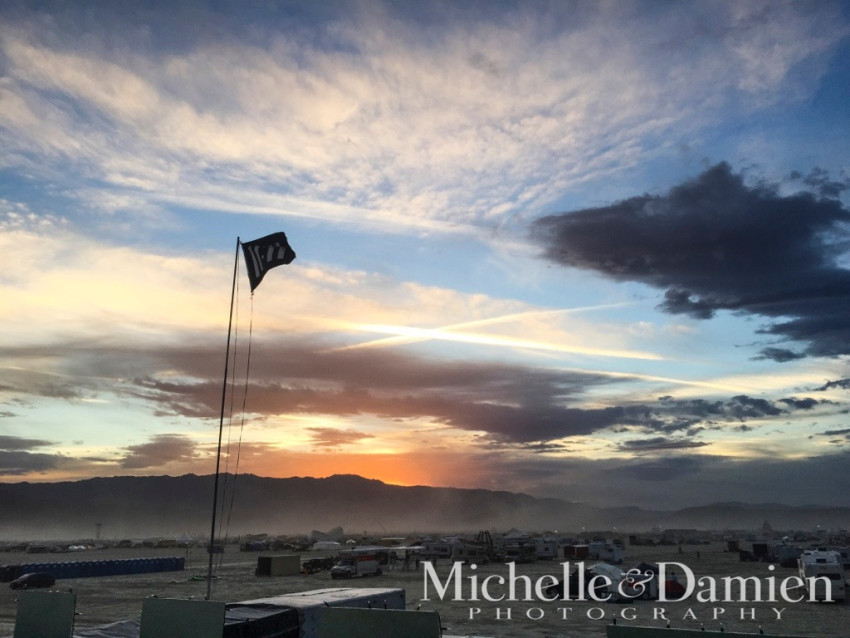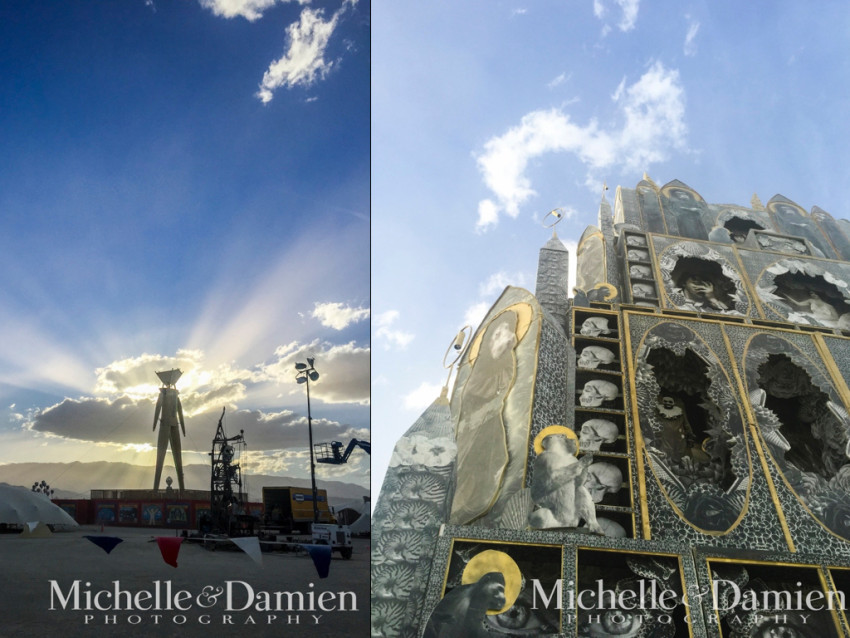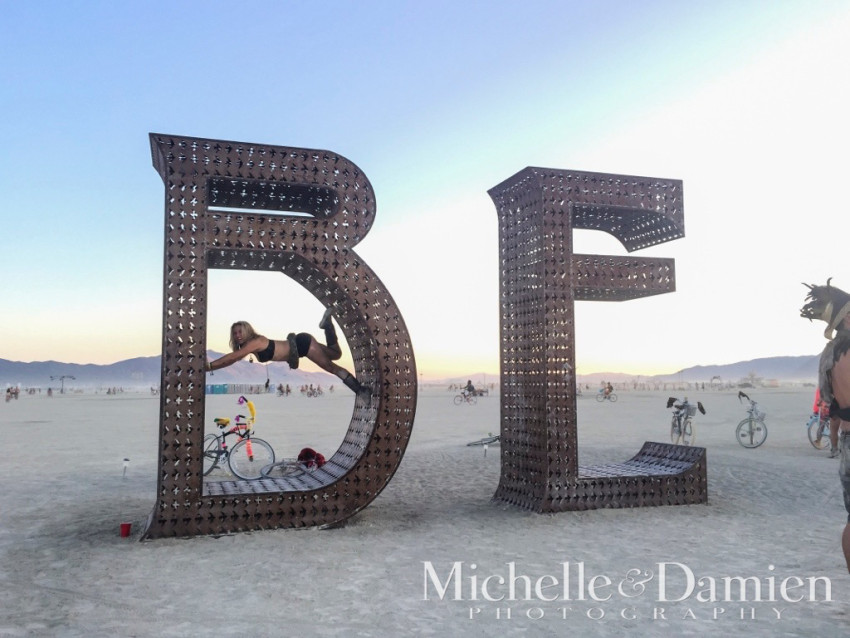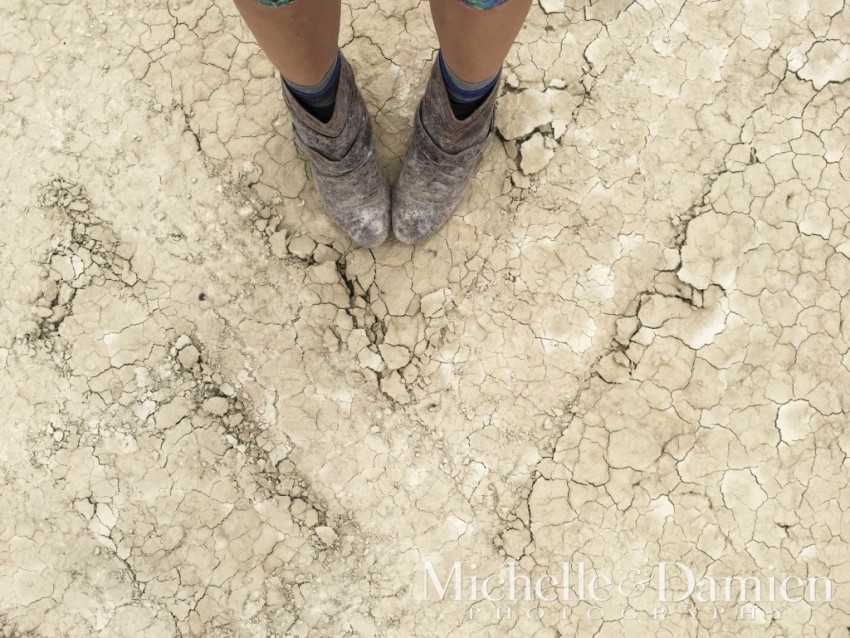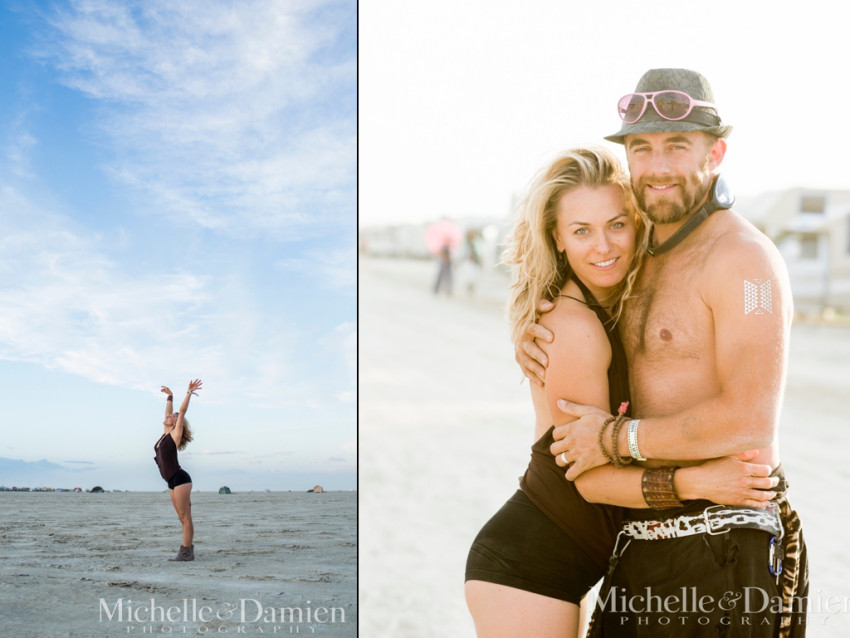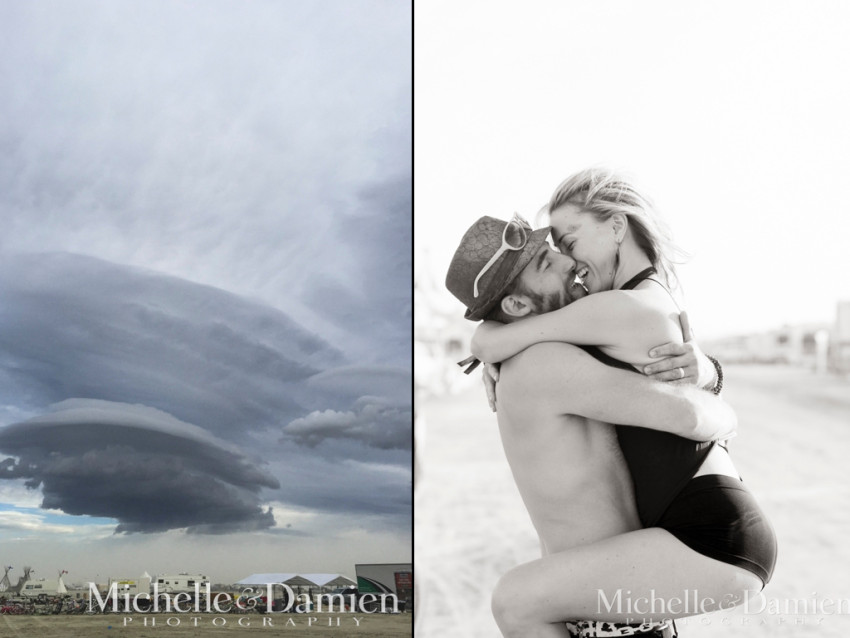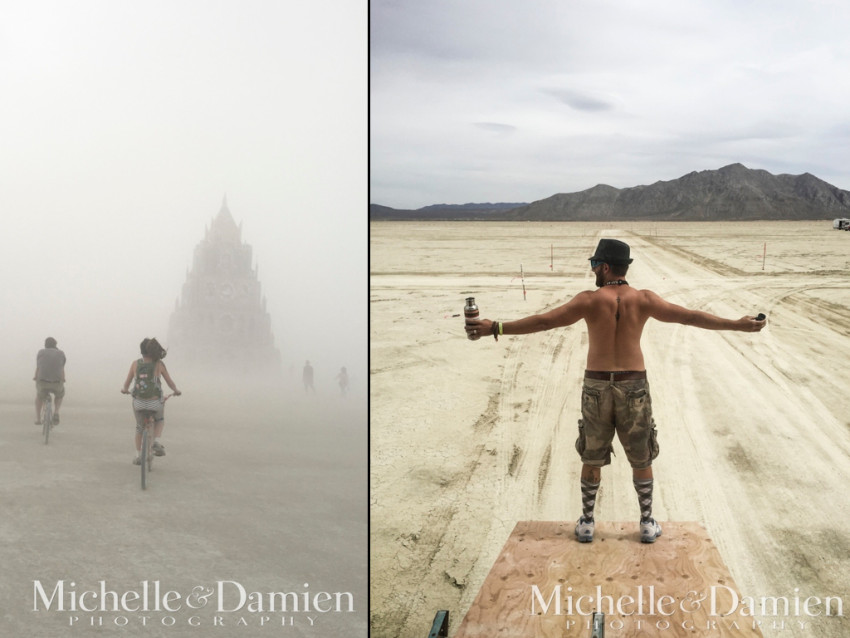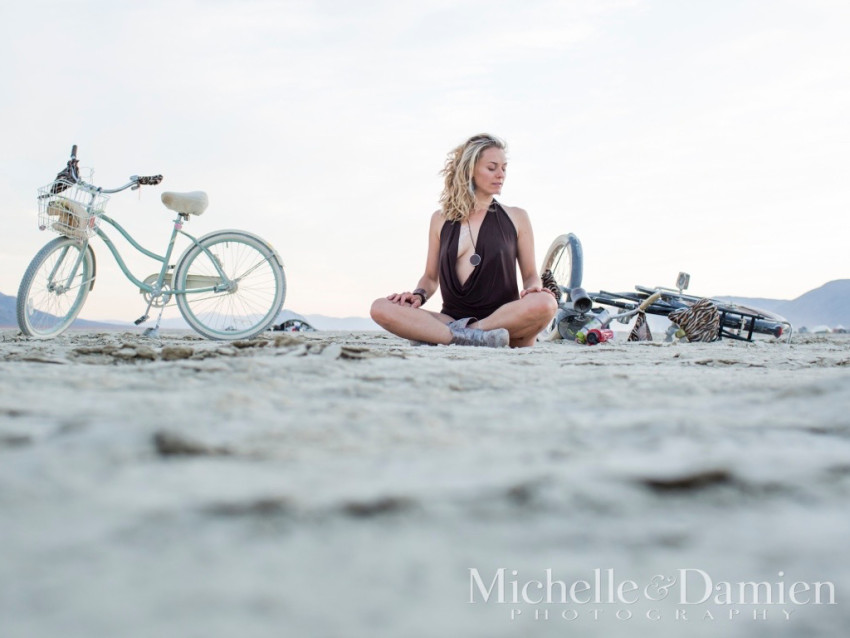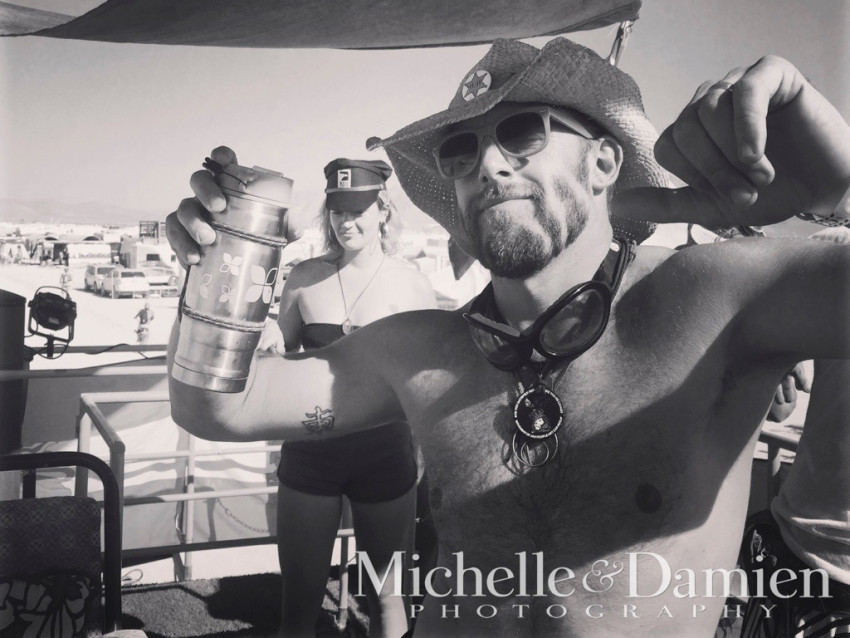 michelle + damien | BURNING MAN 2015
"You are our inspiration. The details you choose, your dress, your suit, your friends, your family, the way you look at each other, all tell the story of you. We want to be there for every teary eye and every bro hug." ~ Michelle & Damien Photography
First things first: Michelle Andrews is a beautifully talented photographer, amazingly supportive, a dance maniac and the best part of Damien's life.
So, why is this blog about Burning Man?
The answer is simple: Michelle Andrews is one of the few people I know who embodies the heart of Burning Man outside of the Playa. She has seen how Burning Man has developed over the past handful of years and offers a beautiful perspective on how Burning Man is not only changing, but is stronger then ever by bringing together the community at large. "Yes, it might be different, but Burning Man is a living organism and is meant to evolve. " ~ Michelle Andrews
She is artistic, loving, and has a heart of gold, and, if that wasn't enough, Michelle offers something else to this interview that no one else can – after years of attending, experiencing and photographing Burning Man, she became pregnant and didn't go to the Playa for two years while she gave birth and nurtured a handsome baby boy named Tilden. Well, this year, she went back as a new person, a new woman, a new mother ready to not only embrace the life that she has given to her son, but to embrace the new life that Burning Man has given her.
This interview is about the heartbeat of life – change, love and community.
Interview
How many years have you gone to Burning Man?
This year will be my 5th year, but I took 2 years off when I had Tilden.
5 years…what keeps you going back?
The overlying theme of what Burning Man is, will always bring me back. It's a place where I can connect with mankind, other human beings and have "in the moment" experiences…simply put, it's a place where I can just live and breath in a way that would be awesome to do on a day to day basis. I also like to go back to connect with my community – people I've met before and new people I'm going to meet.
Each year, I feel like we go back for an even more specific reason. This year was special because I hadn't been in a couple years and this was my first year back in a different role – I'm a mom now.
Did you bring your son Tilden?
No, no! We definitely just needed the time away. This year we really just focused on the friendships and relationships of our Playa family – our first real vacation since we had Tilden.
The first year I met you was back in 2011 at Burning Man and you were apart of Camp 11/11. Did you guys go back to that camp?
Oh yeah! We camped with them our first year and will probably always camp with them. They have turned into our family and are amazing people.
You mentioned that you took 2 years off and that this was your first year back. How has Burning Man changed? I know Burning Man has gone through a lot of changes over the years, but was your experience this year any different? Is there anything that stood out to you?
Yeah, I mean, you're right – every year is different. Burning Man is a living, breathing organism. And, I'd say that it was different, but in different ways – like the weather. There was probably 3 days where there was just a lot of dust and it kind of slows you down a bit. I also feel like there was a different vibe on the playa, in the sense that the hardships of the weather made us remember what Burning Man was really about. Yes, there's always a huge party, but come on – there's definitely another side to Burning Man.
The art was also different, it was smaller. There weren't any tall pieces, so when you looked out on the playa, everything was kind of low and wide. In the past years the art pieces were huge and tall.
The music was different too. It's actually really funny because a couple years ago all they were playing was music that you would never hear on the radio, but this year, I would actually hear songs that I would hear on the radio. So, it was a whole new energy, which was really unusual.
This year we actually had cell phone service, which is great because I got to Facetime my son, but I also feel like it's not part of the festival. People were out there texting and on social media and on Facebook.
Another way Burning Man changed this year was that they stopped doing Critical Tits, which I was really looking forward to as a new mother.
What is Critical Tits?
It's a parade. Basically women ride their bikes from point A to point B, together, proud and topless. At the end of the ride, we all congregate in a safe space and celebrate our womanhood. Our brothers surround the outer circle to keep us safe from anyone infringing upon our sense of security. It is a beautiful thing.
I also noticed a lot less nudity and that could be because there was a lot more social media. Especially, if you can post right from Burning Man, it's a lot more intimidating to open up and express yourself uninhibitedly. [Michelle Laughs]
Cell Phone Service, more radio songs, would you say the festival felt more mainstream and less like Burning Man?
I wouldn't say it's mainstream at all; it grows with society. There was more outside influences in a sense, but it is suppose to change and be different; that's what makes Burning Man so special.
What was the theme this year?
Carnival of Mirrors. And, personally I believe the theme for year was about connection.
In previous years, there has been a right of passage from this stage to that stage; was there an ideology associated with the theme this year?
Oh yeah, but I will totally tell you to go to the website! [Michelle Laughs] It's basically a play on gestures and looking into yourself and the question "Who are we really fooling?" They have a really nice description of it on their [Burning Man's] website if it is still up.
There's an idea that it is becoming less of what it was. Would you say the heart of the Burning Man experience is still there?
100 percent. Yes, Burning Man has changed from when I started going. When I started going, there were 20 thousand people and I think this year, there was over 70 thousand people. Despite whatever clothes I might wear on the outside, my heart is still the same and I feel that is true with Burning Man. The world is spreading and more people are coming in. And, it's our responsibility as a community to teach them about the heart of Burning Man – that within itself is community.
When I went years ago, it felt like there were 2 main groups of people – there were the "Burners" and then there were the new people who don't necessarily know how to act. Do you think there is a culture disconnect?
You know, I know what you're talking about. I definitely know the 'old timers' who say "When I was your age." And they talk about the past and how they would never do this or that on the playa. I've definitely experienced that over the years, but this year, I didn't feel that. Even though I was surrounded by people who had been there for 16 years and other's who were brand new. I don't know why this was different, but it almost felt like an older year at burning man like when I first started going.
When you're saying that it's a living organism and that it's changing, it sounds like it's moving into a new phase – are the changes good?
I hope so! It's like any community that's going to have its different personalities.
You go to Burning Man as an artist and as a participant, but you also go with your husband as professional photographers. How does being a photographer change or enhance your experience at Burning Man?
Aesthetically, Burning Man is such an interesting and beautiful place, so the fact that I have the ability to document it in an artistic way is amazing. We have the ability to really capture the art and the beauty of what we see. What's interesting is that because we are on vacation, we don't want to be working the whole time, so we have to turn off and just enjoy the experience to create a balance. Funny enough, this year I decided to shoot primarily off my phone, so I could do just that.
What is the biggest thing you took away from your experience and from Burning Man this year?
Well, it really has a lot to do with what's been going on for the past 2 years – having, growing and caring for a baby – totally changing my life. This was the first time I got to stop and truly remember and feel the person and woman that I was before I had the baby. I got to be me – I got to be raw – I got to be myself, which was a beautiful gift. Because, when you step into motherhood, you sacrifice all of your time, your everything and you really dedicate everything you have to the child. It's an ebb and flow with how to be a mom and how to be yourself. Damien said, Burning Man was kind of like my coming out party.
We hope you enjoyed our yearly blog on Burning Man. It not only holds a special place to so many other people, but it also has changed how we at Asiel Design see the world – It truly is a magical place. Until Next Year…
Sincerely,
Jonathan
You might like: